Hi guys. Before we go deep into the product itself let me introduce to you to this famous brand AHC – which stands for Aesthetic Hydration Cosmetics. Back in 1999 in Seoul, private aesthetic spas and dermatological clinics were considered to provide the best-in-class skincare and were sought after by high discerning clientele. It was then that AHC started as a professional skincare line catering to this selective market.
Product Overview
These upgrade of premium quality ultra-soft sheet masks are the perfect way to infuse the skin with a blend of brightening ingredients. Each sheet mask is individually soaked with a full bottle of soothing and energizing ingredients to help lighten and even out skin tone.
Vitamin C is known to be an effective antioxidant, for its skin brightening properties, and also helps to even out skin tone.
Hydrolysed Collagen helps to enhance skin's elasticity, while
Lemon Extract conditions the skin and gives it an overall glow.
Finally, a patented protecting ingredient helps to soothe stressed skin.
Each soft, cellulose sheet mask hugs the facial contours like second skin, meaning every ingredient get absorbed easily and quickly.
Full Ingredients List
Water, Citrus Lemon Fruit Extract, Glycerin, Niacinamide, Butylene Glycol, Hydrolyzed Collagen, Linum Usitatissimum (Linseed) Seed Extract, Rosa Centifolia Flower Water, Saccharum Officinarum (Sugarcane) Extract, Chondrus Crispus Extract, Althaea Rosea Flower Extract, Citrus Paradisi (Grapefruit) Fruit Extract, Sophora Japonica Root Extract, Oryza Sativa (Rice) Lipids, Tagetes Erecta Flower Extract, Citrus Aurantifolia (Lime) Fruit Extract, Citrus Aurantium Dulcis (Orange) Fruit Extract, Origanum Vulgare Leaf Extract, Salix Alba (Willow) Bark Extract, Chamaecyparis Obtusa Leaf Extract, Portulaca Oleracea Extract, Scutellaria Baicalensis Root Extract, Lactobacillus/Soybean Ferment Extract, Cinnamomum Cassia Bark Extract, PEG/PPG-17/6 Copolymer, Hydroxyacetophenone, Betaine, Tromethamine, PEG-40 Hydrogenated Castor Oil, Hydroxyethyl Urea, Caffein, Capylyl Glycol, Dimethicone, Ethylhexylglycerin, Hydrogenated Lecithin, 1,2-Hexanediol, Acacia Senegal Gum, Propylene Glycol, Allantoin, Caprylic/Capric Triglyceride, Sodium Carbonate, Ascorbic Acid, Ascorbyl Palmitate, Tocopherol, Ceramide NP, Sodium Hyaluronate, Alcohol Denat, Carbomer, Xanthan Gum, Disodium EDTA, Fragrance (Parfum), Phenoxyethanol
How To Use
After cleansing, prime skin with toner.
Open package and smooth the mask tightly onto the face, adjusting to fit the facial features.
After 10 to 20 minutes, remove the mask, and lightly dab until the remaining ampoule is absorbed.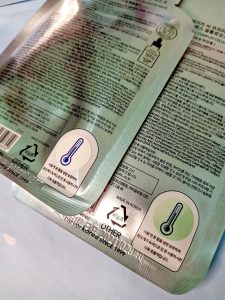 Usage Tips
For best results, refrigerate until the thermometer on the back of the package turns green before use.
Packaging
This cellulose mask comes in a box with 5 packet of masks. I really like the pattern of the box. I don't know how to describe the shape but as seen on the picture below it got the same printed as the packaging of the individual mask. There is a customized thermometer sticker at the back of the box and on each individual packaging.
Texture and Scent
Sheet : It's made of 100% natural cellulose fibers which is really soft and cool upon application. The adherence is really nice as it fits my skin perfectly.
­
Essence : Perfect viscosity as it is not too runny or too thick. It has a mild scent, not overpowering.
My Experience
This is the most interesting product that i really need to try out. Despite the price, I really need to know what is so special about this aesthetic product.
The first thing I needed to do before applying this mask is to keep it in the refrigerator for awhile until the thermometer sticker at the back of the packaging turns into green color as you can see in the picture. It is so cool by the time I open the packaging. The mask doesn't come with mesh which I really like. It means the sheet is fully drenched with the essence and does not stick to the mesh. I applied it for 15-20 minutes at first. After putting all the remaining essence to the mask, I continued wearing it for about 10 minutes.
Upon application, I can felt so relaxed, so cooling and the essence slowly seeping into my skin. When I removed the mask, I can see my skin is so plump and glowing. I let the essence to dry out a lil' bit while I pat pat my skin. After that I continued with my moisturizer to seal in all the hydration. When i woke up in the morning, I could see my skin glowing and is brightened up by a bit.
I think this mask can't be used daily especially for combination skin like mine as the essence is quite rich. Maybe 2-3 times a week is enough for me. Overall, I like this sheet mask and will continue wear it. And maybe I will repurchase it when HERMO puts this on sale.