Often a stressed insomiac with dry eyes, the KAO MegRhythm Steam Eye Mask has long been a staple in my beauty collection. At first, of course I thought it was just another gimmick, but seeing how well-loved it was in Japan, I had to try 'em. Even more so when the Sakura (otherwise known as Cherry Blossom) limited edition variant was released – just look at that beautiful packaging!
KAO MegRhythm Steam Eye Mask is an innovative self-warming eye mask that relieves and relaxes your hardworking eyes. With a blend of natural essential oils for added comfort, recharge and refresh yourself for brighter looking eyes! Suitable for both males and females.
Main comfort features of the eye mask:
Abundance of warm steam
The gentle steam produced from a comfortable temperature of 40ºC moistens and soothes tired eyes while also helping to ease tension. Enjoy the steam bath!
Special ear strap design for convenience and without effort
Whether you are lying down or sitting up, the ear straps prevent slipping and sliding, giving you comfort in any position. The eye mask is designed to conform to your eye contours, providing maximum coverage for your soothing experience. This renewed version also adheres more comfortably to your face shape.
5 pieces of individually packaged eye masks per box.
Outer sheet: Polypropylene, Polyethylenne.
Heat cell: Contains iron powder.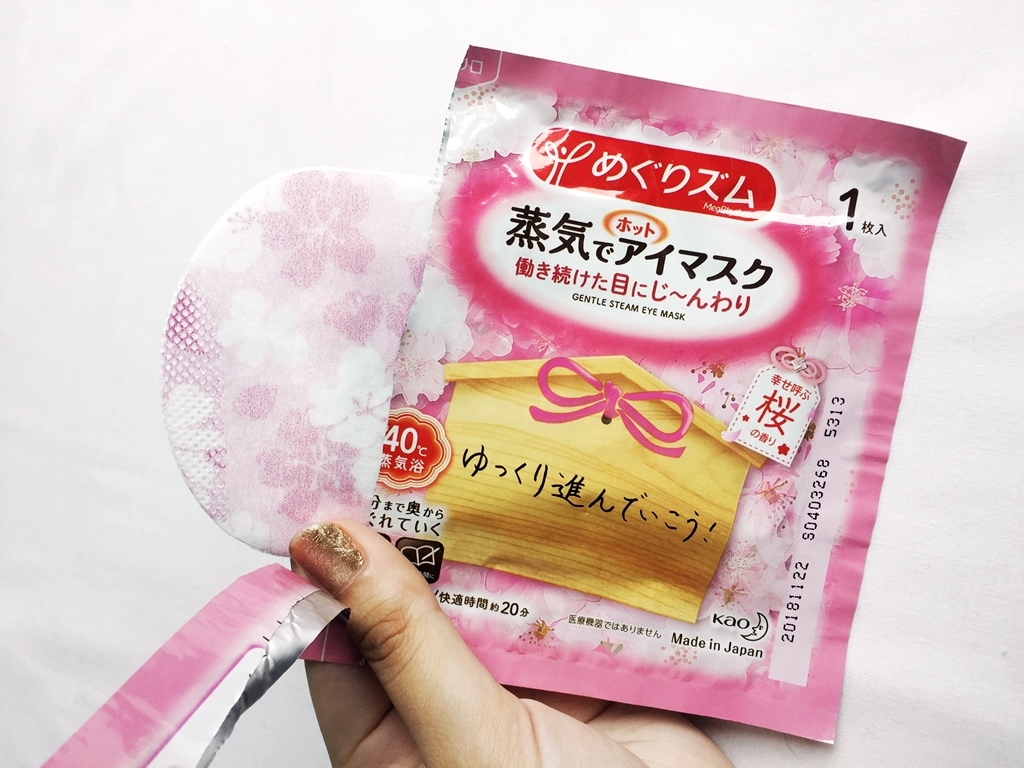 Do not use this product if you have an eye ailment, inflammation, would, swelling or rash or any other skin problem around the eyes.
Stop using the eye mask immediately when you feel that it is too hot, or you feel any pain, unusual physical change or discomfort.
Do not use with other eye masks.
If eye drop is applied, please wait a few minutes before using eye mask.
Keep eyes closed and do not press the eye mask against your eyes during application.
Eye mask may cause smudging or removal of makeup.
Truth be told, this Sakura limited edition variant is not my first foray into the wonder that is these steamed eye masks. In fact, I've been hooked on these – restocking every once in awhile when I see them on sale – even before their most recent renewal. I've even included at least one of these babies in most care packages for my friends because I want them to experience the magic! Exhibit A; spot the other variants I still have in my stash below (yes! there's even a recent Gudetama release!):
Similar to KAO's other mask variants, this Sakura release has a noticeable floral scent that's of its own kind. Now, I've personally never had the chance to smell cherry blossoms, but if I had to describe its scent, it reminded me almost immediately of these Rose & Berry Kit Kats you can grab locally. Weird, I know, but the scent for these Sakura masks definitely reminded me of this floral-scented sweet!
In terms of packaging, besides the difference in outer packaging, the Sakura edition has some cute floral prints in comparison to the plain packaging of the Unscented (note: this is the latest version of the masks; the previous permanent lines had checkered prints, if I'm not mistaken).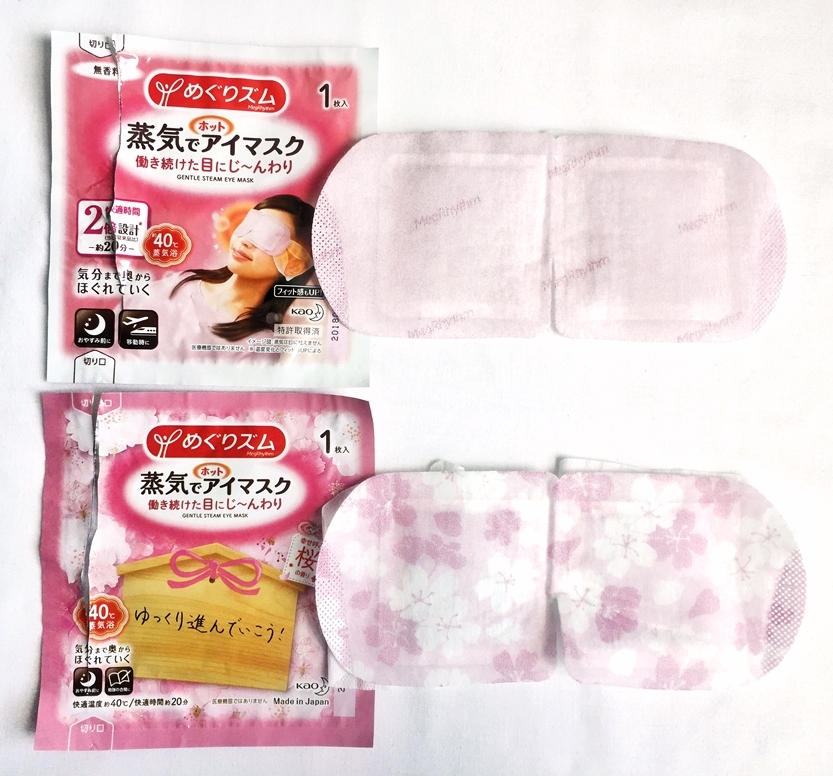 Overall, while this version's eye mask works similarly as the rest, I feel that the scent can be a bit cloying at times. So, maybe a 4/5. However, I do find the sweet scent enjoyable mostly because of the Kit Kat reminder (what can I say… I have a sweet tooth!) but for some reason, I don't think this is what cherry blossoms actually smell like (do correct me if I'm wrong, though) and would've enjoyed a calmer scent.
In terms of effectiveness, these work just as well as the permanent line in soothing dry, exhausted, overworked eyes. Also helps me sleep too, and if you know me, I often have trouble with that, so… fellow insomniacs, please do give any of these steamed eye masks a try! I promise you won't regret it!