One of my favourite hydrating toners is this Innisfree Green Tea Balancing Skin EX (note that 'skin' usually means toner in Korean Beauty World) which is a part of their The Green Tea Balancing Line which is specially formulated to help those with combination or oily skin that lacks hydration. I first tried this last year from a sample that I got from a purchase and I fell in love in an instant (I'll tell you why later in this article). Also at that time I just did a skin test on Skinmood and one of the ingredients they suggest that would be beneficial for my oily combination skin is green tea. Sooo yeah, that's how our love story goes hehe
Ingredients
WATER / AQUA / EAU, PROPANEDIOL, BUTYLENE GLYCOL, HYDROGENATED POLYISOBUTENE, 1,2-HEXANEDIOL, BETAINE, BEHENYL ALCOHOL, AMMONIUM ACRYLOYLDIMETHYLTAURATE/VP COPOLYMER, FRAGRANCE / PARFUM, GLYCERYL CAPRYLATE, TROMETHAMINE, CARBOMER, ACRYLATES/C10-30 ALKYL ACRYLATE CROSSPOLYMER, ETHYLHEXYLGLYCERIN, DISODIUM EDTA, CAMELLIA SINENSIS LEAF EXTRACT
This toner has no paraben, no sulfate, no alcohol and no silicone (which I usually like 'cause I'm using a lot of makeup that contains silicone due to my pores issue so I'm trying to minimize, not that it's bad or anything, it's just a plus for me in a product!). As according to Skin Carisma, this is also cruelty-free and fungal acne safe, guys!
Okay so the star ingredient of this one is definitely GREEN TEA and Innisfree states in their website that this 'Beauty Green Tea' ingredient is developed after the study of 2,401 Korean green tea varieties. This fresh green tea water is double squeezed containing high amino acid which is excellent for hydration and moisture.
Packaging
It comes in a 200ml plastic bottle but not that cheap feeling one, it feels thick and of high quality that I'd rather have instead of the glass one because I don't have to worry about it being broken when it drops. Besides it is good for travelling too! The bottle is sturdy and it feels really secure and thoughtfully designed. I love that it's transparent as I can see how much I have left.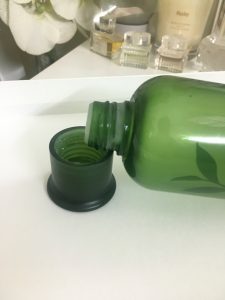 It has a secure screw on cap and a fairly small hole distributor that feels convenient to apply it with hands.
It dispenses nicely and in a right amount, not too much or too little.
Texture & Smell
The texture looks thick in the bottle but it doesn't feel that thick, it is just fairly viscous. It has a runny consistency that is not sticky at all. To me it has a lightweight finish and absorbs into the skin nicely and leaves no tacky finish. The smell is calming and is not strong at all, note that it is subtle too. I love how refreshing and relaxing it smells, it's like really fragrant tea leaves?
How it looks when you dispense it from the bottle to the skin
As it absorbs, it doesn't take long.
Experience
Well having an oily combination skin is tricky, I need hydration and moisture to make the dry areas hydrated, but I also need to be careful not overdo it in case some products can be greasy (especially on a hot day) in case I might make the oily areas more oily and worse; have the risk of clogging the pores around those areas. This toner makes for a perfect choice since it gives me an adequate amount of hydration that I need which I really love to include in my midday routine when I need to reapply my sunblock. There are days when I do not need to reapply and for those days I prefer my Laneige Cream Skin Refiner. This toner hydrates my skin without it feeling heavy or greasy. It also clears out my skin so I always reach out for this toner when I've got breakouts or congested skin because not only that it is lightweight and not heavy that can trigger the acne to get worse, but also because of its acne treating property. Did you know that green tea can soothe acne? But always be sure to follow up with spot treatment or a pimple patch!
Besides, my skin also feels a lot smoother and softer. I love this for the 7-skin method as this one layers very nicely on my skin. Sometimes in my midday routine when I am about to sweat myself doing the house chores, I skip moisturizer and just do a three or five or seven layers of this toner, depending on the weather and the condition of my skin. I really love it on a no makeup day when I only put sunscreens or sometimes sunscreens and tone up creams. On my makeup days, I prefer a tackier toner and moisturizer as I am always going for a dewy look.
However, I found out that this toner doesn't go well with my Blithe Tundra Chaga serum. When I use the green tea toner with the tundra chaga serum together my skin would feel slightly itchy. I have yet to discover why! Anyone knows? Why can't green tea and mushrooms be best friends on my skin?
Pros
Gives an adequate amount of hydration
Smells wonderfully refreshing
Gentle
Lightweight non tacky finish
Great for those days when I am about to do physical activities that would get me sweating as this toner gives enough hydration but will not make my face sweat even more
Great for layering
You don't need much product so it's cost-effective
Instantly hydrates skin
Cons  
Does not go well with my Tundra Chaga serum
It says that with longer use, it helps minimize pores but I am yet to experience it. Maybe I need to use it longer? I've been using it since last year though
Bear in mind the results may vary on different skin and skin conditions, as always, YMMV. Mwah!
SHOP THE PRODUCT