Who here loves convenient, travel-friendly skincare? How about skincare that works well for sensitive skin* and is cost-efficient? If you're like me and answered yes to everything, let me introduce you to an underrated powder cleanser gem from AMPM, a Taiwanese sub-brand/product line of the more popular Naruko brand: the Wake Up Skin Smooth Washing Powder!
*NOTE:  This is from my own experience as a sensitive skin-sufferer, so YMMV.
Cleansing is the first step to beautiful skin! The AMPM Wake Up Skin Smooth Washing Powder contains papaya enzyme and works with fine microcrystalline powder to gently resurface the skin and wash away dead skin cells, oil and dirt. It also contains Lactobacillus Bifidus and Eriodictyon Californicum Ferment Extract to repair, brighten and hydrate skin. Say hello to a healthier, more radiant complexion!
Recommended for all skin types, especially for dull skin with blackheads and large pores.
Disodium Lauryl Sulfosuccinate, Sodium Lauroyl Glutamate, Talc, Zea Mays(Corn) Starch, Papaya Enzyme, Hydroxypropyl Startch Phosphate, Sodium Cocoyl Isethionate, Bifidobacterium Bifidum, Eridictyon Californicum (Holyherb) Flower/Leaf/Stem Extract, Tocopheryl Acetate, Ascorbyl Palmitate, Butylene Glycol, Lactose, Jojoba Esters, Cellulose, Hydroxypropyl Methylcellulose, Piroctone Olamine, Essential Oils of Lavender (Lavandula Angustifolia), Eucalyptus (Eucalyptus Globulus), Marjoram (Origanum Marjorana), Thyme (Thymus Vulgaris), Clary Sage (Salvia Sclarea), Rosemary (Rosmarinus Officinalis), Ho Wood (Cinnamomum Camphora), Iron Oxide Cl no. 77491.
Opaque white plastic bottle with a flip-top cap. However, to allow the powder to dispense properly, you must first twist open the cap to remove the small removable plastic piece underneath. I assume this piece is to protect the product's contents from spilling or being exposed to humidity/air (see precautions) before use.
Despite closing the cap tightly though, the powder tends to clump up in the rim of the inner plastic section (see picture), which causes difficulty in dispensing product (from the flip-top cap). I'm still not sure how to completely prevent this from occuring, but I guess I'll just need to be mindful to leave it in a cool, dry place instead of my naturally humid bathroom if the precaution's anything to go by…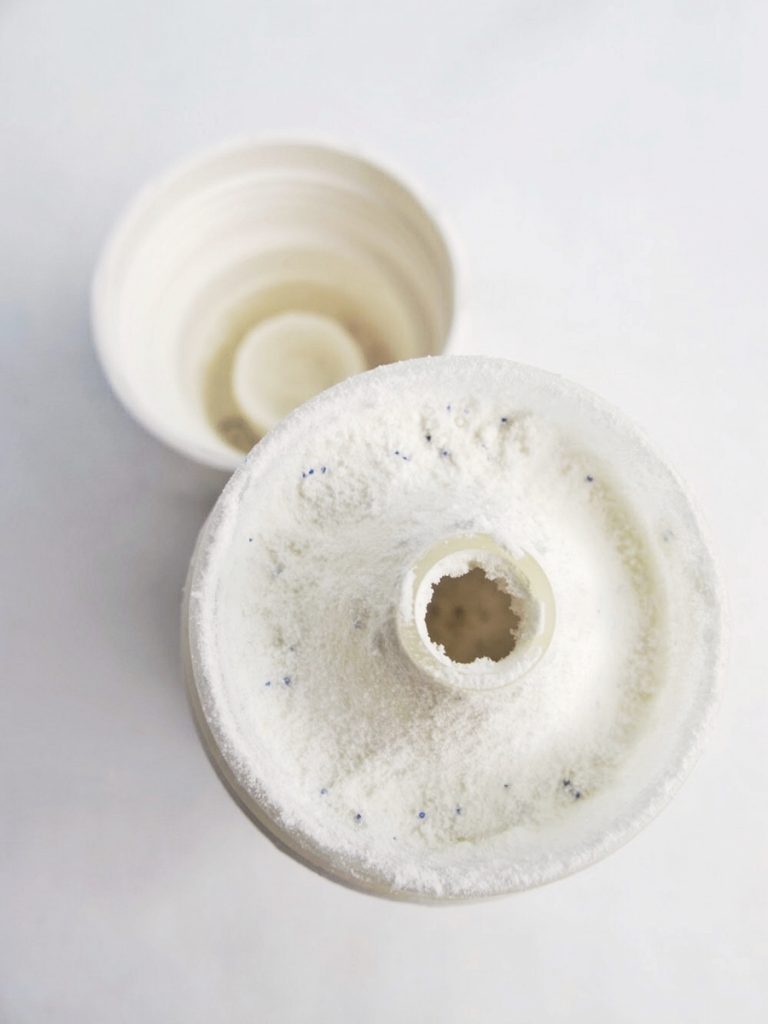 Period After Opening (PAO):
Pour out a quarter-sized amount of powder onto the palm of your hand.
Add lukewarm water and rub against your palms to create foam.
Gently massage onto damp face in circular motions.
Then rinse off with water thoroughly.
Do not store this product in a humid environment. It will cause the product to spoil.
Keep out of eyes. Rinse the eyes thoroughly if the product accidentally gets into eyes.
This product contains essential oils, which may cause sensitivity issues for some.
For a product containing a number of herbal extracts and even essential oils, it might be weird, but often, I can only detect a fresh detergent-like scent. When smelling directly from the bottle opening, I guess I can smell the herbal scents… otherwise, not really. The scent is not too strong though, so I do think it's safe for those with sensitive noses!
Tested at home with pH strips to be around ~5.
Fine, mildly grainy white powder with specks of blue. Turns into a non-abrasive, light foam consistency once mixed with water, and washes off easily with no film/residue.
Sensitive (prone to redness and irritation), combination-dry, acne-prone and dehydrated.
The AMPM Wake Up Skin Smooth Washing Powder is truly one of my greatest cleanser discoveries since spiralling into the skincare rabbit hole. Thanks to a friend who gave me a decant of it to try years ago, it's honestly the reason why I prefer powder cleansers to traditional liquid or even foam options. I mean, I've even taken it with me to London where the weather's drier… and it honestly kept my skin (and me!) sane.
Despite containing some essential oils (which my skin can react to negatively), this cleanser has never caused any irritation, allergic reactions or new acne. Instead, it always leaves my skin feeling refreshed, hydrated and clean post-wash. Pores are also more refined while skin texture looks and feels smoother, which I assume is due to the gentle exfoliating enzymes and fine microcrystalline powder present in the formula. Not to mention, it works wonderfully to remove any cleansing oil residue – particularly those moisturising ones which leave behind a noticeable film!
So, if you're looking for a new low pH facial cleanser and/or want to try out enzyme powders, do give this one a try. Affordable price tag, lasts a long time, travel-friendly as there's no risk of liquid spilling, and a great mild exfoliator for those who cannot tolerate stronger exfoliants; it's definitely one of my favourites. I just wish the packaging could be improved!