With emphasis on going back to basics and healing the skin via 100% EWG Green Level Certified products to ensure life-long healthy skin, PURITO is one of the major K-Beauty frontrunners I've seen actually striving towards more environmentally-friendly, and most importantly, consumer-friendly products. So, when they decided to reformulate their first physical/mineral sunscreen to be essential oil-free (after the success of the Centella Green Level Unscented Sun, AKA the essential oil-free version of the Centella Green Level Safe Sun, I assume), I immediately added it to my never-ending skincare wishlist… and finally purchased it when I spotted a good deal! The question is: does it live up to its sensitive skin-friendly claims?
If you hesitate to use a physical sunscreen because of the stuffiness and stickiness of ordinary sun care solutions, then try using PURITO Comfy Water Sun Block! As it is a 70% water-based sunscreen formulated with only safe ingredients such as CICA, this sunscreen gives the skin a smooth, moisturised finish without any stickiness and white cast. It will make your day light and comfortable without a hint of stuffiness!
Moreover, it is a daily non-nano physical sunscreen that shields the skin from UVA and UVB rays to prevent skin damage. PURITO Comfy Water Sun Block can also be used on all types of skin, from sensitive adult skin to that of a baby.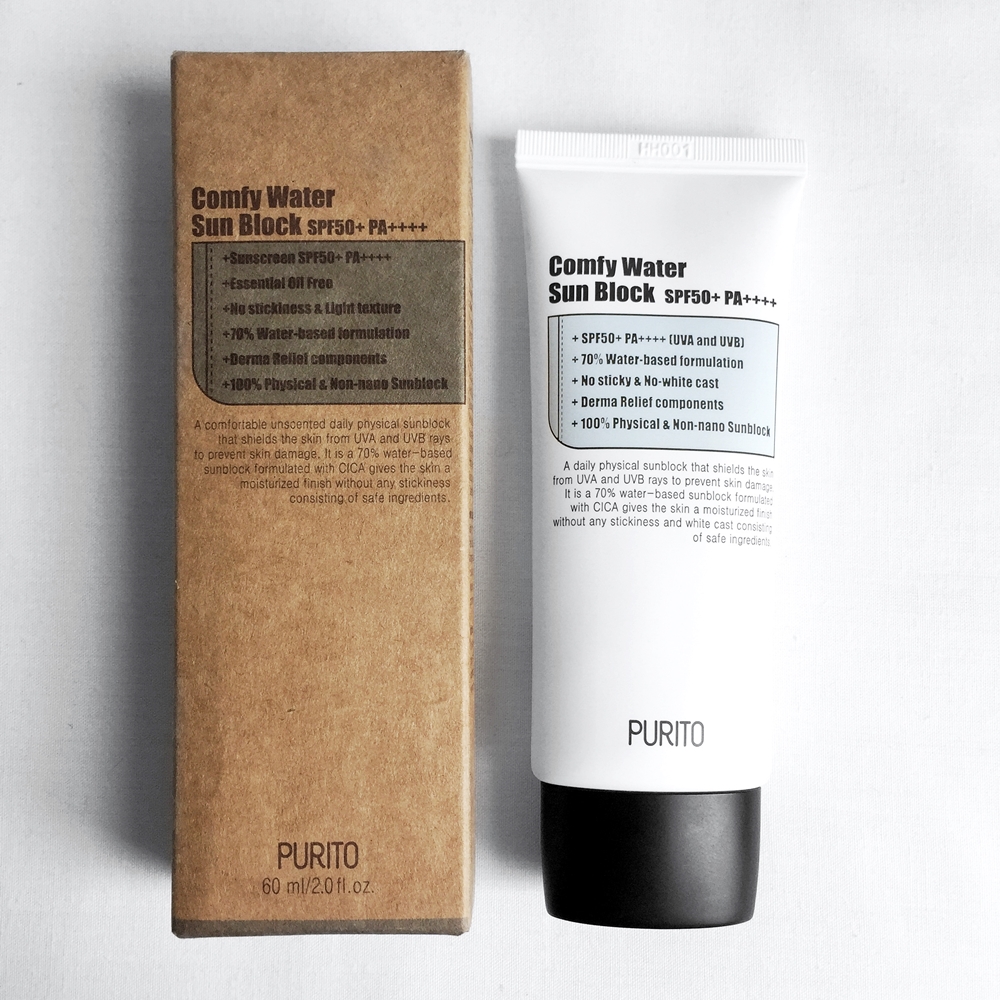 Water, Cetyl Ethylhexanoate, Butylene Glycol, Glycerin, Dipropylene Glycol, Zinc Oxide, Silica, Niacinamide, 1,2-Hexanediol, 
Polyglyceryl-3 Methylglucose Distearate, Titanium Dioxide (CI 77891), Sodium Polyacryloyldimethyl Taurate, Cetearyl Olivate, 
Sorbitan Olivate, Madecassoside, Asiaticoside, Madecassic Acid, Asiatic Acid, Stearic Acid, Lauroyl Lysine, Disodium EDTA, 
Acrylates/C10-30 Alkyl Acrylate Crosspolymer, Adenosine, Hydroxyethyl Acrylate/Sodium Acryloyldimethyl Taurate Copolymer.
Zinc Oxide, Titanium Dioxide (non-nano*): Physical/mineral/inorganic sunscreen filters which absorb and block UVA and UVB rays, though Titanium Dioxide does not protect against the whole range of UVA rays. Both are photostable and less likely to cause skin irritation. May cause a "white cast" effect on deeper skin tones.
*According to Purito:
Other notable ingredients:
Niacinamide: Also known as vitamin B3. Helps to boost collagen production and in turn strengthens the skin's natural lipid barrier. Over time, may also assist in brightening, anti-aging and reducing the appearance of enlarged pores.
Madecassoside, Asiaticoside, Madecassic Acid, Asiatic Acid: Derived from the Centella Asiatica plant. Ideal for acne sufferers as it speeds healing, which lessens the possibility of scarring and future blemishes, as well as providing skin soothing properties. It also has strong anti-inflammatory effects and provides anti-aging benefits due to its ability to protect the skin from degradation.
Almost opaque* white plastic squeeze-tube with a black screw top and fine-tipped nozzle dispenser. When new, a foil seal covers the nozzle tip. Outer packaging is made from recycled cardboard.
*The tube isn't completely opaque, as you can actually monitor the product level if you place the tube against bright sunlight or a lamp, which I personally appreciate!
NOTE: While the sunscreen has been reformulated to be essential oil-free, only the outer box packaging has been changed (addition of "Essential Oil-free" claim on the front blue label and updated ingredients list) while the main product tube remains the same.
Period After Opening (PAO):
Apply onto the entire face & body at the last stage of your skin care routine.*
Reapply frequently (at least every 3 hours) to maintain protection.
*TIP: Squeeze the sunscreen onto your index finger (personally, I use the 2 to 3 finger-length rule to adequately protect my face and neck), but don't apply the whole amount all at once. Instead, apply in small portions to cover the desired area of your skin by gently tapping with your finger and spreading the sunscreen lightly around.
**EXTRA TIP FROM PURITO: To ensure that the mineral sunscreen remaining on your skin is completely removed, wash mildly and cleanly using a facial cleansing tool, eg. PURITO's Konjac Sponge.
An almost imperceptible chemical scent, but basically scentless, as it does not contain any artificial fragrance nor essential oils – yay!
White cream consistency that spreads easily and absorbs into the skin well, leaving a refreshing, lightly moisturised, matte finish without any tackiness or heavy-feeling. Depending on your skin tone, there might be a mild white cast at first, but at most, once absorbed, there'd only be a minor tone-up effect.* The sunscreen also gives a slight "pore-filling" effect for me.
*Though, according to my friend who has a deeper skin tone than me, she experienced no white cast at all. So, I think it also depends on how much sunscreen you apply too, haha. I tend to slather mine on while she doesn't!
Sensitive (prone to redness and irritation), combination-dry, acne-prone and dehydrated.
In my completely honest opinion… PURITO has been killin' it with their recent product releases! As a brand focusing on providing cleaner, greener options to the ordinary consumer, I'm pleased to see how receptive they've been to feedback, especially when it addresses concerns from sensitive skin-sufferers like myself. Hence, the rebirth of this mineral sunscreen being essential oil-free after various consumer feedback!
All in all, I have no complaints about the PURITO Comfy Water Sun Block. It's practically perfect – for me, at least. Though, I do wish it was waterproof (as far as I know, it isn't, but I might be mistaken).
I even prefer it to their chemical sunscreen counterpart – the Centella Green Level Unscented Sun – which I've previously reviewed on my Instagram as it actually feels milder on my skin. I also personally enjoy how I can just slap this on and go, as the slight tone-up and pore-filling effects make my face less "dead". Though, it goes on fine under makeup too. Definitely give this a try if you're looking for a sensitive skin-friendly mineral sunscreen!