What It Is
This a multi-functional product best used for makeup prep. It is a sunscreen, a primer, and also a 'fixer' to keep makeup last longer and to achieve an optimal skin condition for better makeup looks.

Ingredients
Water, Alcohol Denat., Ethylhexyl Methoxycinnamate, Octocrylene, Ethylhexyl Salicylate, Butylene Glycol, Butyl Methoxydibenzoylmethane, Methyl Methacrylate Crosspolymer, Silica, Bis-Ethylhexyloxyphenol Methoxyphenyl Triazine, Oxygen, Camellia Sinensis Leaf Extract, Phyllostachis Bambusoides Juice, Cucumis Sativus (Cucumber) Fruit Extract, Nelumbo Nucifera Flower Extract, Rosmarinus Officinalis (Rosemary) Leaf Extract, Glycine, Histidine, Glutamic Acid, Isoleucine, Lysine, Leucine, Arginine, Aspartic Acid, Alanine, Cysteine,Proline, Phenylalanine, Methionine, Threonine, Tyrosine, Valine, Serine, Chenopodium Quinoa Seed Extract, Mentha Piperita (Peppermint) Leaf Extract, Salvia Officinalis (Sage) Leaf Extract, Lilium Candidum Bulb Extract, Syringa Vulgaris (Lilac) Extract, Saussurea Involucrata Extract, Malpighia Emarginata (Acerola) Fruit Extract, Carex Humillis Root Extract, Buddleja Axillaris Leaf Extract, Rhodiola Rosea Root Extract, Psidium Guajava Leaf Extract, Aloe Barbadensis Leaf Extract, Abronia Villosa Leaf Extract, Cinchona Succirubra Bark Extract, Sorbaria Sorbifolia Bark/Leaf Extract, Citrus Aurantifolia (Lime) Oil, Dimethicone, Sodium Acrylate/Sodium Acryloyldimethyl Taurate Copolymer, Acrylates/C10-30 Alkyl Acrylate Crosspolymer, Isohexadecane, Polysorbate 80, Potassium Hydroxide, BHT, Disodium EDTA, Caprylyl Glycol, Ethylhexylglycerin, 1,2-Hexanediol, Fragrance
This product is free from paraben, sulfate, and EU Allergens. A quick run through at skincarisma.com shows that there are five UV filters in this product which are Butyl Methoxydibenzoylmethane, Octocrylene, Ethylhexyl Salicylate, Ethylhexyl Methoxycinnamate, and Bis-Ethylhexyloxyphenol Methoxyphenyl Triazine. As I couldn't find any zinc oxide and titanium dioxide, I deducted that this is not a physical sunscreen, and the presence of octocrylene and others shows that this Moonshot Multi Protection UV Bouncer uses chemical UV filters.
Also if you noticed, alcohol denat is second in the ingredients list so for those of you who are sensitive to a high percentage of alcohol you might want to take this into consideration. I think the percentage of alcohol denat in this product is what makes this primer feels so lightweight and keeps greasiness at bay. According to happyskincare.com.au, alcohol denat is "used to make creams feel lighter, help other ingredients to penetrate your skin,  and as a preservative."  But if you have an oily skin or have pore clogging or pore appearance concern, you might want to give this a second thought and do some readings on alcohols effects to the skin.
Good news is that this contains green tea leaves extract which is a good antioxidant and an anti-inflammatory ingredient. It is also a good emollient and humectant for oily skin. For dry skin, you might like the cucumber extract in this as it is a great emollient for dry skin.
Other notable ingredients are aloe leaf extract, niacinamide, and silica. As I mentioned in my previous article on Etude House Beauty Shot Face Blur Primer Review, silica an ingredient usually found in pore blurring primer, used to absorb sweat and oil and helps give a matte finish.
Texture and Scent
It is a pink lightweight lotion-like sunscreen primer that spreads wonderfully smooth.


It smells a tad bit like W.Dressroom April Cotton and a bit soapy, I love it! It also feels cooling. Contrary to my expectations, this one dries out to feel a bit tacky and gives skin a glowing, dewy look, which is a perfect canvas for foundation!


Slightly rubbed in.


Halfway blended.


Fully blended, right after.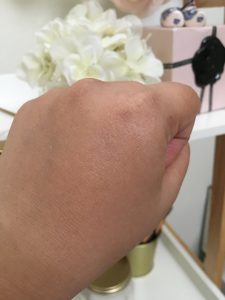 Fully blended, after a while.
As it sinks in, it leaves a matte feel and a soft, smooth surface that makes my Bourjois Healthy Mix Foundation and my CLIO Kill Cover cushion glide on beautifully like silk. I also think that the pink texture gives a slight tone-up look.
Experience
I think it is fair to say that this is one of the best primers with SPF that I have tried and the performance really justifies the slightly higher price tag. As for makeup prep, it does the job brilliantly as I have explained above on how it makes a smooth canvas for makeup to adhere to. It really improves makeup adherence and helps it last longer. My foundation lasted longer using this one than when using my Etude House Face Blur Primer, but this one can feel a little drying if I use it with a matte foundation like the Kat Von D one.
Moonshot also noted that this a brightening primer and I think it is because of the slight tone up effect from the pink texture, which I love as it gives my complexion a healthy glow. It also evens out my skin tone before putting on foundation. It also doesn't leave a stark white cast if you are planning to use this as a sunscreen.
I only use this as a primer and never as sunscreen as I am quite weary about the dimethicone in it. I am afraid that if I wear it as it is (as sunscreen and not primer with makeup on top) it will mix with my natural oils and sweat and cause a breakout because dimethicone is such a tricky ingredient for me; sometimes it causes my pores to clog but sometimes it doesn't, depending on the formulation. I also think that there are many better sunscreens out there so I use this solely as a primer which is works wonders at that. In my routine, I would still apply my sunscreens separately before putting this on and then makeup after.
I also noticed that this one works great with non-matte foundations or cushions as I have used this one with my Kat Von D and it kind of clings onto the dry patches around the nose and smile lines. But so far, I'm glad this doesn't break me out and doesn't cause any irritation or clogs any pores. This can be used for 12 months after opening and I like that I won't feel pressured to finish it after opening.
Shop The Product