We care so much about the health and appearance of the skin on our faces and we religiously do our 10-step beauty routines and never forget to slather our faces with sunscreen before we go out of the house. What's more with the hot and humid climatic situation in Malaysia all year round with the full blaze of the Sun, the heat, and the UV rays affecting our skin not just on our face but also our entire bodies.
If you are already taking good care of the skin on your hands, arms, knees, feet and more, then you deserve a pat on the back! But for those of you who are just starting to do so, remember that it is better late than never 😉
Anyways, I would like to share with you my daytime body lotion – Nivea Extra White Firm & Smooth Deep White Essence with 40x Vitamin C and the reasons why I love it so much!
Ingredients
First, let's look at the ingredients:

Aqua, Ethylhexyl Methoxycinnamate, Isopropyl Palmitate, Paraffinum Liquidum, Glycerin, Cetyl Alcohol, Dimethicone, Glycyrrhiza Glabra Root Extract, Myrciaria Dubia Fruit Juice, Malpighia Glabra Fruit Juice, Sodium Ascorbyl Phosphate, Glyceryl Glucoside, Ubiquinone, Propylene Glycol, Glyceryl Stearate, Cetyl Palmitate, Trideceth-9, Stearic Acid, Oleic Acid, Palmitic Acid, Myristic Acid, Arachidic Acid, Citric Acid, Butyl Methoxydibenzoylmethane, Tapioca Starch, Sodium Carbomer, Trisodium EDTA, Phenoxyethanol, Methylparaben, Propylparaben, Parfum
Contains UV Filters
I always put on sunscreens to my whole face and body but having a body lotion with UV filters is a great plus to me because I get to make sure my skin is silky smooth at the same time being extra protected from the sun. As you can see in the ingredients list, Ethylhexyl Methoxycinnamate, which is also known as Octinoxate, a chemical UV filter (https://incidecoder.com/ingredients/ethylhexyl-methoxycinnamate), is second in the ingredients list (this means that the ingredient is high in the product) along with Butyl Methoxydibenzoylmethane, which another name is avobenzone, (also a chemical UV filter) quite later in the list. I also remember to put this lotion on my neck, hands, and feet to avoid premature aging since other than our eyes, our hands, feet, and neck are also among the body parts that show signs of aging faster than others.
Vitamin C
It says that it contains Q10, which nourish and restore skin's elasticity for firmer and smoother skin. It also has camu camu, which is considered "a superfood — mainly due to a high content of certain nutrients and powerful plant compounds, including vitamin C" (https://www.healthline.com/nutrition/camu-camu).
Other than being a powerful antioxidant, it is said to be high in vitamin C so I think that is why Nivea states on the packaging that this body lotion has 40 times more vitamin C with benefits for the skin include:
"The antioxidant properties of vitamin C (ascorbic acid) and its role in collagen synthesis make vitamin C a vital molecule for skin health. Dietary and topical ascorbic acid have beneficial effects on skin cells, and some studies have shown that vitamin C may help prevent and treat ultraviolet (UV)-induced photodamage" (https://lpi.oregonstate.edu/mic/health-disease/skin-health/vitamin-C)
Other than preventing and treating UV-induced photodamage, vitamin C also helps prevent premature aging of the skin:
"when vitamin C is used topically "the skin is triggered to heal itself by accelerating the production of collagen and elastin," explains New York City-based dermatologist Howard Sobel. Remember: Collagen and elastin are both naturally occurring protein fibers that help keep skin plump and firm. So, in helping to promote collagen production, topical vitamin C can help prevent premature aging of the skin." (https://www.allure.com/story/vitamin-c-benefits-for-skin )
Glycyrrhiza Glabra (Licorice) Root Extract
Skin brightening agent in this body lotion is Glycyrrhiza Glabra (licorice) Root Extract which also acts as a soothing ingredient:
If you have particularly sun-damaged or red, irritated skin, licorice root extract could be what you're looking for. Licorice root extract contains the antioxidant glabridin and licochalcone A. They both have powerful anti-aging and skin-soothing properties.
Glabridin in particular has been shown to mitigate the effects of sun damage. It "disperses melanin and inhibits melanin biosynthesis" — basically, it brightens damaged skin and blocks the enzyme that triggers skin to darken after being damaged by UV radiation.
That means licorice root extract can combat hyperpigmentation: those annoying dark marks you get from sun spots or acne scars that don't just fade away. It's a natural and soothing way to treat those marks that doesn't involve harsh chemical peels.
(https://bucklersremedy.com/blogs/the-dirty/licorice-root-extract-yes-licorice-might-save-your-skin)
Texture and Smell
Texture is a bit runny, feels like a lightweight white lotion texture. It doesn't need a lot of rubbing for it to sink into skin,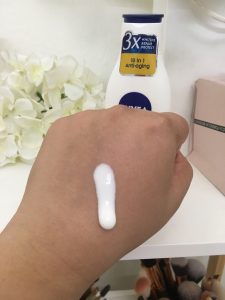 Absorbs fairly quickly, leaving a silky finish that does not feel tacky or sticky.

(slathered, not rubbed in yet)
(fully rubbed in)
It smells good, a bit soapy, a lot floral notes, like most body lotions and hand creams. The scent is not subtle but not too strong either, it feels refreshing and is great for daytime use. I don't really like strong scents for daytime especially on a hot afternoon when I am sweating and all.
Experience
Well this has been my staple body lotion during the daytime especially for outdoors. It's also great for days I have to do some activities or errands that involve some sweating because as I have mentioned, it has UV filters and the texture is non sticky and the scent is pleasant for hot days. It makes my skin fairer, especially my neck, thanks to the unique formula with the combination of Deep White Essence, concentrated whitening extract that deeply repairs and nourishes for fairer and radiant skin from deep within. It claims to give a bouncy youthful looking skin so I think it is suitable for a 30 year-old like me.
The price point is also a big contributing factor to my loyalty to this lotion as I got it for only RM18.13 (bought the latest one, my second bottle in November after I have finished the first bottle) for 400ml on Hermo.
Shop Here