Choosing the right cleanser that suits our skin is perhaps as important as choosing the right fitting clothes for our body; it's a crucial part of our routine. There are many types of cleansers: gel cleansers, cream cleansers, foam cleansers, clay cleansers, powder cleansers, soaps and cleansing bars. Picking a wrong cleanser can cause irritation, pore-clogging, dehydration, sensitised skin, and other negative skin reactions.
Real Barrier is specifically formulated for dry and sensitive skin. This brand is designed to reinforce and support the skin's natural barrier, which is responsible for keeping moisture in and irritants out. Real Barrier Cream Cleansing Foam is a hybrid of two types of cleanser: cream and foam. This cream cleansing foam targets all skin types but I think the formulation and ingredients are really suitable for dry and sensitive skin types.
Ingredients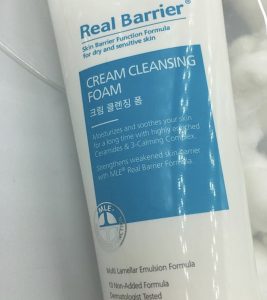 WATER, POTASSIUM COCOYL GLYCINATE, DISODIUM COCOAMPHODIACETATE, POTASSIUM COCOATE, DISODIUM COCOYL GLUTAMATE, HELIANTHUS ANNUUS (SUNFLOWER) SEED OIL, SODIUM SWEETALMONDAMPHOACETATE, CARBOMER, MYRISTOYL/PALMITOYL OXOSTEARAMIDE/ARACHAMIDE MEA, DIHYDROXYISOPROPYL PALMOYLPALMAMIDE, BRASSICA OLERACEA ITALICA (BROCCOLI) SPROUT EXTRACT, CENTELLA ASIATICA EXTRACT, MADECASSOSIDE, PANTHENOL, TRITICUM VULGARE (WHEAT) SPROUT EXTRACT, SPIRULINA PLATENSIS EXTRACT, ALLANTOIN, TOCOPHERYL ACETATE, CITRUS AURANTIUM BERGAMIA (BERGAMOT) FRUIT OIL, CANANGA ODORATA FLOWER OIL, CEDRUS ATLANTICA BARK OIL, PELARGONIUM GRAVEOLENS FLOWER OIL, LAVANDULA ANGUSTIFOLIA (LAVENDER) OIL, CITRUS LIMON (LEMON) PEEL OIL, VETIVERIA ZIZANOIDES ROOT OIL, DISODIUM EDTA, 1,2-HEXANEDIOL, CAPRYLYL GLYCOL.
The key ingredients are centella asiatica extract, madecassoside, tocopheryl, acetate, panthenol and allantoin. These are all barrier-loving ingredients that hydrate and soothe your skin. Not only these, there are also emollients such as sunflower seed oil, broccoli sprout extract and caprylyl glycol. Emollients are moisturising ingredients that fill in the rough patches of your skin and instantly give you that soft, smooth skin feel. These ingredients are usually lighter oil-based substances like jojoba oil, caprylic/capric triglyceride, squalane, isopropyl isostearate, etc. that are loved by dry skin. There are also humectants (water-loving ingredients that cling and hold on to water) in this cleanser which are: dihydroxyisopropyl palmoylpalmamide, centella asiatica extract and panthenol.
However, note that there are sunflower seed oil, lavender oil, citrus lemon peel oil, and cananga odorata flower oil which can be irritating if your skin can't take it.
Smell & Texture
Frankly I'm not really a fan of the scent since it smells like some kind of ointment? It's not pleasant, but also not terrible. It's just a smell that I will expect to get especially in the morning. But the fact that Real Barrier leaves out fragrance in the ingredient is really great for sensitive skin so this is not a minus point really, it's an advantage.
Texture is creamy and feels so rich, like a moisturiser but one that gets nicely foamy as you lather it up. While cleansing, it feels so soft and moisturising, and post-cleansing skin feels moisturised, soft and smooth.
Experience
Compared to my Cosrx Good Morning Cleanser, the cleansing time with this one is longer because it's so gentle. Cleansing with it in a shorter time somehow makes me feel like my face is not cleansed enough so I usually take more than 60 seconds cleansing my face with this one. My skin doesn't feel dry or taut, in fact it felt moisturised.
The after feel is great although it seems that only the Skin1004 exfoliating toner and Laneige Fresh Calming Balancing toner are the only suitable toners to use after in the routine. The other toners that I have used after this cleanser make my skin feel kinda itchy or sweaty/clammy. Is it because of the oils in the cleanser? It could be, I guess.
As someone who has combination skin type, I only use this in the morning as I prefer cleansers with greater cleansing 'strength' for evening use as this one feels too gentle. Well this would be great for people with dry or sensitive skin and people with damaged skin barrier. With consistent use of this gentle cleanser,  it could repair your skin barrier with the help of panthenol, madecassoside, Centella Asiatica, tocopheryl, acetate, panthenol and allantoin that promote wound healing and calming.
All in all, I don't think I would repurchase this as I have oily combination skin that goes better with cleansers with salycilic acid that is low pH.
Rating: 4/5 for me but 5/5 for dry skin or sensitive skin or people with damaged skin barrier.
SHOP HERE