Hailing from Taiwan, My Scheming is a brand founded in 2003 with the clear aim of providing high quality products at friendly prices. As a fan of Asian skincare, I've tried and enjoyed most Taiwanese sheet masks I could get my hands on. So when I discovered My Scheming has since extended their product line, I was super excited!
Without further ado, here's my review on three types of face masks, a 3-step blackhead removal kit, and a peeling foot mask!
DISCLAIMER: These products were sent to me for review purposes by HERMO, with no further compensation. All thoughts are solely based on my honest opinion.
I. SIX ESSENCE HYALURONIC ACID EXTRA BRIGHTENING BLACK MASK
Formulated with 6 types of hyaluronic acid – Hyaluronsan HA-LQH, HA-TLM, Hyalo Oligo, Hyaloveil®-P, Hyacross TL100, Hymagic™ AcHA – and starring Vitamin C, this sheet mask aims to deeply hydrate the skin while also helping to fade dark spots and brightening the overall complexion. Addtionally, with My Scheming's popular black mask material, masking is easy and fuss-free as it adheres closely to the skin while keeping all the juicy, nourishing essence in tact!
Quick rundown:
• Contents: 5 individually packaged masks/box
• Mask material: Smooth, comfortable, plush-feeling black mask. Quite stretchy, good adherence.
• Mask fit: Overall good, though the excess material at the nose bridge can be annoying.
• Mask backing? None. But quite easy to unfold despite mask being drenched in essence.
• Scent: Non-offensive, mild chemical scent similar to other black masks.
• Essence: 25ml. Clear, runny liquid which absorbs easily into the skin with no tackiness.
• Recommended wear time: 15-20 minutes.
I used this mask post-exfoliation, and suffice to say, it reminded me why I've always enjoyed My Scheming's black masks so much! This mask helped to soothe and moisturise my dry, sensitised skin immediately. However, the brightening effects aren't as instant. Of course, my skin looked more even-toned, but it was only after I patted in the remaining essence (there's tons of leftover in the packet after use!) and finished off the rest of my routine did I notice my skin visbily brightening – to 1-2 shades lighter than my neck, no less! So overall, still a great mask, and definitely a good introduction to My Scheming and black masks in general, if you're in the market!
II. BB AMINO MOIST PLUMPING MASK
With age, our skin loses the ability to restore and hold onto certain amino acids. Hence, My Scheming has formulated this sheet mask to contain 23 amino acids to deeply hydrate and restore the moisture barrier. Not to mention the addition of multipeptides to further improve skin's elasticity!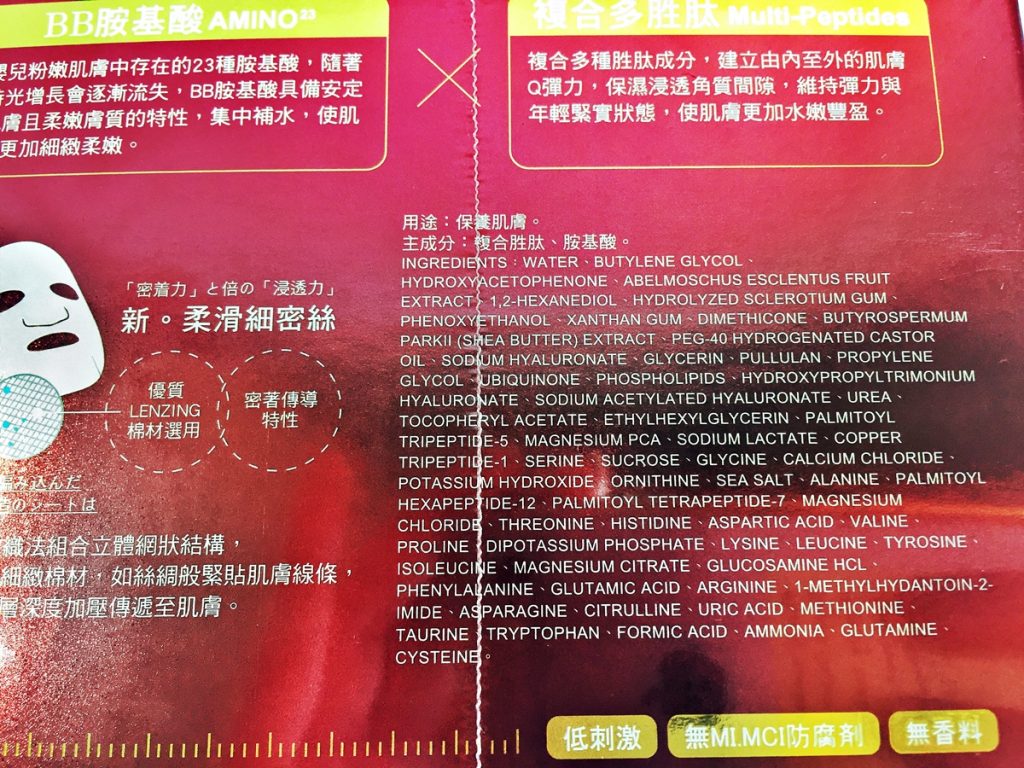 Quick rundown:
• Contents: 5 individually packaged masks/box
• Mask material: Very thin, super soft material with good adherence. No risk of tears when adjusting.
• Mask fit: Overall great, and even covers my "five-head". 

• Mask backing? Yes, it has a perforated plastic backing, which helps to separate and unfold the mask.
• Scent: Non-offensive, mild chemical scent similar to other black masks.
• Essence: 23ml. Cloudy, watery liquid. Absorbs easily into the skin with a powdery finish. Very comfortable and leaves no tackiness whatsoever.
• Recommended wear time: 15-20 minutes.
This is hands down my favourite of the bunch! My skin has been really congested and dry lately due to stress and improper care, but the moment I slapped on this mask, I immediately remembered how comforting and therapeutic sheet masking can be! True to its claims, it does deeply hydrate and nourish my skin, to the point that my face felt cool to the touch, looked plumper and even brightened my complexion greatly. Not to mention that the silky finish makes my skin baby soft to the touch!
III. EXTRA HYDRATING AMPOULE MASK
"1 Mask = 1 Bottle of Ampoule". With a high contentration of moisturising essence and up to 11 types of plant extracts', this face mask provides unburdened perfection for the skin. Coupled with nourishing beauty oils, it helps the skin to preserve its optimum moisture balance, improve skin elasticity, and also provides long-lasting hydration.
Quick rundown:
• Contents: 4 individually packaged masks/box
• Mask material: Very comfortable superfine fiber mask. Smooth, adheres well and is thin yet opaque.
• Mask fit: Overall good, and easy to adjust. A bit big for me in certain areas.
• Mask backing? Yes, it comes folded with a thin gauze layer over it, which can be easily removed.
• Scent: Moderate herbal scent, reminiscent of essential oils/aromatherapy. Very "spa"-like.
• Essence: 25ml. Light, creamy emulsion texture. Absorbs easily into the skin, but a bit heavy at first.
• Recommended wear time: 15-20 minutes.
Being aesthetically-driven, this mask's gorgeous packaging was definitely the first that caught my eye. And while I do like how nicely it clung to my skin, I had my doubts the moment I detected the scent. My skin errs sensitive, so essential oils (EOs) are always tricky for me. And unfortunately, this mask does contain a few EOs, which my skin didn't enjoy too much. Also, while it's moisurising, I found that it's a little too rich for my skin. Drier, mature skin types would definitely love this more!
IV. Blackhead Removal Activated Carbon Mask Set
Instead of just pore strips, My Scheming has designed a 3-step system to zap away pesky blackheads! Basically, Step 1 is a watery solution to soften the congested pores, Step 2 is where the gooey peeling magic happens, and Step 3 is a watery essence to soothe and tighten the now clean pores. All solutions have mild chemical scents, with some herbal notes for Step 3.
To be honest, I'm not a huge fan of peel off masks since it can cause open pores in the long run, but with the inclusion of an astringent for after care, I'm less miffed by the idea. So, kudos, My Scheming!
At first, I wasn't too impressed by the effects, but after a few days observing my nose alone, I'm actually surprised at how it still looks clean and even a little shiny (which to me, shows how not congested it is!). Granted, I've also been oil cleansing every time after I use makeup, but it's still an amazing feat for my often pore-clogged skin. I'll definitely be trying this out more!
V. Foot Peeling Black Mask
Last but not least, how about peeling masks… for your feet?
Well, if you have dry, cracked heels or just want some extra TLC, this foot mask is definitely something you could try! However, as there is only one set of mask in the box, do note that this is a one-time use product. So use immediately after opening! Below I'll provide some visual instructions.

*NOTE: Graphic-ish before/after feet pictures up ahead – click through the slideshow at your own risk! Also, please wash your feet and wipe them clean before starting.
So, the My Scheming foot mask does work! Though, at a faster rate than I initally anticipated. For those with sensitive skin like me, I advise you to strongly moisturise your feet at least every night after the first use! Otherwise, you'd probably end up suffering like I did with inflamed, burning sensations that would need calamine lotion to soothe… Please be smarter! 
Overall, I'm both impressed and slightly afraid at how fast this thing works, to be honest. Definitely handy for those looking to shed dead, hard skin on the feet quickly, though wait time might vary. My feet are still a peeling mess at the moment, but the new skin which has been revealed so far is baby soft!
My Scheming has definitely got you covered from top to (literal) toe! Definitely a brand worth trying if you're keen on venturing into Taiwanese skincare. ♥