Did you know that our skin naturally losses moisture during our sleep? Some external factors like sleeping in a too high or low temperature room and not drinking enough water may contribute to waking up to dry, dehydrated skin. That is one of the reasons why night creams are usually designed to be a richer, thicker, and heavier formula just to hydrate the skin slowly over several hours and support aging skin.
I have oily skin and truth be told, it is very, very difficult to find a cream that suits my skin. A lot of night creams in the market often make my skin feel so sweaty and uncomfortable that I always end up washing them off. However, when I first got myself a mini size of this cream, I fell in love instantly and made a purchase for a bigger size.
Here's my take on the Laneige's Water Sleeping Mask in the Lavender variant.
Description:
Moisturizes and revitalizes skin as if you have had a good night's sleep for 8 hours!
Laneige's Water Sleeping Mask Features:
1. Skin purifying effect: SLEEP-TOX™ technology purifies skin during sleep, keeping it in optimum condition
SLEEP-TOX™ technology's purifying effects help to rejuvenate and normalize skin that is often fatigued and sensitized by stress during the day. This helps the skin to achieve a well-rested appearance the next morning.
2. Skin moisturizing: MOISTURE WRAP™ helps skin retain moisture throughout the night.
The dense beta-glucan moisturizing shield (network) consists of active agents such as Hydro Ion Mineral Water, evening primrose root extract, Hunza apricot extracts, and more so that skin fully absorbs the goodness during 8 hours of sleep.
3. Skin soothing: contains skin-soothing agents that are gentle on sleeping skin, helping it recover overnight.
Ultra-mild, safe formula that can be worn overnight / Non-comedogenic, sensitivity tested.
4. Aromatic SLEEPSCENT™ helps you relax during sleep
SLEEPSCENT™ specially developed for Laneige Water Sleeping Mask is an AMOREPACIFIC original, allowing skin to relax and rest and boosting its ability to regenerate.
Capacity: 25 ml / 70 ml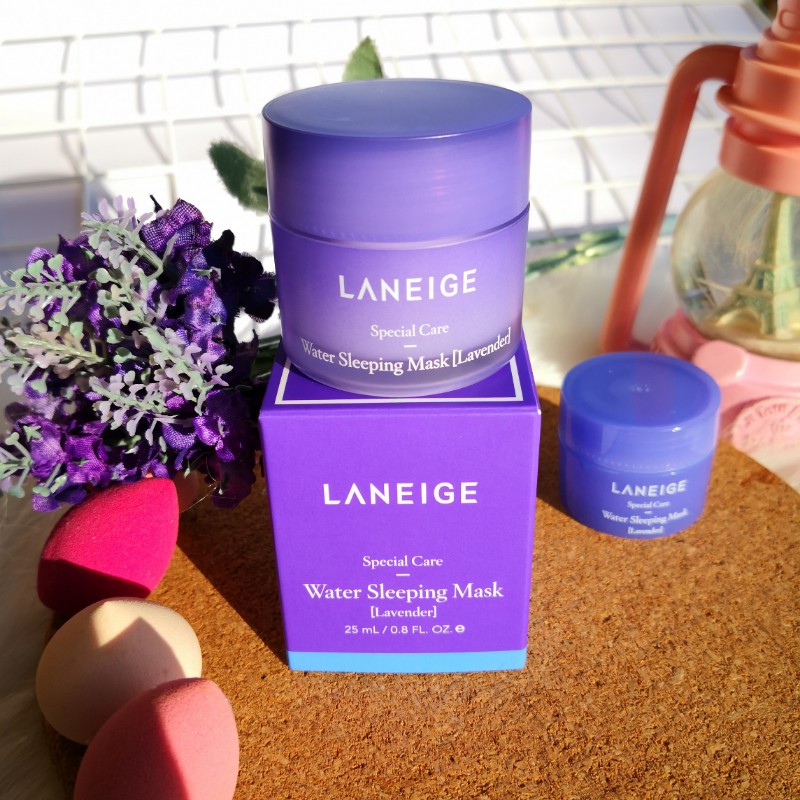 When and How To Use:
The sleeping mask is not meant for everyday use; you can use it up to 2 to 3 times a week.
After washing your face, apply toner and emulsion as per your nightly routine.
Apply a sizeable amount (about that of a 50 cent coin) on your nose tip, forehead, cheeks, and chin, and just enjoy the scent!
Gently massage the product into your skin, working your way out from the center, to the sides of your face.
After working the mask into your skin, leave it on overnight, and wash it off the next morning!
*Tip: You can also apply it on your neck for neck care
Key Ingredients:
Trehalose – Hydrates the skin and has anti-oxidizing properties. When applied on the skin, Trehalose allows it to retain moisture thus protecting against dry skin and helps reduce the visible signs of aging
Sodium Hyaluronate – Its molecule holds 1,000 times its weight in water.  When applied to skin, it helps skin retain moisture.
Oenothera Biennis (Evening Primrose) Root Extract – Moisturize, smoothing skin roughness and wrinkles
Prunus Armeniaca (Apricot) Fruit Extract – Nourishing, helps to enrich and support the skin's natural moisture balance, and helps leave skin touchably soft and smooth
Beta-Glucan & Chenopodium Quinoa Seed Extract– Boosts skin barrier, smooths skin, antioxidant properties to  protect the skin from free radicals
⚠️ Note that it also contains: (in the last 10 ingredients of the list)
Dimethicone, Dimethiconol, Dimethicone/Vinyl Dimethicone Crosspolymer, Alcohol, Fragrance
Packaging:
The Lavender variant comes in a sturdy, frosted purple glass jar with a high quality twist lid. The 25 ml version does not provide any spatula so get ready with one of your own, the full size of 70 ml does has a spatula provided in the box.
There are some English descriptions on the jar listing the benefits, main features, capacity and the Period After Opening information.
It comes along with a protective cover inside to ensure no spilling.
Period After Opening :
12 months
Scent, Colour & Texture:
It has a mild lavender scent. The transparent white color of sleeping mask has a watery, gel-like consistency that spreads smoothly and absorbs quickly into the skin.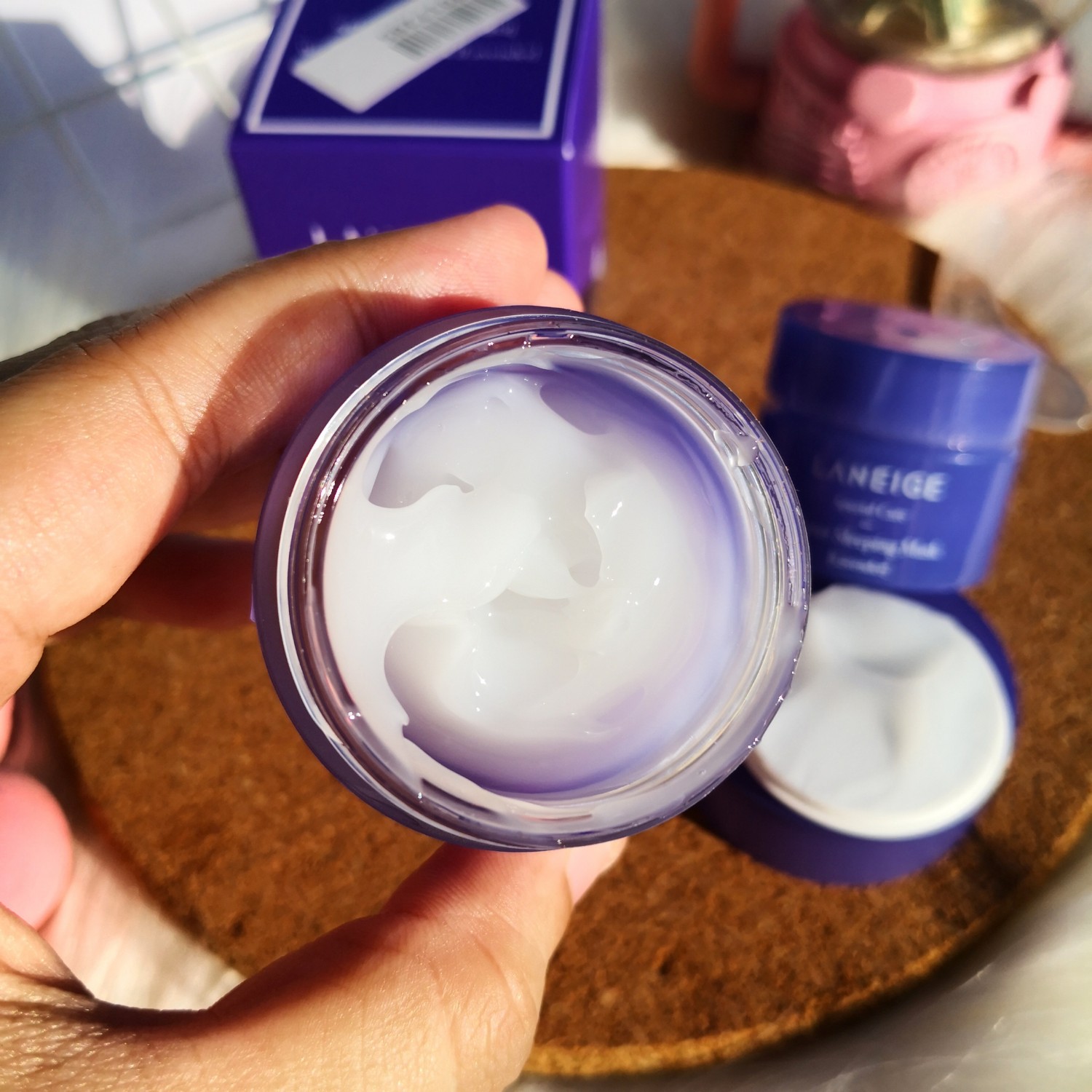 My Verdicts:
The Water Sleeping Mask spreads easily and evenly, leaving a little bit of cooling sensation that dissipates as the gel sinks into my skin. I love that it does not leave any film, or sticky and greasy residue on my skin.
So far, in my experience, a gel consistency cream could not hold, or has less power to retain the moisture for a long time, especially in an air-conditioned room. That's not the case with this one! I was surprised by this Water Sleeping Mask from Laneige, not only it gives extra hydration to my skin, it also has helped to calm the redness and dryness of the sides of my nose .I even can skip my moisturiser when I have this Sleeping Mask in my night routine.
Lavender is known to aid a good sleep. I find the mild Lavender scent is calming and very pleasing. I love to breath it in for a good few seconds. I believe the scent is from the fragrance it contains. It is not the artificial kind of lavender scent that makes my head dizzy.
I love how my skin looks plump and feels bouncy to the touch in the morning. The rave is real! Yeah, you read that right! This cream is approved by my oily skin, not only for its lightweight consistency, but also the hydration it gives to my skin throughout the night.
Conclusion:
This is one of the best night creams / moisturisers that I love. I highly recommend this for all skin types, from dry to oily skin. This is such a great discovery for me in my skincare journey!
Rating:
5/5 ⭐
You may get this night cream by itself at Hermo Malaysia or get the Dream Collection Set consisting of the 3 Signature Sleeping Masks from Laneige
SHOP HERE: