When I started using sheet masks regularly 3 years ago, I used mountains of brightening sheet mask but these days, hydrating sheet masks constitute a large percentage of my whole sheet mask collection.
I do have my favourites when it comes to choosing the right hydrating ingredients for my skin. For example, hyaluronic acid, ceramide and allantoin so when  JMsolution released this  for their Japanese sheet mask line, I got my hands on my own box right away! This H9 Hyaluronic Ampoule mask comes in 5 sheets in a single box just like other variants from this sheet mask line.
What to love about this hydrating sheet mask?
This Hyaluronic Acid mask holds nonuple types of hyaluronic acid to provide deep hydration.
Full of Moisture H9 Mask to deliver moisture deep into the skin.
Phyto-Moisture Care from botanical ingredients to provide moisture as well.
Air-Fit Tencel sheet. Thin, low-irritation sheet that adheres so well on skin.
How to use:
After cleansing and toning, remove the mask from the packaging and apply it evenly to your face. Remove after 10~20 minutes, gently pat the excess ampoule remaining into the skin. Follow up with the rest of your skincare routine.
Water, Glycerin, Methylpropanediol, Glycereth-26, PEG/PPG-17/6 Copolymer, Trehalose, 1,2-Hexanediol, Betaine, Erythritol, Hydroxyacetophenone, Arginine, Carbomer, Polysorbate 20, Sodium Hyaluronate, Allantoin, Hydroxyethylcellulose, Ethylhexylglycerin, Xanthan Gum, Disodium EDTA, Melia Azadirachta Leaf Extract, Melia Azadirachta Flower Extract, Panthenol, Potassium Hyaluronate, Hydrolysed Sodium Hyaluronate, Coccinia Indica Fruit Extract, Fragrance, Solanum Melongena (Eggplant) Fruit Extract, Aloe Barbadensis Flower Extract, Ocimum Sanctum Leaf Extract, Curcuma Longa (Turmeric) Root Extract, Corallina Officinalis Extract, Propanediol, Helianthus Annuus (Sunflower) Seed Oil, Sodium Hyaluronate Crosspolymer, Onsen-Sui, Candida Bombicola/Glucose/Methyl Rapeseedate Ferment, Hydrolysed Glycosaminoglycans, Agave Tequilana Leaf Extract, Benzoyl Glycol, Opuntia Ficus-Indica Stem Extract, Ceramide NP, Ceteareth-20, Polyglyceryl-10 Stearate, Caprylic/Capric Triglyceride, Hydrolysed Hyaluronic Acid, Adenium Obesum Leaf Cell Extract, Myrothamnus Flabellifolia Leaf/Stem Extract, Hydroxypropyltrimonium Hyaluronate, Beta-Glucan, Sodium Acetylated Hyaluronate, Hyaluronic Acid, Raspberry Ketone.
Basically, the 5 sheet masks come in a box with an illustration of Hyaluronic Acid ampoule bottle on the cover, identical to the individual packets. Most of the wordings on the packaging are in Japanese leaving the product name, simple instructions, and the ingredient list printed in English. I have to point out that the packaging is actually like half-in-size of other JMsolution sheet masks so that's actually quite nice for travel. 
I actually didn't see any expiration date printed anywhere although I did noticed the batch number 19B0022 and after a brief confirmation with the official distributor, the expiration date is 22 February 2022 so that is 3 years of shelf life.
As you can see, the sheet mask comes in that pretty opaque black packet. You can simply tear open the packet from the cutout areas at the top.
Now, in every box of the sheet mask comes with a small card with magnetic strip as shown above. Put it behind the black square at the corner to see the vertical lines. This should indicate that the sheet mask in your hand is authentic from the brand.
Just want to point out here you can also see the Batch Number embossed at the bottom part of the sheet packet.
There's also a QR code at the bottom right of the sheet packet that you can scan using a QR code scanner that will bring you to the official product page although not in English but at least you can see infographics that might be helpful to you.
The sheet is made of soft Tencel fibers and if you're familiar with this type of sheet, you can expect to get a mask sheet with good to excellent adherence to skin. The sheet comes with a white plastic separator for your convenience as all you need to do is unfold the sheet and place the separator facing outward, position the sheet according to your eyes and mouth before removing the separator off.
Even with the thin sheet being well-soaked as shown above, there was so much of the bluish clear ampoule left in the packet so either you want to apply the excess on your facial area first and then apply the sheet on top or vise versa, it is totally up to you. As for me, I prefer to keep adding the excess ampoule on top of the sheet once it starts to dry out over a period of 15 to 20 minutes.
As you can see above, the sheet adhered so well on my facial area which is something I appreciate a lot. Well-adherence means the ampoule will have a higher chance to be well-absorbed into skin.
The essence is actually quite thick; ampoule-like so if you have any essence or serum you want to use in your routine, I would suggest to use the lightweight essence or serum prior this sheet mask.
There was a pleasant scent to this sheet mask which is nice as it doesn't linger long.
Overall, I give this product 5/5. This sheet mask is indeed true to its claims; my facial area have become very well-moisturised compared to before, further smoothing out my dry patches which is great and I can simply apply my usual lightweight moisturiser on top followed by hydrating sunscreen for my morning skincare routine.
Of course, this hydrating sheet mask is much more enjoyable once it is chilled in the fridge prior using. This is actually due to the slightly lower in temperature that matches well with the nature of the watery ampoule but does not temper with its effectiveness.  
I did notice that my pores appeared to be minimised and even with all the excessive ampoule, the sheet mask did not leave any sticky finish at all which is a good sign that the ampoule is well-absorbed in.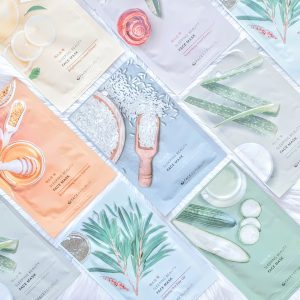 Review
If you're following me on social media like Instagram then you probably noticed that I am such a #sheetmaskjunkie and I do at least use
Read More »
Review
For years, I only had 4 different toners in my skincare stash (not that any of you need all of those toners in your routine);
Read More »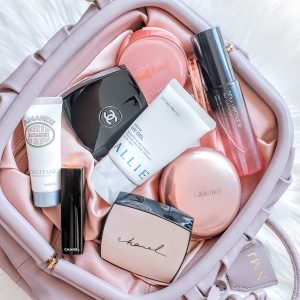 Review
Now that we're nearing the second quarter of 2021 and to be honest, it isn't that much of difference compared to 2020 where we're sticking
Read More »