Hand cream is probably not a priority for many especially in our hot and humid weather but if you work in an air-conditioned office from 8 to 5 and sleep in air-conditioned room at night like me then body lotions, hand creams and foot creams are mandatory. Constant exposure to even mild low temperatures or vigorous hand washing can cause dryness overtime so it is imperative to protect the skin by using moisture-retaining body products. 
While I was all over perfumed body products, I have realised that the alcohol in these products have been somewhat making my skin feel even drier after prolonged use so that was when I decided to go for much more moisturising body products instead of merely focusing on the scents. For a start, I have been indulging myself in this Shea Butter Hand Cream from L'Occitane in a 30ml-sized tube at the beginning before committing to its 150ml full-sized tube.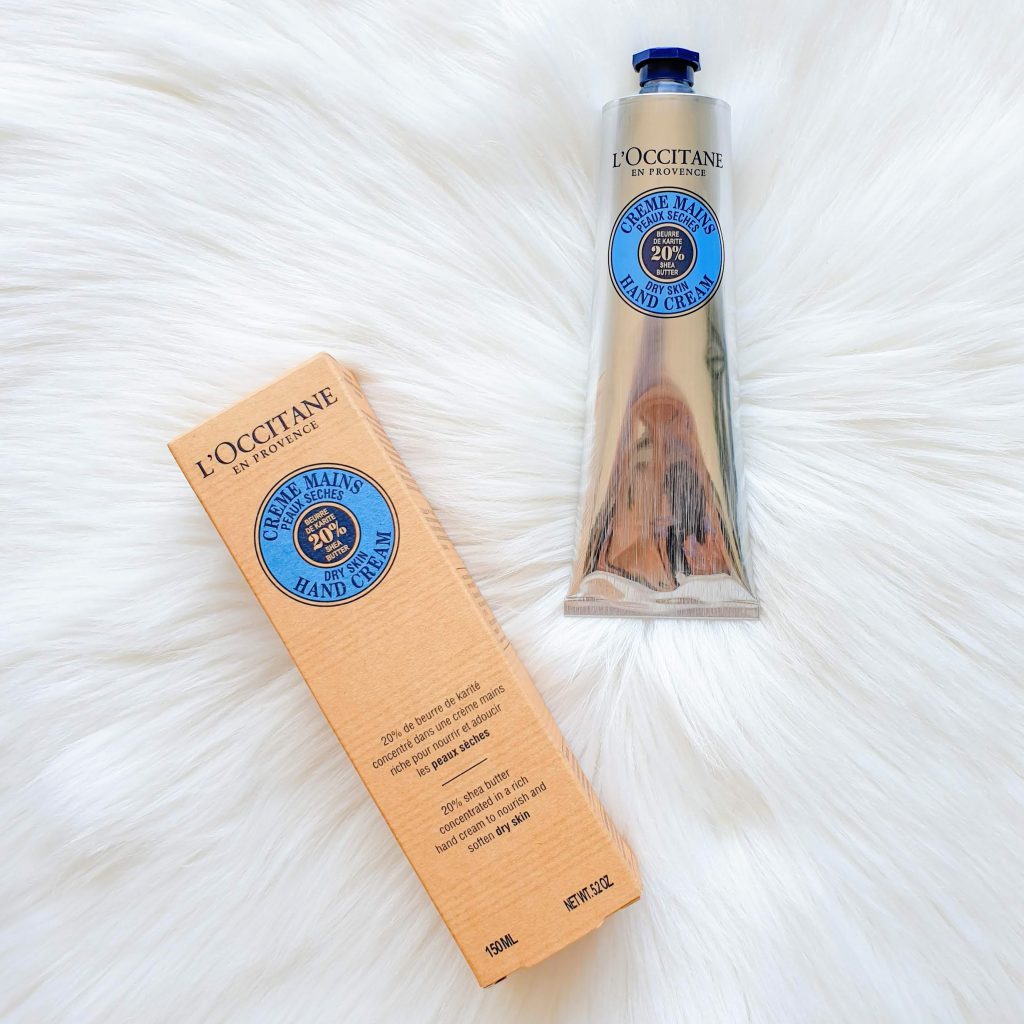 What's Interesting About This Hand Cream?
This considerably rich hand cream contains high concentration of Shea Butter (20%) to nourish and soften dry skin.
Blended with honey, almond extracts and coconut oil to further moisturise and treat the skin.
The creamy texture quickly absorbed into skin without leaving tacky or greasy finish.
How to Use:
Warm a generous amount of cream in your hands then gently massage into the palms, back of the hands, nails and cuticles (twice a day).
Capacity: 150ml – About 3 to 4 months of daily use depending on how frequent you want to use. But for me, I take a pea-sized amount at a time and use it about 2 to 3 times a day while I'm in air-conditioned room or office. 
Aqua**, Butyrospermum Parkii (Shea) Butter*, Glycerin**, Dimethicone, Cetearyl Alcohol**, Glyceryl Stearate, Linum Usitatissimum (Linseed) Seed Extract**, Honey Extract**, Prunus Amygdalus Dulcis (Sweet Almond) Fruit Extract**, Althaea Officinalis Root Extract**, Cocos Nucifera (Coconut) Oil**, Brassica Campestris (Rapeseed) Sterols**, Helianthus Annuus (Sunflower) Seed Oil**, Polyacrylamide, Ceteareth-33**, Urea, Xanthan Gum**, PEG-100 Stearate, Butylene Glycol, C13-14 Isoparaffin, Laureth-7, Ethylhexylglycerin, Sodium Hydroxide, Benzoic Acid, Dehydroacetic Acid, Phenoxyethanol, Chlorphenesin, Alcohol, Tocopherol**, Parfum / Fragrance, Linalool, Coumarin, Citronellol, Alpha-Isomethyl Ionone, Limonene, Geraniol.
* Ingredient from Organic Farming
** 
Natural origin ingredients
Made in France
This hand cream comes exclusively in its own box; for 150ml and 75ml tubes (limited edition above) while the 30ml tube that's great for carrying in your purse or for traveling simply doesn't.
The box is quite sturdy in order to hold the big tube with simple information at the front and the a backstory of the star ingredient with the full ingredients list printed in mix of English and French on the side for your reference.
There are also instructions on how to optimise the use of this hand cream printed on the other side with the Batch Number embossed at the bottom of the box which translates to 09 April 2019 according to Cosmetic Batch Code Checker around the Internet.
Product shelf life is generally 3 years so this hand cream should be good until 8 April 2022 and Period-After-Opened is 12 Months.
The hand cream comes in a metallic tube with minimal design that I'm a fan of. There are simple product information on the back of the tube.
There is no plastic seal or anything covering the tube opening so you only need to twist open the product once you have decided on using it.
Also, there's a product batch code embossed at the bottom of the tube that supposedly matches the one  printed on the box.
As you can see above, the hand cream is in that opaque white colour and its consistency is indeed quite thick but once I massaged the cream on my palms, back of my hands even add a little bit of it on my cuticles, the hand cream is quickly absorbed right in without leaving a greasy finish.
My hands feels nice and well-moisturised for hours before I had to reapply.
The scent is powdery and subtle enough for me to layer another perfumed hand cream or solid perfume on top.
Overall, I give this product 5/5. Every single application of this hand cream is absolutely wonderful as it works great with my currently dehydrated skin. I did considered changing to 5% or 15% of Shea Butter Body Lotion with a lighter consistency but I really like how this hand cream is already making my hands so soft to touch and smells great too!
Another reason to love this hand care product from L'Occitane is because every year the brand releases limited edition designs for their signature products and this hand cream is indeed one of them. From end-of-the-year holiday-themed limited edition packaging to exclusive collaboration with French colouring-book creator and a well-known stationery and lifestyle brand, the brand sure came up with some prettiest hand creams that not only easy on the eyes but also encourage one to take them out and use regularly.
Essence
I started hearing about fermented skincare products about 5 years ago from the beauty community when several South Korean brands came out with their treatment
Read More »