Apart from caring well for the skin, I often neglected caring for my hair.
I have had hair fall issue since I was in elementary school and only a few years back I started to get more serious in taking care of my hair. Yes, it is normal to shed hair everyday. However what's not normal is having too much hairs on the floors and even in between the hair combs.
After using quite a number of brands to combat my hair fall problem, I finally found saviours for my thinning hair. Here, I am going to share my hair care products for oily scalp.
1. Shampoo
Well, of course it starts with a shampoo. The one that I am currently enjoying is the Yves Rocher's Anti Hair Loss Shampoo
Brand: Yves Rocher
Description:
This shampoo containing White Lupin, gently cleans the hair, strengthens it, and slows down the hair loss mechanisms*. Beautiful hair starts with a healthy scalp, so they included agave fructans at the heart of every formula. This new active cosmetic ingredient doubles the scalp's microcirculation** so hair can grow in stronger and more beautiful.
Claims: Cleans hair and slows down hair loss 76%*
Features:
– Its fresh, silicone-free texture that gently cleanses.
– Contains more than 98% ingredients from natural origin
– Easily biodegradable, silicone-free formula
– 0% Paraben, 100% Vegan
– Organically-grown Agave
– Botanical washesing base
– Recyclable bottle made 100% from recycled plastic (except additive)
– Dermatologically tested formula
Volume: 300 ml
How to use:
Apply to wet hair, massage and gently stimulate the scalp for 2 minutes. Rinse thoroughly.
Packaging:
I love the packaging of this shampoo. It comes in a green bottle that is easy to grasp in my hand with a flat cap that's easy to use and dispenses the product.
Scent & Texture:
It has a mild botanical scent to it which I find a pleasant one. The texture of the shampoo is slippery with a slight thick consistency.
Experiences:
It lathers and foams well as I massage it on my hair. I only use a 50 cent coin size to cover my whole hair. Noted that I have a Bob cut hair, so if you have longer hair, you may need a little more shampoo. I love to massage my scalp while shampooing my hair. This shampoo makes my scalp feels clean and  I feel my scalp has becomes less oily than before.
I used to have a lot of hairs on the floor, like more than hundreds strands of hairs every single day. After I started using this one, I noticed the hair strands in the floor are lesser and my hair seems to have more volume.
The other thing that I like is my hairs feel smoother and more manageable than before. It is easier to comb my hair too.
Results:
My hair seems to have more volume, less hair fall and smells nice
Rating: 4.5/5
Repurchase: Definitely
2. Shine care
I received this one as a free gift for purchasing the shampoo. Its the Rinsing Vinegar from Yves Rocher.
Description:
This Raspberry rinsing vinegar removes limescale deposits on the hair fiber by water, as well as all other factors that have a dulling effect on shine, to provide hair with natural shine.
Scent & Texture: A  raspberry fragrance that is quite strong and does lingers. It has a watery consistency.
How to use:
Experiences:
At first I was confused on how this product works, but as I use it more, I find that it helps to give my hair the shine that it needs. Since it is raspberry scented, my hair smells so good for 1-2 days.
I also use this on my scalp and I find that my scalp feels refreshed and clean. I use this hair vinegar twice a week. I love the results.
This would be good for those who have a dull, dry hairs as it helps to give the shine without weighing the hairs.
Results : Shiny hairs, my hair smells lovely as Raspberry scent
Rating: 4/5
3. Hair treatment
This is a weekly step in my hair care that I truly enjoy. It is the product from Sunsilk which is the Smooth & Manageable Intensive Treatment Mask
Description:
Gives you smooth and manageable hair that goes with your flow! So you have your hair always on your side. It infuses hair with bounce and flexibility in movement, so you have smooth and manageable hair that always goes with the flow!
Features:
Silky Smooth & Manageable Intensive Treatment Mask by Yuko Yamashita (Straight Hair Expert,Tokyo)- Keratin Yoghurt Nutri Complex With 5 Natural Oils:  Almond,Argan,Coconut,Jojoba & Olive Oil– For Smooth & Manageable Hair Throughout The Day*
How to use :
After washing apply evenly over your hair up to the tips and massage. Rinse after 3 minutes
Scent & Texture:
Mild scented and quite thick creamy, slippery consistency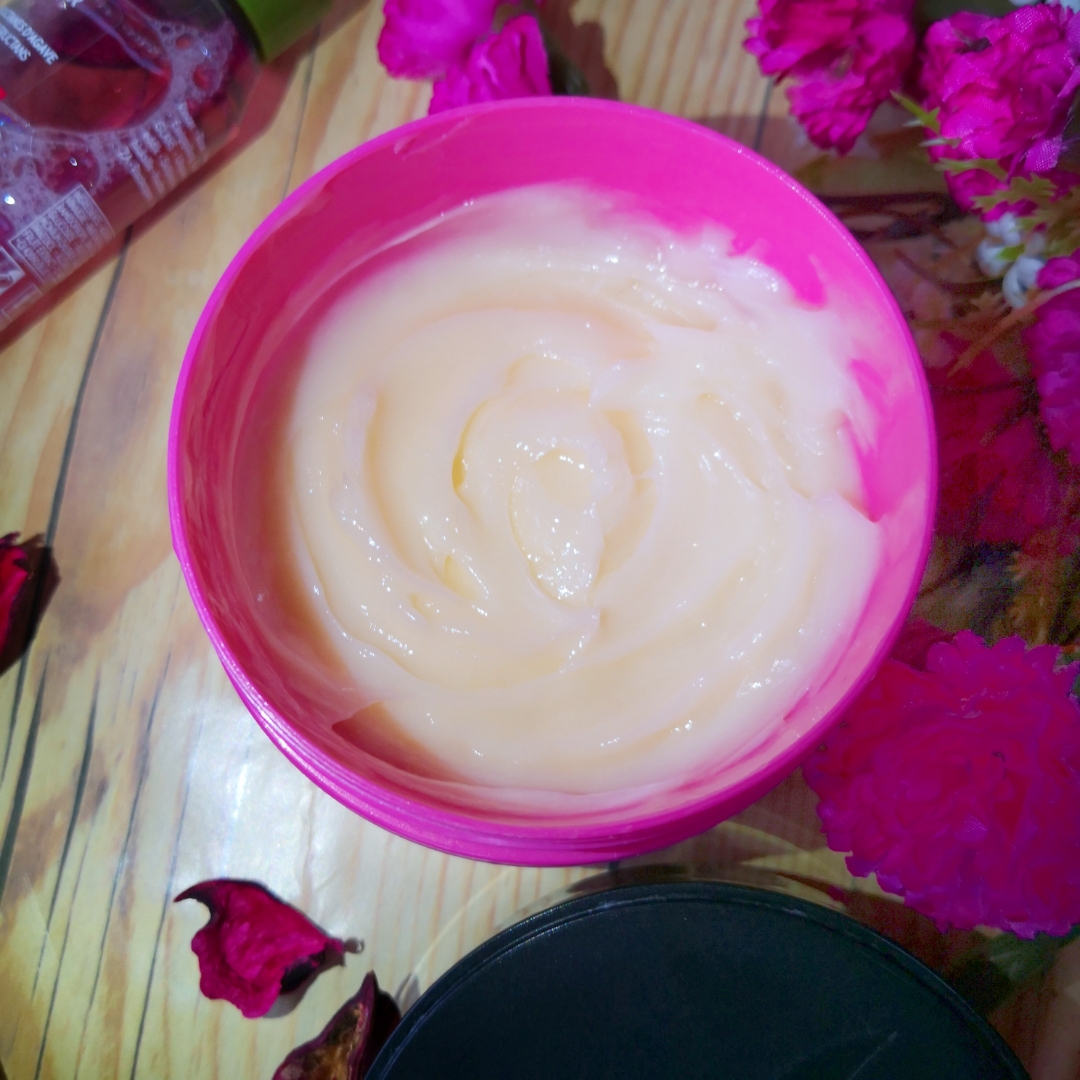 Volume : 200 ml
Packaging:
This variant I have comes in a pink jar. There is a sanitary issue here since I have to dip my fingers to scoop out the product. If you are concern on this, do get a spatula ready to keep the product's hygiene at its best.
Experiences:
It spreads easily across my hair and I love that it isn't really greasy as I have to leave it on for 3 minutes. I have tried other brands but I keep coming back to this particular brand because it really helps my hair become smooth for a few days.
I love how manageable my frizzy hair is after using this mask. My hair is silky smooth and easier to comb. It makes my hair smells so good that I keep on sniffing it. After wearing a hijab for a few hours, my hair still smells good. I also don't really need a hair oil anymore since it has help to tame my hairs.
My hair feel lighter and bouncier. I love to wiggle my hair, just like in the hair advertisements where the model have a silky smooth hair.
Results: Soft and smooth hair, more manageable
Rating: 5/5
That's it for my hair care. I hope you do find my sharing helpful. All of these products are available at Hermo.
SHOP HERE