I've never had a good experience with sunscreens when I was growing up because I'd always turn pink & oily after a long day out in the sun, which made me look funny! True story! Since then, I never used sunscreens unless I was heading to the beach or a swim as I took for granted that I wouldn't get tanned easily. I was so wrong because I ended up getting freckles instead which was worse! I only started using sunscreens at 17 and I didn't like trying sunscreens because of my sensitive combination type skin and T-zone area that oils up easily.
So what made me give in so easily to try COSRX's Aloe Soothing Sun Cream? The brand itself! COSRX is a brand that I'm very familiar with because it was the first brand I tried when I first began my K beauty journey. It soon became one of the brands I go back to often, simply for its affordability and effectiveness! COSRX is home to an extensive line of products from toner pads to acne stick-on patches to chemical exfoliators. If you're a beginner when it comes to skincare, COSRX is worth a try! ;)
What it is:
If you haven't got the hint already, COSRX's Aloe Soothing Sun Cream is a facial sunscreen for dry skin that has SPF50 PA+++. It's able to help block the skin from harmful ultraviolet rays such as UVA and UVB while maintaining the skin's moisture.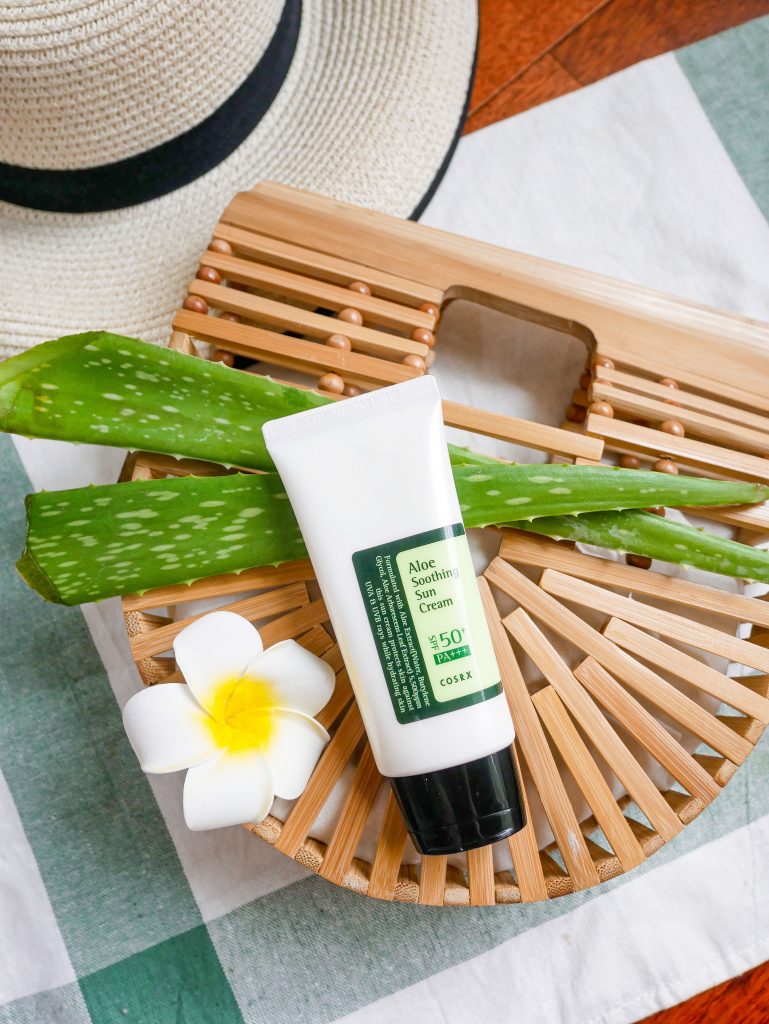 Ingredients list:
Water, Ethylhexyl Methoxycinnamate, Glycerin, Propylene Glycol, Cyclopentasiloxane, Bis-Ethylhexyloxyphenol Methoxyphenyl Triazine, Phenylbenzimidazole Sulfonic Acid, Dicaprylyl Carbonate, Isoamyl P-Methoxycinnamate, Potassium Cetyl Phosphate, Alcohol,Dimethicone, Glyceryl Stearate, Butylene Glycol, Titanium Dioxide, C14-22 Alcohols, Polymethyl Methacrylate, Cetearyl Alcohol, Aloe Arborescens Leaf Extract, Dipotassium Glycyrrhizate, Tocopheryl Acetate, Peg-100 Stearate, Silica, C12-20 Alkyl Glucoside, Dimethicone/Vinyl Dimethicone Crosspolymer, Aluminum Hydroxide, Stearic Acid, Caprylyl Glycol, Acrylates/C10-30 Alkyl Acrylate Crosspolymer, Carbomer, Xanthan Gum, Triethanolamine Sodium Hydroxide, Fragrance, Phenoxyethanol, Disodium Edta
What's so unique about it:
It's core ingredient is aloe vera leaf extract which has been a great ingredient for hydrating and moisturizing since 4,000 years ago as it was Cleopatra's essential in her beauty routine. Aloe vera also has strong anti-aging effects with its powerful moisture while offering a deep soothing effect. A small 50ml of COSRX's Aloe Soothing Sun Cream contains 5,500ppm of aloe vera leaf extract.
When to use it:
1) Apply adequate amounts (a green pea size is enough for me!) at the last step of basic skin care or 30 minutes before going out in the sun. 
2) Reapply every two hours for the perfect sun protection during the outdoor activity. 
3) Cleanse with the cleanser to remove the sun cream.
My review:
Sounds pretty amazing right? Often when you get a sunburn, aloe vera is the go-to item to heal the burns so it makes so much sense being made into a sunscreen. Also, it was Egyptian goddess' Cleopatra's favourite ingredient in skincare, needless to say more!
While I was unboxing the sun cream, I could tell the product was densely filled to the brim. I don't know if you've faced something like this before but I've tried products where you could feel it wasn't filled up to the maximum capacity, or it just came in a huge container but the contents were extremely little! Something like opening a bag of chips and it's half air! So first thoughts were great because I knew I was totally getting my money's worth!
COSRX's Aloe Soothing Sun Cream has a light, favourable aloe scent that made me feel like going to the beach or a swim! My skin is very sensitive to fragrance, however it doesn't irritate my skin at all! Just like all the other COSRX products I've tried such as COSRX's Good Morning Cleanser, Advanced Snail 96 Mucin Power Essence and AHA 7 Whiteheads Power Liquid.
While the tube is an average size, it'll definitely last you because I only use a pea sized amount to cover my entire face sufficiently. Although it has minimal white cast, I don't mind it actually as it brightens up my skin tone and on a good skin day, I could actually head out without makeup! Even after sweating a bunch, there were no obvious white cast marks on my face.
Overall, I really enjoyed using this COSRX Aloe Soothing Sun Cream because it checked all the boxes of what I want in an ideal sunscreen: Non-sticky, non-pricey and SPF50+! Most importantly, it's something I'll definitely repurchase again in the future.
Rating: 4.5 / 5 🌟