Benton Cosmetics is one of the K-Beauty brands that need no more introduction. This cruelty-free brand focuses on natural ingredients and minimal, mild formula, particularly interesting for sensitive and acne-prone skin.
Given the all-year-round summer weather we have here in Malaysia, it is good to have specifically a cream to cater to the skin's need. Here I'm sharing a cream from Benton that is intended for the Summer.
Description:
Cacao Moist and Mild Cream is a lightweight moisturizer with velvety, soft texture. With Cacao Extracts and Hyaluronic Acid, this cream provides moisture to skin. Various botanical extracts in the cream further help to keep skin smooth.
Key Ingredients:
☑️ Theobroma Cacao Extract – rich in skin-benefiting minerals and nutrients as well as antioxidants that help to increase epidermal thickness and promote collagen production
☑️ Hyaluronic Acid, Glycerin, Beta- Glucan – hydrate and soften skin
☑️ Madecassoside – active ingredient that has an anti-redness & anti-scaling effect. It gives a smooth feeling to the skin. It also reduces the itching sensation to skin.
☑️ Made without parabens, silicones, artificial scents or dyes.
Capacity:
50 g
Expiration date :
2 years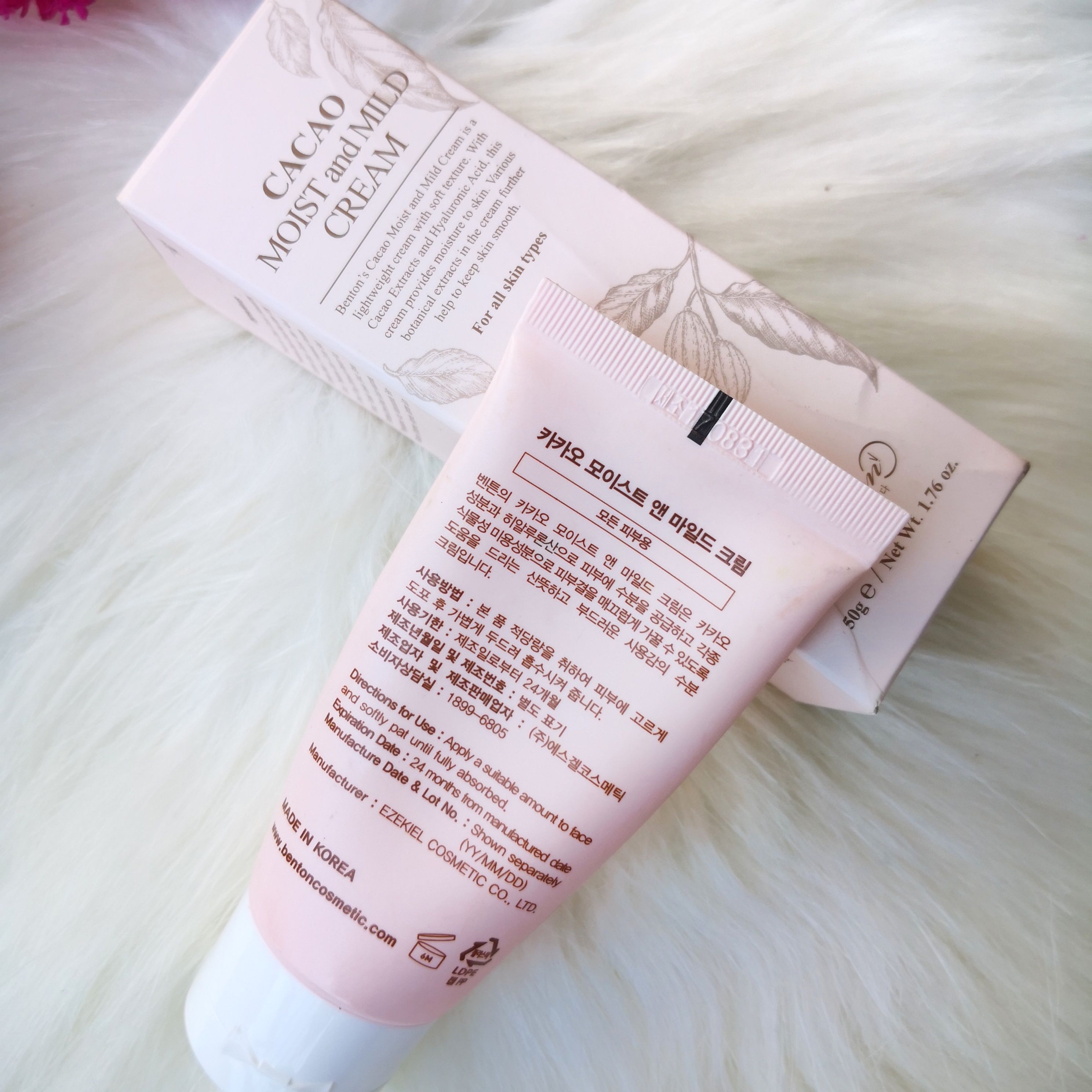 Period After Opening :
6 months
How to Use:
After using essence or serum, dispense appropriate amount to apply over your face.
Packaging:
The Cacao Moist and Mild Cream comes in a light pink-peach tube with a flip top cap. There is an illustration of cocoa on the tube itself, which I find esthetically pleasing my vanity.
Scent :
Since it contains cocoa extract, you might be expecting some chocolaty, sweet scent. However, it is actually unscented as it has no added fragrance. Well, if you ever you Benton's products such as the Aloe Propolis Gel or the Honest Cleansing Foam, the cream has the signature "unscented" scent of Benton products.
Color & Texture:
It is slightly translucent white gel-like cream.
My Verdicts:
First off, I have to point out the packaging of this cream. The tube is easily squeezed as it is made of soft material. I prefer tube packaging than jar because it guarantees the hygiene of the product.
Upon squeezing the cream on the back of my hands, it looks like a thick, rich cream but once I start to spread it, it feels watery and takes less than a minute to be fully absorbed into my skin. It does leaves a tacky film but that goes away after a few minutes.
I have an oily skin. This lightweight cream is the perfect consistency that my skin loves. It glides smoothly and instantly hydrates my skin, giving a fresh, dewy finish.
Before using this, I have been a little sceptical as I expected it to turn my face into a greasy ball after a few hours since it contains 10% cocoa seed oil. I was wrong on this as it does keep my face shine free for a good few hours.
So, I may say it is comfortable to use during daytime. It moisturizes my skin well. I love that it is good under makeup too! It softens and smoothens out my skin before I put my makeups on. The makeups seem to glides smoothly too.
While it is lightweight, dry skin or dehydrated skin concern people might find it is a bit too light for their skin. You may put on a few layers of the cream to have enough moisturizing effect, or add in some facial oils or heavier cream after this one in your routine.
I did not experience any adverse reactions like itchiness, redness or clogged pores from using this cream.
Rating:
4/5
All the comments mentioned above are solely based on my experience and are only my own. Do note that it may give different result to your skin as our skin vary individually.
SHOP HERE