Loose powder can be categorised as one of the most basic beauty products in our makeup stash. It has multiple functions, such as to mattify oily parts of skin, used for 'baking' in makeup, or even just use it alone for a minimal look.
As for me, loose powder is one of crucial product that I own because it's very helpful to combat my shiny oily skin. To be honest, I haven't tried many brands of loose powder out there since I have found my favourite loose powder but it comes in color or based on shade. I stumbled upon this Innisfree loose powder while searching for a translucent one. This product is highly raved and been loved by many, so I'm really interested to try it. I would say that I'm glad I've decided to try it, because this product is really lives up to the hype!
Claims
– A replacement for oil control paper that leaves the skin soft and matte.
– The double sebum-control system controls the secretion of sebum to keep the skin soft and fresh all day long.
– Jeju minerals and mint ingredient control skin oil and moisture to keep it healthy.
How to use
In the last stage of skin care, softly apply on the entire facial area or area with excess sebum using the puff. It may be applied to set the make up or whenever skin gets oily.Not to mention, this is a multi-purpose product too! Other than using it to mattify oily parts on face, it's also suitable for eyes and lips as a primer, on hair as dry shampoo, or even for the body.
Packaging & Volume
This product comes in jar-like container with a screw cap. This kind of packaging is very secure and since the size is very small and compact, it's perfect to be kept in handbags, and it's travel-friendly too! Some may find this screw cap is quite a hassle if you're in rush as it is separated with the container, will lead to loss of it, but personally I'm okay with it. Since this product is in powdered form, the packaging is suitable and messy-free. I also love that this product comes with a puff for easy application. The volume is 5g, quite small and very little actually if we use it daily, but fret not Innisfree also produces a limited edition packaging in larger size which is 15g. Please bear in mind that a little goes a long way with this powder too! 😉
Texture & Scent
This product has a minty citrusy scent. The scent is not bothering or overwhelming, which I really appreciate it. I also love the fact that this powder is very finely milled. It glides beautifully to the skin leaving soft and smooth feeling.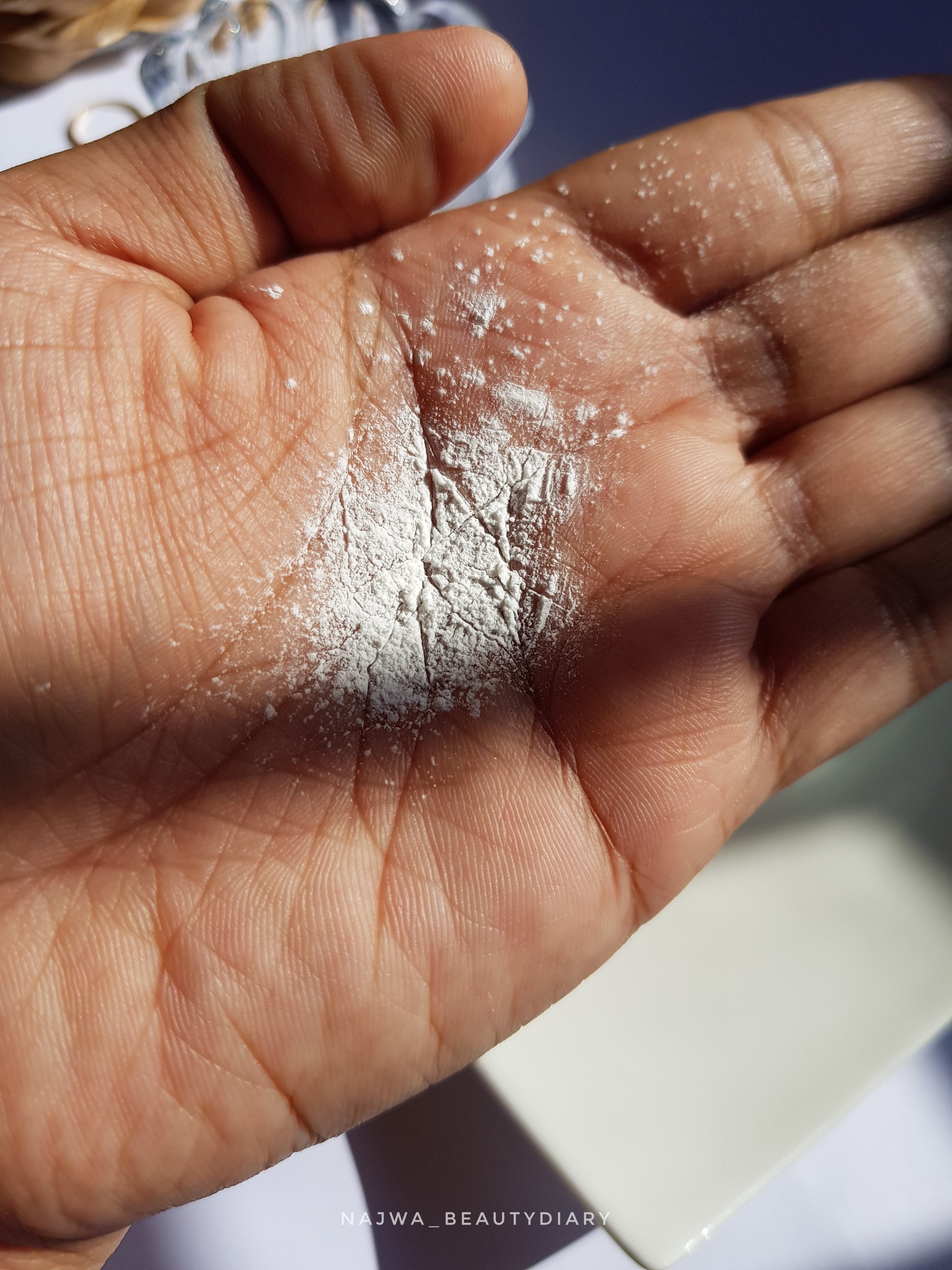 My Thoughts
To be honest, I'm not really into wearing foundation daily as I prefer something simpler like compact powder or loose powder. Loose powder has become my best friend ever since. Yes I don't prefer to wear foundation, but I still want to look decent and presentable when going out, even though just to buy groceries! 🤣 So wearing loose powder after sunscreen is the best option! As I mention previously, I only used colored loose powder before, so when I tried this translucent Innisfree loose powder, I'm amazed with it performance. Although with the white powder, it didn't leave any trace on my face, not even making my face looks ashy grey. Did I mention the scent is lovely too? The fact that it smells citrusy minty, for me it's very refreshing. The fine texture is amazing too! Despite the fine texture, I'm very glad it didn't clog my pores, thank god! The capability of this powder in controlling my oily face also has to be highlighted! With this loose powder, blotting paper is now cancelled. The oil controlling power is long lasting too, I don't have to retouch my makeup frequently, so no need to worry when I'm out for quite some times as my makeup will still be okay with the help of this product.
Another thing that makes this powder such a darling is how it can make my skin super soft and smooth. While it will set my makeup when I'm applying foundation, it will also looks smooth and flawless. It is the same when I just use this powder alone, I can't stop touching my soft skin! 😍 Looking at how it works wonder to mattify the oily part, especially my T-zone, now I know why it becomes a cult favorite!
Rate : 4.5/5! This is by far my most favourite translucent loose powder. Considering the affordable price, along with its amazing performance, I definitely will always repurchase it. I would say this product is perfect for 'Oil-Princess' like me 😅. It's a saviour, definitely a must product in the handbag!
---
SHOP HERE

Innisfree No Sebum Mineral Powder