One of my New Year resolution is to work on #1Day1Mask; a very popular hashtag  on social media especially within the skincare community where you can see people using sheet masks in their daily skincare routines. So beginning early this year, I actually did!
I love hoarding sheet masks in boxes of 5 or 10 so I can really see the difference using the same variant for 2 to 4 weeks but sometimes I do buy sheet masks in singles just to get the initial impression of the brand or particular sheet mask line before committing to a whole box.
B.liv; a long-established brand originating from Taiwan have released and upgraded so many sheet masks for the past few years and this Immerse Me Utmost Moisture Hydrating Mask is one of the variants for their daily sheet mask line that I have added into my morning skincare routine.
What to love about this hydrating sheet mask?
No-fuss, easy to use and non-irritating thin sheet mask with hydrating serum for everyday use.
Key ingredients:
Hyaluronic Acid – known for its capability to hold water up to 1000 times of its weight therefore able to deeply hydrate the skin.
Cogongrass Extract optimises and reinforces moisture absorption in the skin.
Lentil extract increases and retains moisture level in the skin therefore helps to reduce the appearance of fine lines and wrinkles.
How to use:
After cleansing and toning, remove the mask and apply evenly to the skin.
Take off after 15~20 minutes, gently pat excess serum onto the skin.
Follow up with the rest of your skincare routine.
Water, Butylene Glycol, Glycerin, Sodium PCA, Glyceryl Polyacrylate, Phenoxyethanol, Xanthan Gum, Chlorphenesin, Honey Extract, Hydrolyzed Adansonia Digitata Extract, Ethylhexylglycerin, Sodium Hyaluronate, PPG-26-Buteth-26, PEG-40 Hydrogenated Castor Oil, Imperata Cylindrica (Cogongrass) Root Extract, Citrullus Lanatus (Watermelon) Fruit Extract, Lens Esculenta (Lentil) Fruit Extract, Propylene Glycol, Pentylene Glycol, Alpinia Galanga Rhizome Extract, Hydroxypropyltrimonum Hyaluronate, Pyrus Malus (Apple) Fruit, PEG-8, Sodium Lactate, Carbomer, Caprylic/Capric Triglyceride, Fragrance.
Basically, the 10 sheet masks come in a box with similar design to the sheet packets with water in a glass as illustration on the front with product name and simple literature on the key ingredients printed in English. 
At the back, there is the full product description,instruction, ingredients list along with brand's money-back guarantee and expiry date in the format of EXP YYYY/MM/DD (Year/Month/Date) for your reference.
For authentication purpose, there's a QR code at the bottom side of the box that you can scan using QR code scanner that will bring you to official B.liv Malaysia product page for further information.
As you can see, the sheet mask comes in a minimally designed white plastic packet. You can simply just tear the packet open from the cutout near the top ends.
The sheet mask comes with a plastic separator for you to easily unfold the sheet and apply onto the skin. To my observation, the sheet is soft, quite thin and adheres onto the skin quite well with minimal air bubbles.
With the sheet being well-soaked as shown above, there was a little bit of the transparent serum left in the packet so you can either apply the excess on your facial area first and then apply the sheet on top or vise versa, it is totally up to you. As for me, I  prefer to keep on adding the excess serum on top of the sheet once it is starts to dry out over a period of 15 to 20 minutes.
The 28ml of serum is actually quite a lot to begin with (regular sheet mask usually contains 20ml of essence or serum) so I sometimes just go over my neck area with the sheet for extra care.
As you can see above, the sheet adhered so well on my facial area with minimal air bubbles. Well-adherence means the serum will have higher chance to be well-absorbed into skin. The sheet feels soft and definitely does not irritate my overly sensitive skin at all.
The serum is actually quite thick so if you have other functional lightweight essence you want to use in your routine, I would suggest to use it prior this sheet mask.
There was a subtle scent to this sheet mask which is nice and definitely not overpowering to me.
Overall, I give this sheet mask 5/5. This sheet mask has indeed met with its claim; my facial area have become soft, plumped and very well-moisturised compared to before and I simply apply my regular gel moisturiser and then mattifying sunscreen on top for my morning skincare routine.
Also, the sheet mask did not leave any sticky finishes at all which is a good sign that the serum is well-absorbed right into the skin.
I personally love this kind of sheet mask; hydrating and brightening sheet masks to be added to my simple morning routine as tone-up creams and sebum-controlling sunscreens can be drying after a prolonged use so this sheet mask gives me a sort of hydration boost I need for the day.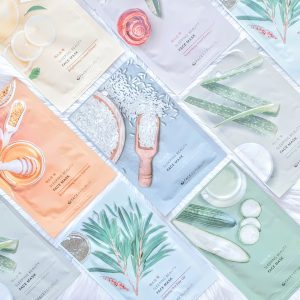 Review
If you're following me on social media like Instagram then you probably noticed that I am such a #sheetmaskjunkie and I do at least use
Read More »