Multitasking and Soothing
The Ultimate Moisturizing Honey Overnight Mask is designed with pure, natural ingredients, like propolis extract and natural beeswax to calm and nourish skin. This soothing, moisturizing mask transforms lifeless skin into healthy and radiant skin while you sleep. As a 3-in-1 mask, the Ultimate Moisturizing Honey Overnight Mask can be used as an overnight mask, a wash off mask, or even as a cream. Best suited for normal to oily, and acne-prone skin types.
Product Description
A brighter, more beautiful complexion is easier to achieve than you think with COSRX's Ultimate Moisturizing Honey Overnight Mask. Crafted with pure propolis and honey extracts, this overnight mask helps reduce the appearance of breakouts and dryness, leading to a clearer, healthier-looking complexion.
Key Benefits
Deeply moisturize, nourish, and repair damaged skin
Ultra-slim patch provides protection and can be worn under makeup
Tightening pores
Ingredient List
Propolis Extract, Butylene Glycol, Glycerin, Betaine, 1,2-Hexanediol, PEG-60 Hydrogenated Castor Oil, Arginine, Cassia Obtusifolia Seed Extract, Dimethicone, Ethylhexylglycerin, Carbomer, Sodium Hyaluronate, BeesWax, Allantoin, Panthenol, Sodium Polyacrylate , Adenosine
Key Ingredients
Propolis Extract : natural moisturizing component, amino acids, and vitamin B5 retexturize and refine the skin
Adenosine : Anti-wrinkle
Arginine : Has Anti Oxidant, Anti Aging and Hydrating Properties.
Sodium Hyaluronate : Provides Hydration and Promotes Wound Healing.
Beeswax : Anti Inflammatory, Encourage Skin Healing and Support Cell Reconstruction.
Allantoin : An emollient that provides moisturization.
Panthenol (B5) : Good for Acne, Promotes Elasticity and Improves Skin Hydration.
Adenosine : Stimulates Collagen. Has Anti Aging and Anti Inflammatory Benefits.
Product of Origin
Korea
Volume
60g
How To Use
* As a sleeping mask : For the last step of your routine skin care at night, apply an adequate amount to the entire face before bed.
* As a wash off mask : Apply a generous amount and spread out evenly. After about 15 minutes, wash off with lukewarm water or wipe off with toner.
* As a moisturizer : After the last step of your skin care routine, apply as a moisturizer and follow with makeup.
Packaging
Cosrx Ultimate Moisturizing Honey Overnight Mask comes in a fuss free plastic tube with a flip cap. The tube has a small nozzle which is convenient to dispense only the needed amount of product.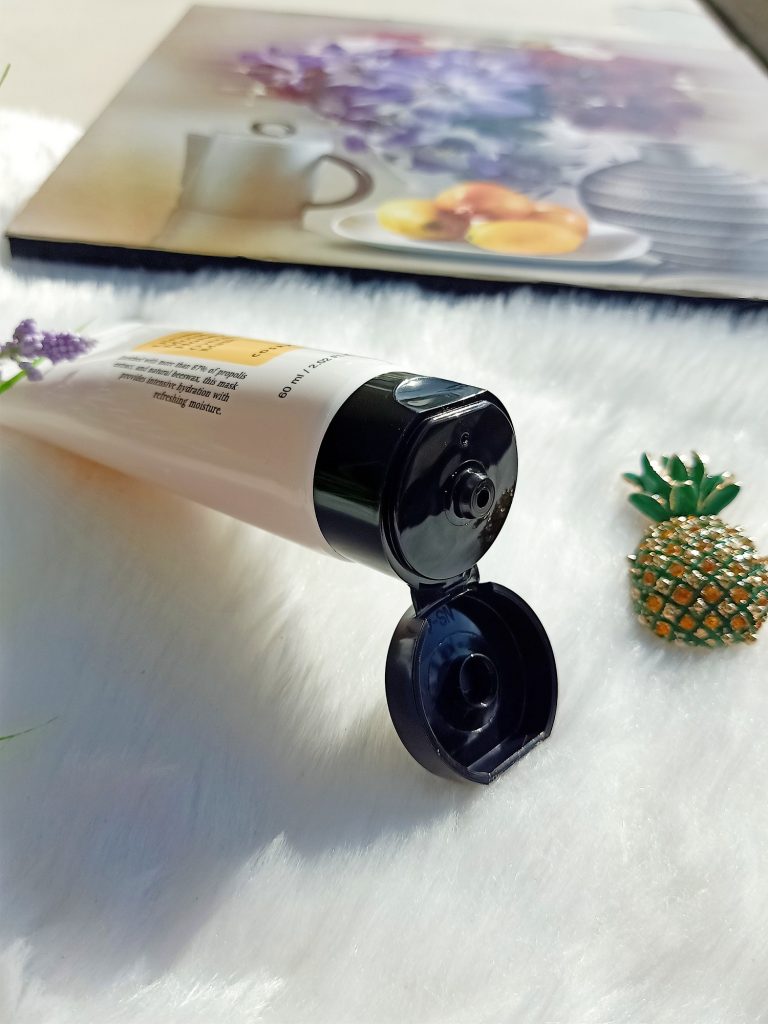 Texture
This sleeping mask has a light golden honey coloured gel which goes on clear on skin. The consistency is more on the thicker side eventhough for me it gives me the aloe vera gel vibes but with more moisturizing properties.
Scent
It has no added fragrance and almost has no scent. I love it.
Experience
Cosrx Ultimate Moisturizing Honey Overnight Mask has been stapled in my routine after my friend decant some to me. I really love this product and I will keep repurchasing it. It can fit all of my routines and does not cause pilling. A bonus for me.
The gel is very spreadable, absorbed quickly, gives a cooling, soothing sensation and dries quickly into an almost weightless gossamer film. It does not give me any stickiness even though I love to apply a thick coat in my last skincare step. It's dry by the time I go to bed, and I wake up with soft, supple, hydrated skin. This product is really suitable to be worn on humid nights.
Although the product can be applied in various ways, I just love to use it as a sleeping mask. I don't use it as moisturizer because I have so many already but I will use it when I find that the weather is hot and humid which can lead to my skin overproduce oil. As a wash off mask, I think it does not make any sense. This product contains so many goodness that I want to stay on my skin, why wash it off? Such a waste right!
I really recommend it for normal-oily and especially acne prone skin because it really helps calm acne. The hydration level really suits this skin type better. For dry skin, you need to apply moisturizing product before applying an overnight mask.
Rate : 5/5
Where To Buy