Normally in the mornings, I would focus merely on hydrating and brightening skincare products, using all the treatment products like anti-aging serums and at night functional sleeping masks; products with thicker creams and ampoules as part of my night skincare routine. This is simply because I have extra time to massage my face and take my time while letting the products to be absorbed well into the skin.
…but what about days when I have to put on makeup? Base makeup like foundation requires a good and suitable primer to be applied underneath for that long-lasting fresh look but I also have noticed that adding these products from a South Korean brand, Son&Park has definitely helped prep my skin prior to base makeup application so let's get into several products that I truly love from the brand.
Basically, this exfoliating toner has a watery texture that feels gentle on skin and I always use it with cotton pads that has perforated layer on top as shown above to aid its function in removing dead skin cells thanks to willow bark and papaya extract contained in it.
While this toner provides a little bit of hydration to my currently dehydrated skin, I still need to add another layer (or two) of hydrating toner after its application but I simply just spray my facial mist rather generously onto my facial skin area whenever I use this in my midday skincare routine.
As this toner contains natural fragrance; a mix of lavender, olive, tea tree, peppermint, apple-mint, rose and eucalyptus, there's a little bit of herbal scent to this toner that also offers a slight therapeutic experience which is much needed especially around early evening so I sometimes use this toner to remove my light makeup and non-waterproof sunscreen right after getting off from work. 
This gel moisturiser comes in that generous amount of product in a single bottle which is something that I appreciate because not only I can apply this liberally all over my face, neck area even my hands too. It's gel texture gives me that lovely cooling effect, offering a bit of hydration as it leaves my skin smooth, semi-matte finish.
I usually just continue with my cushion foundation or tone-up sunscreen application on top of this moisturiser but whenever I need a little bit of pick-me-up to brighten up my skin or the foundation that I'm wearing tends to oxidise rather quickly or making my overall complexion to appear rather greyish or yellowish as I have neutral undertone therefore choosing the right foundation can actually be tricky for me, this next product from the brand smooths out these problems away quite literally.

Son&Park Beauty Filter Cream


I am sure that you guys have encountered one or two tone-up creams along your skincare journey but most tone-up creams that I have tried and tested so far tend to dry out my skin even further but definitely not this number from Son&Park.
Not only it doesn't give me that intense white cast all over my face, the cream goes on nice and evenly thanks to its lightweight texture and the tone-up effect actually looks naturally even on my medium skin.
While I mostly use this tone-up cream under a yellow-toned foundation, I sometimes apply hydrating sunscreen on top of this cream for a quick, fresh look all day long.
Whether I'm incorporating all these products into a single routine or adding one or two of them into my existing lineups of skincare, I simply cannot live without them especially the Beauty Water that I have personally been using and repurchasing since 2016.
With my base makeup lasts even longer as it adheres better on skin, I don't need to spend so much time on touching up nor do I need so many other makeup products in order to keep up with a fresh look. Using more skincare instead of piling up more makeup is indeed  my personal goal in achieving that clear and transparent complexion .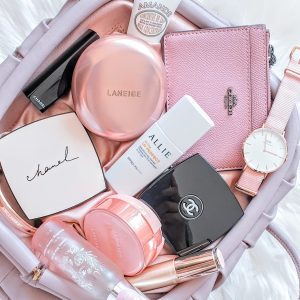 Review
2020 was filled with not only roller-coaster situations especially around the COVID-19 news and updates, I could say the same went with my skin conditions
Read More »