PSA -Ditch your face brush if you're still using one now. I just found my new love with Foreo Luna Mini 2 – a face cleansing and massaging device in one!
Okay some back story, I bought a face brush from another brand a while ago cause I was like okay no harm trying it! I used that waterproof face brush every day and night in the bathroom to keep my skin fresh and clean. But after a few months of usage, guess what! The body of the face brush actually turned rusty and very dirty. The brush head is changeable but its not hygienic and traps bacteria especially in our humid bathrooms. The device only operates via AAA battery, so you'll need to change the battery like every single month. I seriously don't recommend using it.
After that experience, I switched to vibration cleansing device when I saw Foreo Luna Mini 2 was on sale! OK I MUST BUY OR ELSE I WILL REGRET. And now, I've been using it for about a week now. Totally no regrets and I love it! I read through user comments where lots of people commented their skin turned glowy and smoother after using, pores getting smaller and etc.
I didn't really believe it at first until I used it myself. Seriously, there's a difference between the original Foreo and the Foreo Luna Mini 2.  After a few uses, yes my skin really turned glowy and it feels cleaner and fresh after using. The reason why I really love this device is because the LUNA mini 2 is an enhanced T-Sonic™ facial cleansing massager with eight adjustable massage intensities. You may slow down for a gentle and more relaxed cleanse or increase the intensity for a more powerful and deep cleanse. It also has a bigger brush area for more efficient cleansing.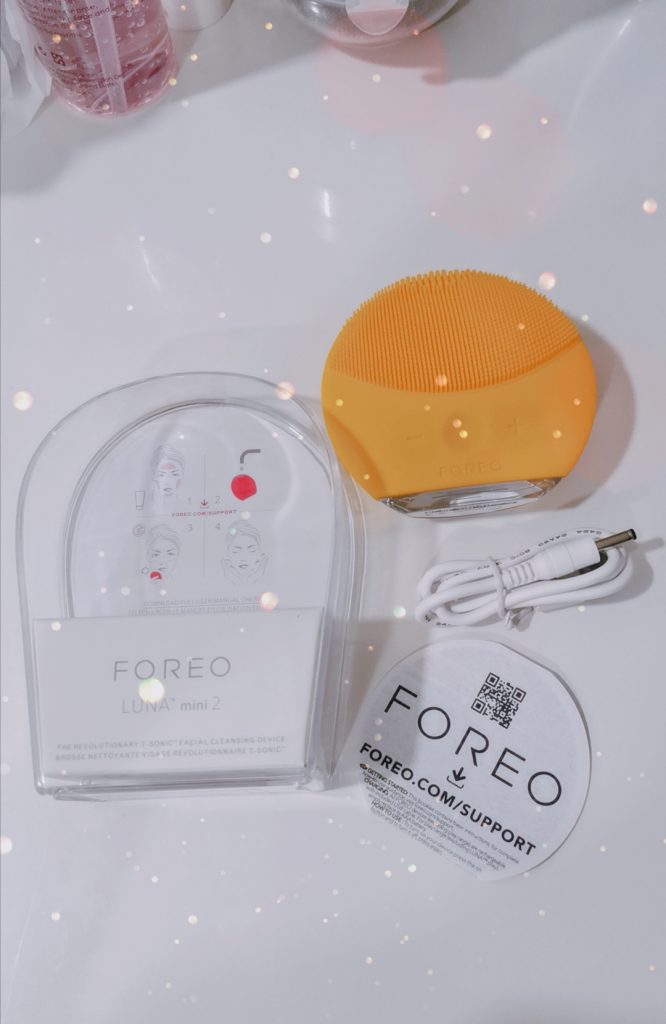 Foreo uses silicone that is resistant to bacteria and so no bacteria in between the nodules with 100% waterproof for use in bath or shower. And the best part is one charge can last up to 300 uses! That's a really long time. I love the design of this device as it is so handy and pocket sized, I can easily slide it in my makeup pouch 🙂 Not to mention it is so lightweight at only 67g.
How to use:
1. Dampen your face first, wet the Luna Mini 2 and put your favorite cleanser on the the device, and turn it on.
2. Gently glide the device in circular motion over your face for about 1 minute.
3. Rinse and pat dry your face and continue with your skincare routine as desired.
Luna mini 2 comes in 6 different colors and i choose yellow for this round. I would strongly recommend this product to all of you if you're looking for a lasting cleansing face device! Definitely a good skincare investment because  no replacement parts needed , 2-Year Limited Warranty and 10-Year Quality Guarantee. Now you can have EFFORTLESS SKINCARE EVERYDAY.
Rating : 5/5
This device suitable for all skin types, Facial Spa Massager and Cleanser in One
SPECIFICATIONS :
MATERIALS: Body-safe silicone & ABS
COLOR: Aquamarine/Fuchsia/Midnight/Pearl Pink/Sunflower Yellow
SIZE: 75 x 80 x 28.5 mm
WEIGHT: 67g
BATTERY: Li-ion 420 mAh 3.7 V
CHARGING: 60 min
STANDBY: 90 days
FREQUENCY: 125 Hz
MAX NOISE LEVEL: 50 dB
INTERFACE: 3-button
*Results from the use of beauty product above may vary depending upon the individual and will depend on multiple factors, including your age, gender, skin type and condition, use of other products used, health history, lifestyle, diet and other factors.
Shop Here
Foreo Luna Mini 2