Check out the Honey Dew Mask series from JayJun which consists of Honey Dew Red Mask, Honey Dew Purple Mask, and Honey Dew Green Mask! This range of masks contains synergistic effect of Manuka Honey and Propolis to help prevent skin oxidation and provides dry and rough skin with rich nutrients. According to the brand, the Manuka Honey has strong antibacterial capabilities, and is also perfect for anti-aging and improving skin problems.
I have the variants above as I'm pretty intrigued to try all of them but today, I'll talk specifically about the JayJun Honey Dew Green Mask. This mask is called a 'Green Mask' particularly because it has Green Complex that includes five different extracts – Green Tea Extract, Avocado Leaf Extract, Kiwi Fruit Extract, Japanese Apricot Extract and also Spinach Leaf Extract. All those components are very helpful for skin soothing and also to ensure moisturized skin.
Ingredients
Water, Glycerin, Dipropylene Glycol, Triethyl Citrate, Niacinamide, Erythritol, Trehalose, Alcohol Denat., Glycereth-26, PEG-40 Hydrogenated Castor Oil, Honey Extract, Persea Gratissima (Avocado) Oil, Propolis Extract, Camellia Sinensis Leaf Extract, Persea Gratissima (Avocado) Leaf Extract, Actinidia Chinensis (Kiwi) Fruit Extract, Prunus Mume Fruit Extract, Spinacia Oleracea (Spinach) Leaf Extract, Phaseolus Radiatus Seed Extract, Citrus Paradisi (Grapefruit) Fruit Extract, Betula Alba Bark Extract, Rumex Crispus Root Extract, Gardenia Florida Fruit Extract, Hydrolyzed Gardenia Florida Extract, Hydrogenated Lecithin, Lecithin, Maltodextrin, Caramel, Adenosine, Butylene Glycol, Methylpropanediol, Caprylic/Capric Triglyceride, Xanthan Gum, Potassium Hydroxide, Sclerotium gum, Sodium Polyacrylate, Sodium Hyaluronate, Acrylates/C10-30 Alkyl Acrylate Crosspolymer, Disodium EDTA, Dimethicone, 1,2-Hexanediol, Fragrance
Key Ingredients
Green Tea Extract
It has anti-aging properties. The polyphenols in green tea has potent antioxidant and soothing properties. It also helps to improve the appearance of sun damaged skin.
Avocado Leaf Extract
High in antioxidant, helps maintain skin elasticity and smoothness.
Kiwi Fruit Extract
Helps to nourish, support and regenerate, revealing vibrant and refreshed skin. It has vitamin C that able to fight dark spots to ensure the even skin tone. It also rich in vitamin E that promotes anti-aging.
Japanese Apricot Extract
It has high content of essential fatty acids and vitamin A which is great for dry and irritated skin. It also soothes, smooths and softens skin.
Spinach Leaf Extract
Strengthen, moisturize and restore skin's natural glowiness while repairing damaged skin cells. It also able to reduce the sign of sun damage, dark spot, inflammation and visible signs of aging.
Packaging
The packaging is kind of straight forward. Since it's a green mask, the packet is in bright green colour combined with white. The front of the packet illustrates the 5 extracts included in this mask. The only thing that I found a lil' bit difficult to understand is the description behind is almost all in Korean but thankfully they put the directions and ingredients list in English too.
Material, Fitting & Adherence
The sheet is so thin and soft! According to the brand, the sheet is made of Ecologic Fiber Mask that cab exhibit a three-dimensional structure, allowing air to pass through, so soft and have excellent toughness. No wonder this mask feels so comfortable and has a superb adherence. It  fits my face very well and clung on very well during the entire masking session. The holes are of perfect size and beautifully lined up with my facial contours.
My Experience
Upon opening the packet, my nose sensed something sweet and fruity, kind of like an apple green scent, it's so delicious! This mask is fully soaked with the essence, and everything in the packet is in light green color. Yes, the essence and the sheet, it's in green! Love it, so beautiful!
The sheet feels like cotton, but the thin type. There is a lot of essence! Even when the sheet is already soaked, I would say the leftover essence is enough for another sheet or facial cotton pad for masking. But lazy me, I just adding all the essence to the mask, so it will get more goodness! I love the material of the mask, the adherence is amazing and it fits my facial contour very well. No irritation detected during masking.
The fact that I'm masking in air-conditioning room added to the cooling sensation in my masking session. I didn't feel any stickiness or greasy feeling. I managed to wear this mask for 20 minutes, as the bottom part was getting dry even thought the forehead area was still wet.
Upon removing the mask, I would say that my skin was kind of revived and look refreshed. My skin showed some natural healthy glow. The mosturizing effect for me is a bit lacking but I somehow agree that this mask fulfilled its claim for skin soothing.
After all the essence is fully absorbed, my skin looks kinda greasy but when I touched it, it doesn't feels greasy, so I just assume it's a greasy in a good way, glowing look ☺️ As i feel the mosturizing is not enough, I layered on hydrating serum then sealed it all in with my mosturizer. This mask was able to smooth my skin too! I definitely can feel that it's soft to the touch. I woke the next morning with a slightly oily T zone (which is quite normal), and thankfully I didn't get any breakout from this mask.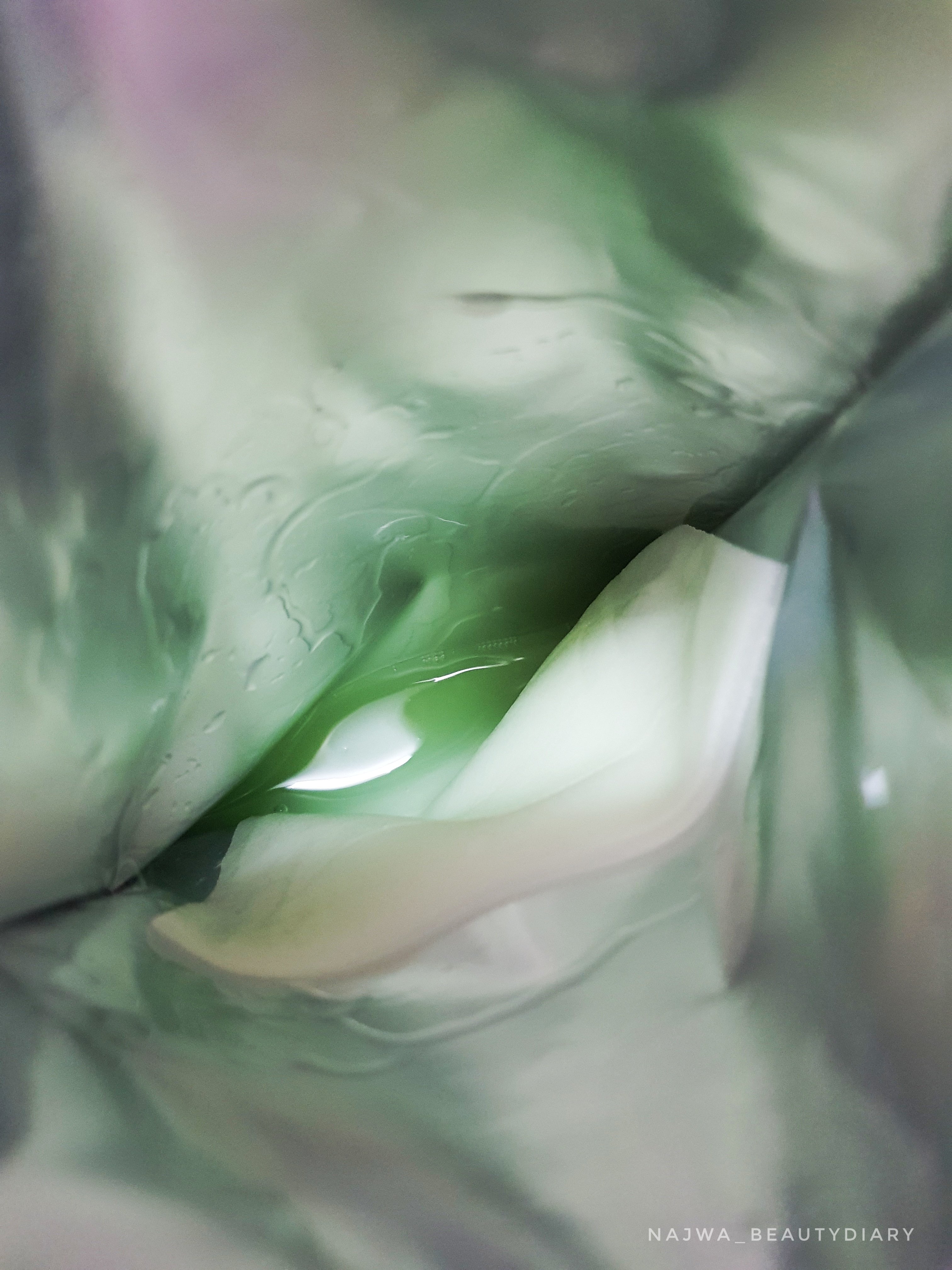 Rate : 4/5. I would suggest to wear this mask in your PM routine rather than AM routine as I think it will probably will make your skin oilier due to lack of mosturizing effect, but I'm sure you'll be okay if you step up your mosturizing routines after masking. All in all, this is a decent mask considering it still gave my skin some benefits and didn't irritate my skin. Can't wait to try any other variants after this!
---
SHOP HERE