If there is one mistake you should never ever do is to sleep with your makeup on. So it's definitely important to at least have makeup wipes on your bedside table so you can remove your makeup even if you are already on your bed, seconds away from the land of dreams.
While makeup wipes can be quite costly if you were to rely on them to remove your makeup on a daily basis, I would still go back to my regular cleansing oil or cleansing water to effectively remove my makeup and reapplication of sunscreen throughout the day but this is the cleansing wipe that I'm indulging myself with currently.
What's Good About This Makeup Wipe?
3-in-1 multi-functional cleansing tissue that removes makeup residues, impurities and gently exfoliates dead skin cells for a clean, smooth skin.
Iris Extract has been discovered to contain excellent natural cleansing power to cleanse skin without stripping off skin's natural moisture.
Controls sebum secretion with anti-bacterial effect.
Beta-Carotene vitalizes skin and act as a anti-oxidant and precursor of Vitamin A.
How to Use: Wipe off your base makeup first and then your point makeup. Gently wipe off the eye area.
Capacity: 80 wipes with 320ml (2 to 3 months of daily use)
Water, Purified Water, Ethanol, Butylene Glycol, Flower Iris Extract, Iris Extract, Beta-Carotene, Acrylate / Ammonium Methacrylate Copolymer, Ethylhexyl Glycerin, Caprylyl / Caprylyl Glucoside, Caprylic Glycol, Glyceryl Caprylate, Titanium Dioxide (CI 77891), Polysorbate 80, Polyacrylic Acid, PEG-60 Hydrogenated Castor Oil, PEG-8, PEG-8 Caprylic / Capric Glyceride, Disodium EDTA, Fragrance
The product is housed within a minimally designed, huge, oval cylinder, opaque white, plastic container. There's product description printed on the front side of the container in English with the Korean version at the back.
The product expiration date is printed at the lower part of the container in the format of YYYY-MM-DD (Year-Month-Day). Note that this makeup wipe is to be used up within 6 months only.
The wipe can be pulled out from hole at the center of the lid and remember to shut the lid properly so the remaining tissues inside will not be dried out.
Another thing I have noticed about the wipes is that I need to pull out the first tissue with the second one about halfway through to ensure that the second tissue won't get stuck inside or I would need to open the container lid to pull the tissue through the hole again.
As you can see in the above photo, the wipe is quite big enough to wipe out my face and neck area. It is perforated so that gives the tissue some texture to smooth out the dead skin cells.
For makeup base, I have only been over these cushion foundations and bunch of sunscreens with light point makeup these days therefore I'm going to point right here that they are easily removed by this makeup remover as shown below.
As I have mentioned above, a single makeup wipe can be used to remove the makeup for my whole facial area and I usually save some to wipe off my eye makeup although I mostly use my eye makeup remover for stubborn mascara and lip tints.
The tissue has indeed fully removed my cushion foundation and I do feel my skin becoming softer and smoother right after gently yet thoroughly wiping off my facial area with it. Of course, I always follow up this cleansing step with a water-based cleanser afterwards or use a hydrating no-rinse micellar water instead on nights I'm too exhausted to do a full skincare routine.
There is a definite floral and powdery scent to this but as I'm fond of the subtle smell, it doesn't bother me at all.
Overall, I give this product 4/5. It's quite affordable; roughly RM0.60/tissue and I find the 320ml liquid for the whole container is adequate.
I find the tissues are rather gentle and mild for my sensitized (damaged skin barrier) skin but I'm not sure whether sensitive skin people can actually use this especially when this product contains several alcohol ingredients and not forgetting the fragrance.
As I also find this makeup wipe offers slightly lacking in terms of cleansing if I were to compare it with let's say, cleansing oil so I always couple this product with a deep cleanser; water-based cleansing foam with gentle exfoliating particles in it  to complete my double cleansing method.
While looking at the ingredients, I've got to say that the Iris flower has indeed attracted me to get it in the first place but now that I am halfway through the product, I'm planning to  refill the tissues  later and fill the container with my currently opened cleansing water then repeating the process until I finished every watery makeup remover that I have before deciding on whether to repurchase this product or not.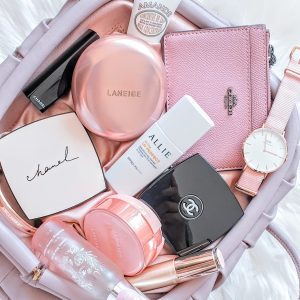 Review
2020 was filled with not only roller-coaster situations especially around the COVID-19 news and updates, I could say the same went with my skin conditions
Read More »