I've finally gotten my hands on the famous brightening essence !
This would be my second time using of any form of Vitamin C because for me, it is a hassle to take care of Vitamin C related products due to the fact that it would oxidize over time. I've read that the Vitamin C products (mostly as essence or serum) should be wrapped in aluminium foil and stored in the refrigerator to keep it fresh. That storage procedures just screams inconvenience all over. But luckily, this time it is not.
Believe it or not, this essence comes in a stable form of Vitamin C hence preventing it from instantly oxidize. It claims to lighten dark spots, evening up skin tone and reduce acne scars and blemishes. Basically, it targets people who are dealing with hyper-pigmentation and serious dark spots problem as an effect of old acne scars.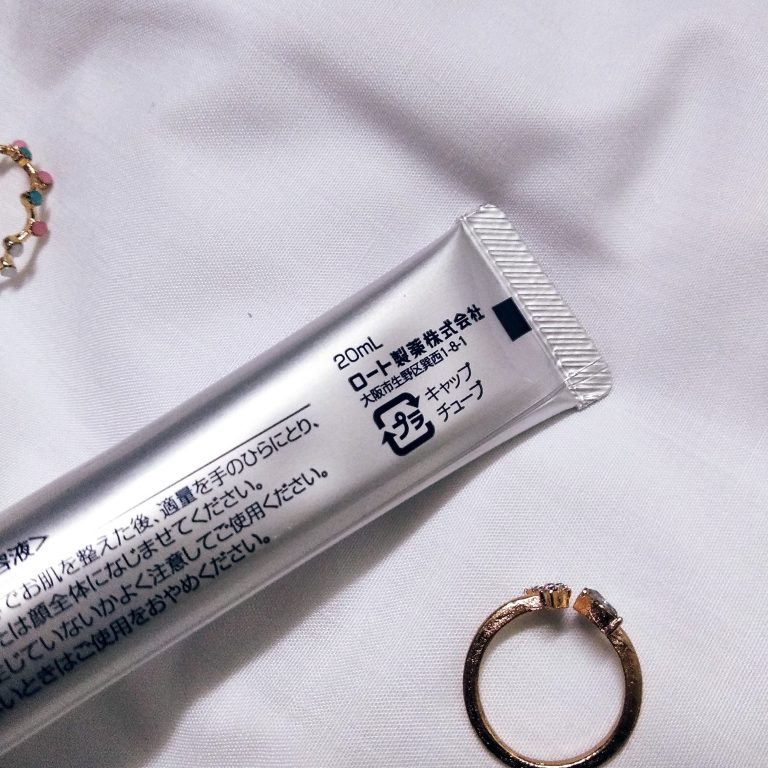 Comes in a 20-ml volume, silver-colored tube and a special nozzle, it ensures the product is as good as the first day you open it. The nozzle, which will only dispense the essence if you squeeze the tube, hence making sure the product will stay fresh and colorless throughout the usage. This unique packaging, unlike the common glass bottle and dropper use for essence, will help to sustain the longevity of the Vitamin C essence. One has to cut the end of the nozzle by using a scissors in order to dispense the product for usage.
Did you know that oxidized Vitamin C are not only reduced in its effectiveness in combating the dark spots, but it will also stain your bed sheet or clothes with its brown or orange color. Some people may also develop redness they continue using oxidized Vitamin C. So beware and always check the color of your Vitamin C essence/serum.
Continuing on, this essence is colourless, has a citrusy scent and feels lightweight on the skin. It has a slightly oily feeling to the touch but absorbs magnificently when applied onto the skin. Typically, I squeeze a tiny drop (about the size of a green mung bean) on to my little finger and start applying on desired areas. I treat this as a spot treatment to my acne scars and dark spots.
I've worn it for 1 month or so (on and off) and I can say that this this essence will be worth every penny you spend. It doesn't do overnight magic of course, but with regular and continuous usage in my night routine, I can say that some of my new acne scars on my left cheek area had faded quite a lot. Though the old ones just remain there and being stubborn, as usual.
I include this as the last step in my night routine which I treat it as a spot treatment to target my dark spots. Or, I'll only wear few layers of hydrating toners and essence, I skip my night moisturizer then directly wear this as spot treatment and straight goes to bed. Given that this essence texture is somewhat similar to a face oil, wearing too much on my skin can cause it to breakout. Hence, I always practice caution when applying any products.
Overall, this brightening essence doesn't cause any harm nor allergic reaction to my skin; however the brightening effect is slowly taking its place while I religiously wear this. Despite the small volume, less is more can be applied to this vitamin C essence because of its oily texture which can be used in wide area although small amount is used.
SHOP HERE