Staying at home means more me time for myself and I love doing a self-care session on my days off! Recently, I treated myself with new sheet mask from a K-Beauty brand, Abib Cosmetic.
There is a total of 4 different choices for the Mild Acidic pH Sheet Mask which are Heartleaf Extract, Honey Extract, Aqua and Yuja Extract.
With my current dull-looking skin condition, I chose the Yuja Fit variant. Before I start, I'm guessing you are a bit curious about the name of the product itself, don't you?
Yuja is one of the famous ingredients in South Korea and Japan (the local people call it Yuzu), known for its high vitamin C benefits.
This sheet mask is filled with Yuja essential oil made of Yuja and Yuja peel extract harvested from Goheung and Geoje.
Fit means that the sheetmask contains 30ml volume which is the same volume with a bottle of serum! It moisturizes your skin with a 30ml bottle of ampoule without any skin irritation!
*This product passed skin irritation tests.
Without further ado, let me share more on the Yuja Fit sheet mask!
CLAIMS:
🔹A refreshing ampoule essence mask that is effective in revitalizing skin
🔹Solves skin fatigue while hydrating, revitalizing, and nourishing skin
HOW TO USE:
1. After cleansing, refine skin texture with toner.
2. Apply the mask adjusting around the eyes and mouth.
3. Leave on for 15-20 minutes.
4. Remove mask and gently pat remaining essence serum until fully absorbed.
PACKAGING:
The sheet mask comes in a transparent plastic with an image of sliced Yuja at the front and some English and Korean information at the back.
It is hard to read the writings because of the transparency of the packaging but if you do want to read, they are the same printed information as on the box.
Do note that 1 box contains 10 pieces of sheet masks. You can purchase it as a single piece as well.
SHEET MATERIAL:
The sheet is made from ALBAM. This is my first time using a sheet mask of this material. ALBAM comes from the words ALbumin (egg white) and BAMboo.
It is a semi-thick sheet which I quite like. It was a pleasant experience as I feel like it is hugging my skin during the sheet masking session. It is stated in Abib's website that when placed on the skin, the sheet shrinks, enhancing the elasticity of your skin.
EXPIRATION DATE:
It is printed on the box in the format of YYYYMMDD. 
INGREDIENTS:
The vitamins in Yuja instantly provides moisture with a fresh finish, brightening up the skin tone.
Although this sheet mask contains Alcohol (5th in the list), it also has many Moisturizing ingredients which help to provide hydration and moisture on the skin.
Full Ingredients List:
Water(88%), Methylpropanediol, Glycerin, Butylene Glycol, Alcohol, Aureobasidium Pullulans Ferment, Althaea Rosea Flower Extract, Chondrus CrispusExtract, Prunus Amygdalus Dulcis (Sweet Almond) Seed Extract, Saccharum Officinarum (Sugarcane) Extract, Anastatica Hierochuntica Extract, Lactobacillus Ferment, Cereus Grandiflorus (Cactus) Flower Extract, Hydrolyzed Collagen, Hydroxyacetophenone, Hydroxyethyl Urea, Allantoin, Choleth-24, Xylitylglucoside, Anhydroxylitol, Tromethamine, 1,2-Hexanediol, Caprylyl Glycol, Ethylhexylglycerin, Sodium Hyaluronate, Glucose, Sodium Carboxymethyl Beta-Glucan, Caprylic/Capric Triglyceride, Phospholipids, Sorbitan Laurate, Ceramide NP, Hydroxyethylcellulose, Acetyl Dipeptide-1 Cetyl Ester, Hydrolyzed Conchiolin Protein, Hyaluronic Acid, Phytosterols, Acetyl Hexapeptide-8, Phytosphingosine, Arginine, Tropolone, Hydrolyzed Hyaluronic Acid, Carbomer, Caffeine, Xanthan Gum, Xylitol, Cholesterol, Disodium EDTA
APPLICATION:
As you can see above, the sheet fits my face well, despite not having any slits (for easier adjustment) on the upper and bottom areas.
The eye and mouth holes are nicely fitted for me too. It adhered well to my face, there is no budging as I was walking around a few times while sheet masking.
The essence is a bit runny, just like the common sheet mask with a slightly viscous consistency. While it is runny, there are no essence dripping that I experienced. I really appreciate that, a lightweight essence!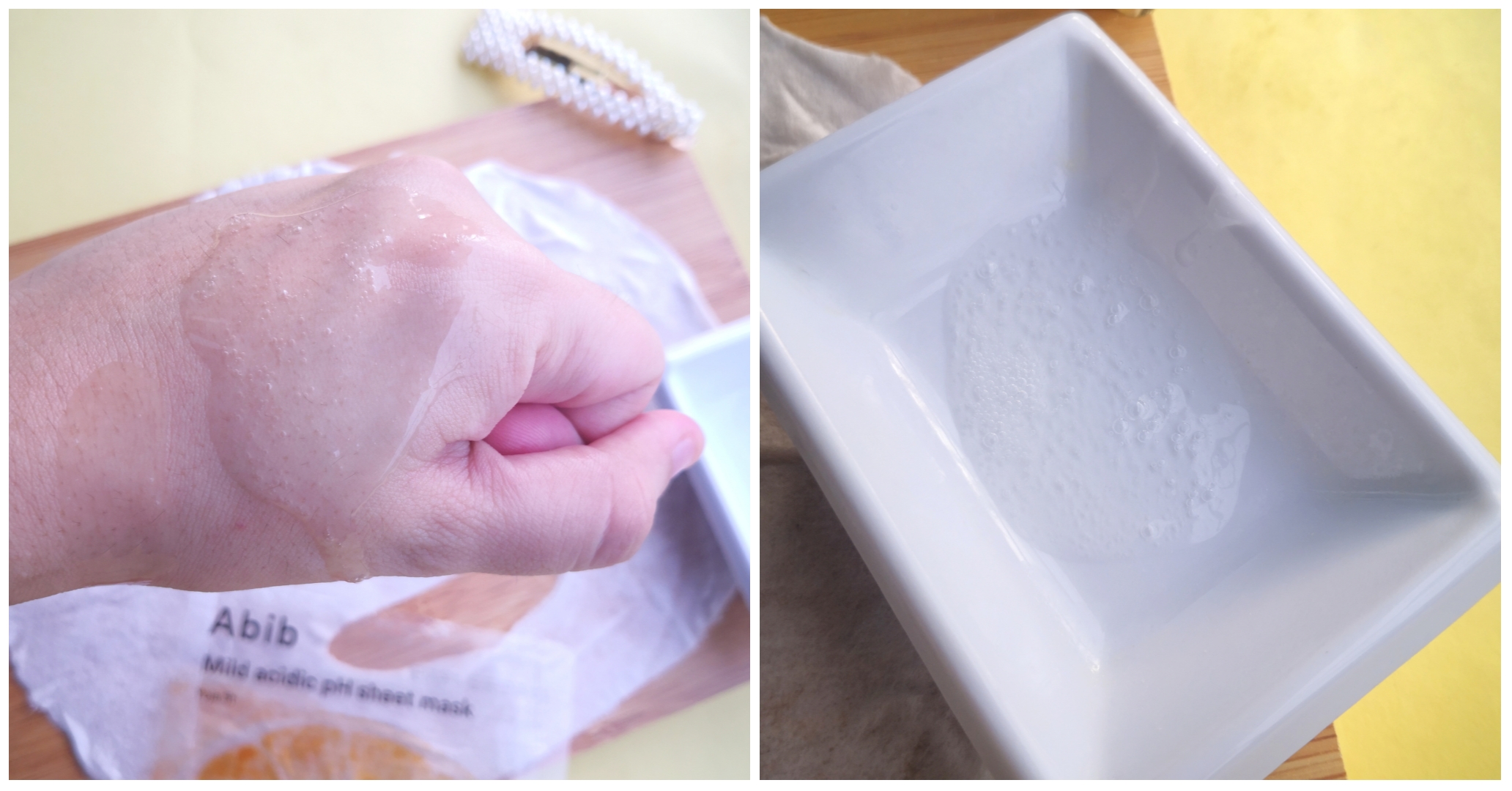 It has a mild, pleasant citrusy scent I believe is from the Yuja extract.
THOUGHTS:
As per the direction, I wore the sheet mask for a good 15 minutes and I noticed my complexion became bit brighter after using it. After removing the mask, it took less than 1 minute for the essence to be absorbed into my skin.
Since the essence is lightweight, I even used it for my midday routine. It is suitable to use anytime of the day.
What I love post-masking with this sheet mask is that, I can easily layer my moisturizer afterwards as it did not leave any sticky finish.
One plus point I have to share is I did not experience any tingling sensation or irritation during my time of using this product which contains vitamin C.
Overall, I give this product 5/5 rating. This sheet mask really does what it claims; my skin looks less dull and more revitalised after each usage. Adding to that, it also hydrates my skin during the hot weather.
*Tips: For a better cooling, masking experience, you may put the product in a fridge prior to using it.
⚠️ CAUTIONS :
1. If you experience any symptoms such as redness, swelling, or itchiness during usage or from exposure to sunlight after usage, suspend use and consult a physician.
2. Do not use on wounds or other areas of skin irritation.
3. Keep out of reach of children.
4. Keep away from direct sunlight.
SHOP HERE
Abib Mild Acidic Ph Sheet Mask 30ml 1pcs [#Yuja Fit]