Ever had a question on skincare you can't find the answer to even after scouring beauty websites and magazines? How to get better skin? How do I deal with my acne prone skin? How to fade scars? 
We heard you loud and clear! We've gathered a panel of beauty experts and beginners alike to answer all your burning beauty questions! Be sure to look out for our new Beauty Memo Guru Q&A Sessions coming to you soon! <3  
But for now we're excited to introduce the Beauty Memo Gurus joining us to share their beauty journey and expertise with us. Check them out below!
Get To Know Beauty Memo Gurus!
Amanda has been trying out and reviewing skincare and makeup for close to 5 years now! She went from being the girl who only used a random facial cleanser in her teens to the woman who actively reviews skincare and makeup on Instagram, Youtube, Wordpress and now on Hermo Memo!
Ain has been involved in the K-beauty world for 4 years now learning the Korean ways of achieving that clear glass skin. She started her skincare discovery journey at the age of 30 when pigmentation started showing up and now she's a Beauty Memo Guru! 
Ae Cha loves covering topics such as beauty trends, makeup, skincare, and anything related to beauty. Her beauty journey started when she was in high school, those difficult times when she was fighting to cure her teenage skin problem and doing skincare "wrong". From there, her thirst for beauty started to grow!
Beverly, nicknamed Lele is a freelance designer who is really passionate about beauty topics! Of her favorites, she likes reviewing various cosmetics and skincare ranges that best suit acne-prone skin as she had always faced acne problems herself. She would love to help and connect with girls suffering from acne-prone skin just like her and wants to let them know they're not alone. Awwww
Raihanah, Rai for short started her skincare journey seriously 2 or 3 years ago and is excited to learn more! Her trigger point came as she suffered skin barrier damage after trying a chemical exfoliator. Eek! She researches and tries out products herself to give you the best answers possible and is excited to become beauty with a brain together with you!  
Lily believes that beauty doesn't have to come with a huge price tag; sometimes something at a low price can be just as effective (if not more) than expensive products! She started wearing makeup at the age of 18 starting with BB Cream, eyebrow pencils and fully dived in the makeup world at the age of 23! She loves to share any new information she finds, especially when it comes to dupes ;)
Be sure to join us at the Beauty Memo Guru Q&A Sessions for the answers to your beauty questions!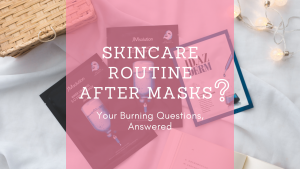 Q&A | What Should I Do After Masks?
We all love a good mask session to keep our skin in tip top condition while also giving us a therapeutic spa effect. Spa day …
Read More