Thayers is nothing new to the skincare scene as it is one of the earliest ones that popularised witch hazel especially among the oily or acne prone skin.
(from hermo.my)
Back then witch hazel was hyped and I used to join in the bandwagon too when my skin type was in the oily category. The witch hazel toner helped in removing excess sebum and kept my greasy face matte. Now that I am over 30 my skin type is in the combination category and I don't use the toner anymore but seeing the towelletes I am so intrigued to try because I am a fan of the toner pads trend. I have tried quite a few from various brands and I particularly love Celimax BHA pads. I find the toner/peeing pads trend really convenient and hassle-free.
Thayers Toning Towelettes are 30 pcs pre-moistened biodegradable and compostable towelletes and comes in four types: unscented, rose petal, cucumber, and lemon. I chose the unscented one as I don't really favour added fragrance in product ingredients.
Ingredients
#Unscented: Purified Water, Glycerin, Propanediol, Certified Organic Witch Hazel Ext Blend (Hamamelis Virginiana (Witch Hazel*), Aloe Barbadensis Leaf Juice (Filet of Aloe Vera*)), 1,3 Propanediol, Citric Acid, Potassium Sorbate, Phenoxyethanol
The ingredients list is short and I like that as I have written in my previous articles, that it minimises risks of irritation. It also has aloe leaf juice to help tone down the strength of witch hazel (My skin can take witch hazel and has proven to agree with the one from Thayers so yeah, if you are new to witch hazel I would suggest you to try samples or patch test) and also to make it moisturising and not drying to the skin.
THAYERS® certified organic Hamamelis Virginiana (Witch Hazel) is grown exclusively for THAYERS® and is NOT distilled, thereby maintaining all the beneficial, natural tannins. Tannins have mild antioxidant properties and anti-inflammation properties is said to reduce irritation, help balance the skin pH level, and Thayers believe that tannins are great acne remedies.
Packaging
The size is slightly bigger than the size of my palm. The lid is detachable from the container like this: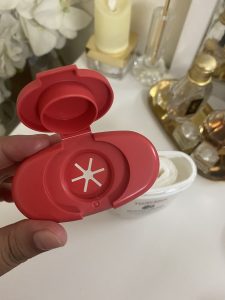 It has a star-shaped hole in the centre for you to pull the towelette out
The towelettes are rolled inside like a toilet paper tissue. When you attach the lid to the container and pull the towelette out it becomes like this: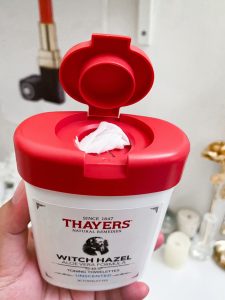 When you are done you can just close the container like this to keep the towelette fresh and not dried up:
The towelette concept is a great one but I wish it is easier to pull out the towelette without tearing it or causing the lid to come off (now that I am familiar with how it operates I know how to be careful to pull it out without breaking or detaching the lid – I have to use both hands; one to hold the lid and the other to pull the towelette out) I just wish that Thayers would put in more thoughts into the packaging to make it more fuss-free and easy to use. The good side is that the container is made of plastic so it is light and great for travelling or for at-the-office use (midday routines or to cleanse face for prayers) as instead of pouring toner onto cotton pads, you just pull the towelette and wipe your face.
Texture & Smell
The towelette is quite soft and the fabric does not irritate my skin, it is soft. The structure is strong but feels soft to the touch. It has no smell as I picked the unscented one. The size of the towelette is as below:
Experience
I am sad to say that this toning towelette is a bit of a letdown for me 🙁 It started to turn me off when I find the pulling experience quite fussy as the container lid tends to come off as I pull it out and the towelette tends to tear before the tearing line. Besides, the towelettes are quite dry? I don't expect it to be drenched in essence/toner but I expect it to be at least wet? I know the description says pre-moistened but to me (my opinion) is that it is not moist enough for me. I usually need more than one towelette to cover my whole face and neck. I store it in the drawer of my vanity table so it is not exposed to sunlight or heat as it is quite cool in the drawers so I don't think it has anything to do with storage.
What I like about this is that the towelette fabric feels so soft to my skin. Plus ingredients wise, this does not irritate my skin or make it itchy or uncomfortable. I bought this for those days when my skin is extra oily and after wiping my skin feels refreshed and almost matte, and when using during mid-day it cools down the skin a bit (but usually it needs two to three towelletes to achieve the cooling effect as I mentioned above, it is not that wet or moist).
Besides, I also use this to wipe my phone or my glasses to avoid bacteria buildup. The towellete is also quite thick so I can squeeze some hand sanitiser on it and use it to wipe those. Anyway THAYERS® developed this toning towelette for healthy-looking skin, adding moisture while helping to protect the skin from airborne impurities so I think this is really a great idea and would be a much better product if they amp up the packaging and make the container sturdy and the lid secure as in not too easy to come off during the pulling process and the towelette more moist. I would definitely love it if they do that! 😀
My rating: 2/5. Probably will not repurchase
SHOP HERE
Thayers Toning Towelettes #Unscented