If you were to stick to simple skincare routines involving cleansing, toning, moisturising and protecting the skin, it would be totally fine! But as a skincare enthusiast such as myself, I love incorporating exfoliating acids in my skincare routine mainly to improve my overall skin texture by using treatment toners infused with Alpha Hydroxy Acids (AHAs) and Beta Hydroxy Acids (BHAs)  to clear out dead skin cells.
Unfortunately, using these potent products can cause skin dryness without proper treatment so let's talk about this cleanser from B.liv that have been helping me in minimising the dryness  especially right after washing my face which I have been experiencing lately.
What's good about this cleanser?:
Basically this is a milky facial cleanser that supposedly feels mild and gentle on skin. The lush and creamy texture helps remove impurities without making the skin feel even drier, unlike most regular facial cleansers out in the market.
Key ingredients:
Aloe Barbadensis Leaf Extract – leaving no greasy residue, improving skin's natural firmness and powerful anti-inflammatory properties
Glycine Soja Seed Extract – rich in protein, minerals and Vitamin E, reduce UVB damages and effective moisturiser.
Chondrus Crispus (Carrageenan) – help treating inflamed tissues, protect against UV rays and harsh weather, plump up skin to smooth out fine lines.
How to Use:
Wet hands, dispense the product sufficiently and then foam up by adding water to it.
Apply the foam onto your face, massage gently especially around the eye area. Rinse off thoroughly.
Capacity: 150ml. About 3 to 4 months of daily use.
Aqua (water), Lauramidopropyl Betaine, TEA-lauroyl Glutamate, Glycerin, Disodium Laureth Sulfosuccinate, Butylene Glycol, Glycine Soja Seed Extract, Chamomilla Recutita (Matricaria) Flower Extract, Aloe Barbadensis Leaf Extract, Chondrus Crispus (Carrageenan), Glycol Distearate, PEG-7 Glyceryl Cocoate, Sodium Carbomer, Hydroxyethylcellulose, Polyquaternium-10, Citric Acid, Phenoxyethanol, Fragrance.
The product comes in a minimally designed plastic tube without plastic cover or wrapper which is more than sufficient.
There is English product descriptions printed on the back of the tube and the Expiry Date printed at the side of the tube itself and the format is EXP YYYY/MM/DD (Year/Month/Day) for your reference.
Now, there will be a Distributor Sticker somewhere on the tube and also a QR code at the bottom right of the tube where you can scan using a QR code scanner that will bring you to official B.liv Malaysia product page for further information.
This facial cleanser was sealed before opening and even after using the product for about 3 months now, the cap works nicely still.
As shown above, the product is in that white, thick-looking creamy gel form. That usually the amount I would dispense to wash my facial and neck area with.
As you can see, the cleanser turned into that milky liquid upon mixing with a little bit of water or on damp skin but changed into slightly foamy lather once massaged for about 20 seconds.
The foam indeed feels mild and gentle on skin with strong scent of milk and coconut which can be quite overpowering to some as it does linger for awhile.
I always use this milky cleanser in my morning skincare routine and I really do appreciate that this cleanser doesn't cause dryness or irritate my sensitized facial area even further. Skin feels soft and smooth to touch after every wash.
Overall, I give this cleanser 4/5. I love using it on most mornings as it helps in keeping my skin well-hydrated while minimising the damaged done by intense skincare products like harsh, high-pH facial cleansers or highly concentrated acids in skin treatment products. Trying and testing different skincare products can be fun but always remember to have set of products that actually help in treating bad skin reactions.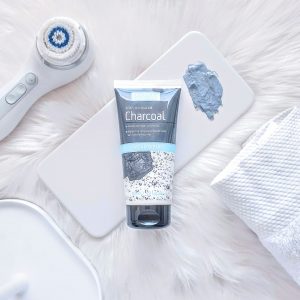 Cleanser
Exfoliation is one of the most important part of my skincare routine especially now that I'm in my 30s and as we all are aware,
Read More »