All this while I have only been indulging in individually packed box of 5 or 10 sheet masks until I saw the LuLuLun mask post by a fellow sheet mask junkie. She has been using these sheet masks for 7 days in a row and I'm like what?! 
This mask is unlike the regular daily sheet masks I have been using. All seven sheet masks are rolled (stacked, more accurately) into a single pack to be used for your toner step before continuing on the rest of your skincare routine. Seems doable for sure even if you have a tight morning schedule. So let's get right into LuLuLun 7-Day Hydrating and Brightening masks review! 
What to love about these daily sheet masks?
Simple, readily soaked with high absorption rate sheet masks for daily use. Perfect for those who might enjoy toner masking in the morning or in the evening after using exfoliating toner.
How to use:
After cleansing and thorough rinsing with lukewarm water, remove the mask and apply evenly to the skin. Remember to reseal the packet afterwards!
Take it off after 5~10 minutes, gently pat dry excess toner on the skin.
Follow up with the rest of your skincare routine.
Water, Glycerin, Butylene Glycol, Sodium PCA, Alpha Glucan Oligosaccharide, Honey, Paeonia Albiflora Flower Extract, Citrus Reticulata (Tangerine) Peel Extract, Yeast Extract, 1,2-Hexanediol, Caprylyl Glycol, PEG-40 Hydrogenated Castor Oil, Xanthan Gum, Citric Acid, Sodium Citrate, Phenoxyethanol, Methylparaben.   
Water, Glycerin, Butylene Glycol, Propanediol, Ascorbyl Glucoside, Ascorbyl Tetraisopalmitate, Panthenol, Tocopherol, Retinyl Palmitate, Arachis Hypogaea (Peanut) Oil, Squalane, Hydrogenated Lecithin, Dipotassium Glycyrrhizate, Biosaccharide Gum-1, Echinacea Purpurea Extract, Thymus Serpyllum Extract, Prunus Yedoensis Leaf Extract, Vaccinium Myrtillus Leaf Extract, PEG-40 Hydrogenated Castor Oil, Xanthan Gum, Disodium EDTA, Potassium Hydroxide, Citric Acid, Sodium Citrate, Phenoxyethanol, Methylparaben.
Basically, the 7-day sheet masks come in a simple packets with cute illustration on the front with product descriptions, simple info-graphic along with the ingredients printed in English on the label sticker at the back side of the packet for your reference.
The expiry date is in the format of EXP Month Year printed somewhere on the sticker itself (depends on which variant). I'd like to highlight here that for the 7 sheet masks contained in the single packet, there is 108ml worth of toner contained so that's roughly 15ml per sheet mask.
Note that the packet is a resealable packet with a hole at the top center of it so if you want to hang it somewhere, make sure not to completely cut along the tear line; just cut the backside of the packet right above the plastic seal as shown.
Tip: To ensure the 7 sheets to be well-soaked with the toner evenly, run your palm along the front or back of the packet back-and-forth with a little pressure onto the sheets inside. Make sure to seal the packet properly each and every time you do.
The sheet mask does not come with a plastic separator but it is still easy to unfold the sheet and apply onto the skin. To my observation, the sheet is slightly rigid but quite stretchable as I fit it along my facial curve.
The average of ~15ml of toner is actually less than your regular sheet masks which usually contains 20ml of essence or serum therefore the longest you should let this mask on your face is about 10 minutes before the sheet started to dry out. Yes, you do not want to let the paper mask to dry on skin as that can reverse the hydrating effect or worst, the paper is pulling out the moisture off your skin!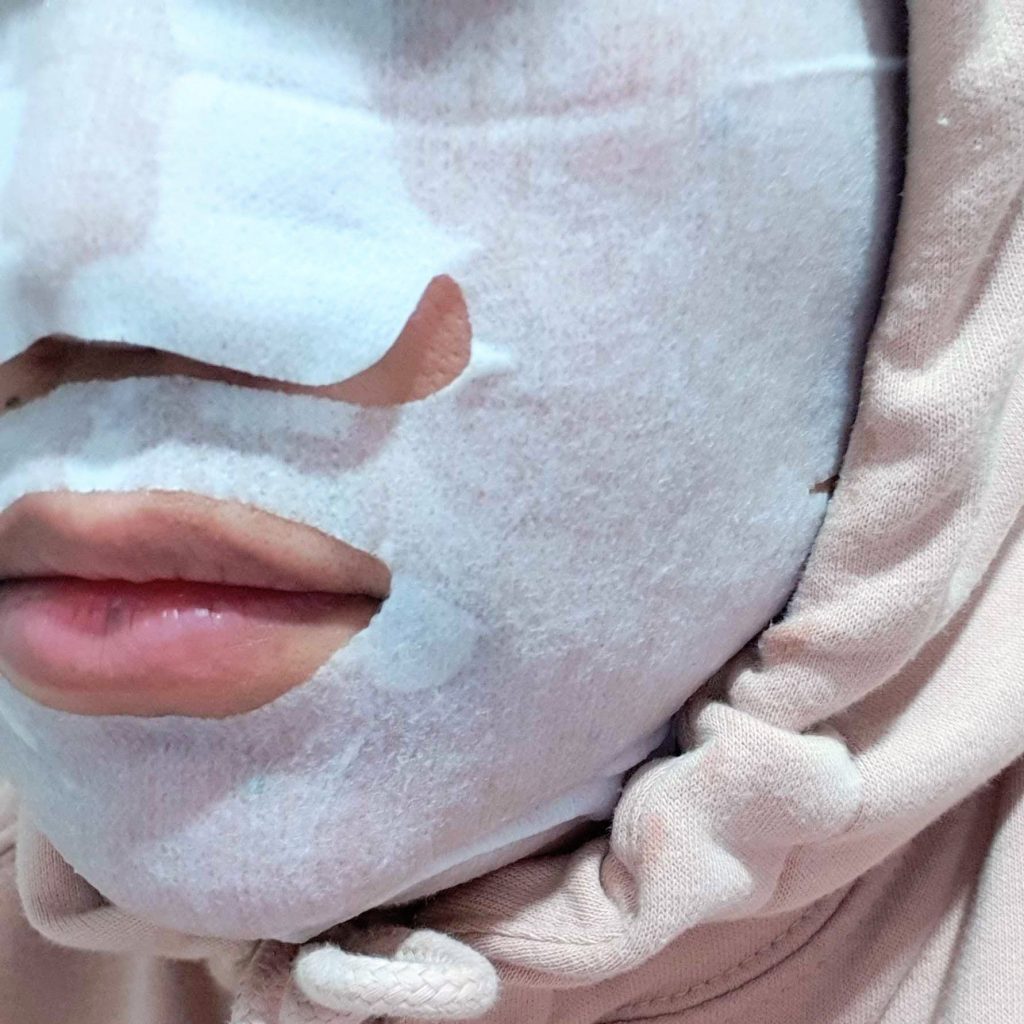 As you can see above, the cut around the nose area was a bit lacking so what I did is to just take a small scissor and cut the sheet along the side of the nose for it to fit better.
The sheet adhered so well on my facial area with minimal air bubbles. Note that well-adherence means the toner will have higher chance to be well-absorbed into skin.
There was a subtle scent to this sheet mask but it is kind of faint I could not make anything out of it. I love that this sheet mask doesn't contain fragrance.
For seven days in a row, I have used the Brightening variant in the morning, usually followed up with lightweight gel moisturiser and then hydrating sunscreen on top. As for the Hydrating variant, I have used it after applying my gentle exfoliating toner or soothing pad toners and then followed up with sleeping mask for a simple night skincare routine.
Overall, I give this sheet mask 3/5. While it does help the environment with less plastic wastage, I find the amount of toner per sheet is a bit lacking as personally, I'm already used to the 7 Skin Method at this point; I love layering my hydrating toner 3 to 7 times depending on how dehydrated  my skin feels on that day.
As you can see on the above photo, while it does making my pores appear rather minimised; skin does feel well-hydrated with no tacky finish at all, the sheet mask doesn't help with my redness; neither of the variants actually do despite of containing Panthenol among the ingredients. I also do not see any brightening effect even though I have used the Brightening variant for seven days in a row.
I do think this kind of sheet mask would be perfect for those of you who want to start using sheet mask on daily basis as these definitely have helped enforcing the habit; need to keep using the sheet mask once opened and also to people who need just a small boost of hydration in their skincare routine.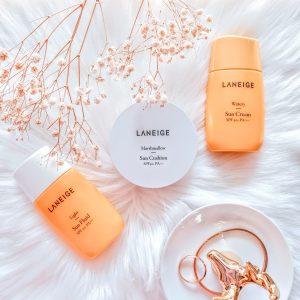 Beauty Tips
I have personally been practicing the Korean 10-step skincare routine for about 10 years now and after testing a number of different products for each
Read More »