Skincare routine is not merely an option for me. It is more like a beauty ritual that I sometimes need to enforced on myself because I do not want to wake up with dryness and itchiness in the morning. I am constantly exposed to physical and emotional stresses from being at work all day therefore nothing beats convenience when it comes to my skincare products that I use on a daily basis. 
Instead of taking out the cotton pads from my drawers and choosing which hydrating toner I want to use; believe me, this takes mere minutes from the moment I stepped out of my shower at the end of the day so toner pads like this one from Natural Pacific a.k.a NACIFIC has become something that I have been reaching out for almost every single day. Read on to know how to fully optimise the use of this convenient product from this South Korean brand.
What's good about this toner pad?
Basically, it's a pre-soaked 100% pure cotton pad packed with witch hazel water; known for its gentle exfoliation property that can remove all traces of residues and dead skin cells after cleansing step while replenishing moisture, soothe and prep the skin for the rest of my skincare routine.
How to Use: Take out one pad and run it across the facial area in outward direction.
Capacity: 70 pcs in 150ml of toner. That's 2 to 3 months of daily use. 
Water, 1,2-Hexanediol, Butylene Glycol, Dipropylene Glycol, Betaine, Hamamelis Virginiana (Witch Hazel) Water, Melaleuca Alternifolia (Tea Tree) Extract, Calendula Officinalis Flower Water (889ppm), Hydroxyethylcellulose, Disodium EDTA, Centella Asiatica Extract, Bifida Ferment Lysate, Panthenol, Sodium Hyaluronate, Caprylyl Glycol, Pentylene Glycol, Ethylhexylglycerin, Phenoxyethanol
As you can see, the product comes within a nice box with minimal design but unlike major brands say the ones from AmorePacific, NACIFIC has not come out with international version for their product packaging and as this brand is currently being outsourced directly from South Korea via Hermo Global, only the ingredient list  is being printed in English.
The toner pads came in that pretty, almost transparent tub with simple product description printed in Korean at the back side of the tub and there's also a section at the lower part of it where you can write the Opened Date for your own reference. The product expiry date was printed at the bottom of the tub and the format is YYYYMMDD (Year-Month-Day).
Although there's no Period-After-Opening symbol on the packaging, it's better to just finish the product as soon as possible once it's opened as the toner pads are exposed to air at every single use.
With that convenient lid, the tub has large opening to it so it is very easy for me to take out the toner pad. While the product doesn't come with plastic tweezers unlike this product from Innisfree, not to worry as the pad doesn't cling onto one another therefore very easy to be separated and taken out.
The pad is in that oval shape and wide enough for me to place between two fingers as I gently run it across my facial area.
As I have personally use it on my normal and sensitive skin days, I find these pads are gentle enough for me to use even on my sensitized facial area too. The pad is thick enough to hold an amount of toner within and there is no excess product dripping out as I take it out from the tub.
As you can see, the pad does stretched out a bit as I've used it but not to the point it started to break into two pieces. Evidently, the pad does help with removing my dead skin cells.
The pad can also be separated into 2 small sheets if I want to use them with different toners; the first sheet on its own and another sheet with other hydrating toners.
NACIFIC also released other bottled toners such as this Real Floral Toner in Rose with real rose petals contained in it. While I do use LANEIGE Cream Skin Refiner on very dry and irritated skin days, I would go for this type of lightweight yet very hydrating toner on regular days whether to layer it on its own for several times then continue with the rest of my skincare routine or use it for toner masking on high points of my facial area; my dehydrated cheeks and forehead.
Overall, I give this toner pad 5/5. I love it as it makes my skin feels smoother and softer with a bit of calming effect along my redness-prone area. Again, the pad is not abrasive at all and can hold the toner well.
I am absolutely a fan of the fact that this product is paraben-free, sulfate-free, alcohol-free, silicone-free and with its minimal ingredients, this product is also safe for those of you who have fungal acne (malassezia) out there. Also, based on EWG Health Ratings, there are 3 ingredients that's great for dry skin which are Butylene Glycol, Sodium Hyaluronate along with Panthenol while 2 ingredients for oily skin which are Witch Hazel Water and Tea Tree. With 94% of low risk ingredients, this toner pad surely deserved to be repurchased once I've finished it.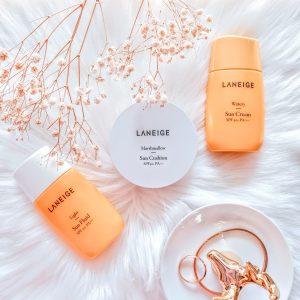 Beauty Tips
I have personally been practicing the Korean 10-step skincare routine for about 10 years now and after testing a number of different products for each
Read More »