With so many different types of toners available out in the market, I usually go with which texture or consistency that I need to add in my skincare routine. While enjoying lightweight toners mostly in my morning skincare routine, I do enjoy thick lotion-like toner for my evening skincare routine because I am in constant fight with dryness caused by air-conditioned room at night.
Also, using potent exfoliating skincare products to get rid of dead skin cells can also cause skin dryness especially without proper treatment so let's talk about this hydrating toner from B.liv that have been helping me a lot these days.
What's Good about this Toner?
Enriched with soy milk, coconut extract and essential amino acids, this toner-essence goes on nicely on skin as it delivers nutrients to hydrate the skin.
Key ingredients:
Soy Milk – rich in proteins, vitamins and minerals, helps skin cell renewal process and contains antioxidant properties to tackle dullness and roughness.
Coconut Extract – loaded with skin-conditioning fatty acids, proteins and complex B vitamins, prevent water loss, suitable for all skin types.
Amino Acid Complex – similar proportion to the stratum corneum of the skin, provide nourishment for the skin and activate skin fibroblasts to help maintain moisture level.
How to Use:
After cleansing, apply on facial area nice and evenly. 
Capacity: 100ml. About 2 months of daily use.
Aqua (Water), Butylene Glycol, Niacinamide, Glycerin, Isopentyldiol, Cetyl Ethylhexanoate, Caprylic/Capric Triglyceride, Polysorbate 60, Glyceryl Stearate, PEG-100 Stearate, 1,2-Hexanediol, Sodium Acrylate/Sodium Acryloyldimethyltaurate Copolymer, Isohexadecane, Polysorbate 80, Arginine, Carbomer, Sodium Polyacrylate, Chlorphenesin, Soy Milk, Cocos Nucifera (Coconut) Fruit Extract, Lysine, Histidine, Aspartic Acid, Threonine, Serine, Glutamic Acid, Proline, Glycine, Alanine, Valine, Methionine, Isoleucine, Tyrosine, Phenylalanine, Cysteine, Xanthan Gum, Glyceryl Caprate, Allantoin, Disodium EDTA, Tocopheryl Acetate, Fragrance.
As shown above, the product doesn't come with a dispenser; just a simple and small opening. As the toner is quite thick to begin with, I always have to squeeze the bottle with a bit of pressure in order to dispense it out onto my palms.
There's a full product description at the back of the bottle in English with the Expiry Date printed at the bottom part of the bottle itself and the format is EXP YYYY/MM/DD (Year/Month/Day) for your reference.
The milky toner is definitely on the heavier side of liquid so if you're like me who enjoy exfoliating acid toner or treatment essence then those products are to be applied before this product. As I always use cotton pads for the first product application, I would prefer to simply use my fingers to apply this hydrating toner by gently tapping my fingers on skin until all the excess is well-absorbed into skin.
I've got to say that the scent is similar to the cleanser sister, milky with hint of coconut but can be slightly unpleasant to some people.
This toner, despite containing several types of surfactant (highlighted in the ingredients list) known to be fungal acne triggers, didn't cause any kind of bad reaction as it is indeed simply hydrates my dehydrated skin.
While the toner goes on quite heavily on skin for about 10 seconds per application, I have noticed that it actually dries down to a smooth finish; no tacky feeling whatsoever which is a feature I would go to for my morning skincare routine. Its consistency surely reminds me of a moisturiser based on snail mucin extract; that bouncy slimy texture that is great at retaining moisture on skin.
The only downside to this product is the overpowering scent to it which is such a turn off for me but it doesn't linger once I applied the rest of my skincare products.
Overall, I give this hydrating toner 4/5. I love using it mostly in my morning routine although there are nights when I'm feeling tired so I would simply deep cleanse then layer this thick toner for about 2 to 3 times before applying sleeping mask on top and be done with my skincare routine.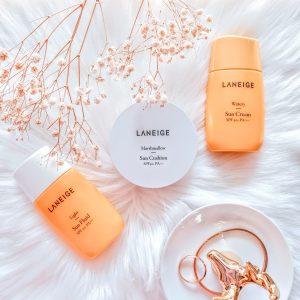 Beauty Tips
I have personally been practicing the Korean 10-step skincare routine for about 10 years now and after testing a number of different products for each
Read More »