There are so many cleansing water out there, but which one is the best? Unfortunately I can't test all of them, as much as I would like to. However, I have the opportunity to test the top 2 micellar cleansing water brands; Garnier and Simple!
Simple Kind to Skin micellar cleansing water
Ingredients:
Aqua, Hexylene Glycol, Glycerin, Niacinamide, Panthenol, Chamomilla Recutita Flower Extract, PEG-6 Caprylic/Capric Glycerides, Butylene Glycol, Pantolactone, Cetrimonium Chloride, Tetrasodium EDTA, Citric acid, Potassium chloride, Sodium Ascorbyl Phosphate, Sodium chloride, DMDM Hydantoin, Iodopropynyl Butylcarbamate
Garnier Micellar Cleansing Water
Ingredients:
Aqua/Water, Hexylene Glycol, Glycerin, Disodium Cocoamphodiacetate, Disodium EDTA, Poloxamer 184, Polyaminopropyl Biguanide.
Why did I choose these 2 brands? First off, it's because my Simple micellar cleansing water was at its life's end, and I heard that Garnier is rising to the top as people's choice for micellar cleansing water, so I decided to try it out.
The small amount of my Simple micellar cleansing water left
Secondly, despite both being (essentially) the same type of product, their ingredients are quite different. Simple has 17 ingredients in it whereas Garnier only has 7. So does more ingredients mean better results?
And thirdly, their prices are very similar to each other. Simple costs RM32 for 400ml, and Garnier costs RM29.90 for 400ml. But normally, you can find Garnier at a discount, so it could be even cheaper.
Since micellar cleansing water is used to remove makeup, I'm going to test these 2 brands against makeup products I normally use every day, which are listed as below in order of the swatches;
Foundation – L'Oreal Infallible 24H Fresh Wear
Eyeshadow – Etude House Leopard Runway
Mascara – Kiss Me Long & Curl
Eyebrow – Focallure 3in1
Eyeliner – Kiss Me Heroine Make Smooth Liquid
Liquid lipstick – Maybelline Sensational Liquid Matte
I've swatched all these products twice on the same hand so we can have a side-by-side comparison of both being removed.
Generally speaking, micellar cleansing water is able to remove foundation, eyeshadow and eyebrow pencils rather easily. The tricky ones are mascara, eyeliner and the main evil; liquid lipstick. I would also like to note it's impossible for mascara to be removed with just cleansing water, but let's just put it to the test for fun.
For the left swatches, they'll be removed using Simple and the right will be Garnier. So to be fair to both products, I've soaked the cotton wool and left it on my skin for about 10-15 seconds before giving a one-swipe removal.
And here are the results below.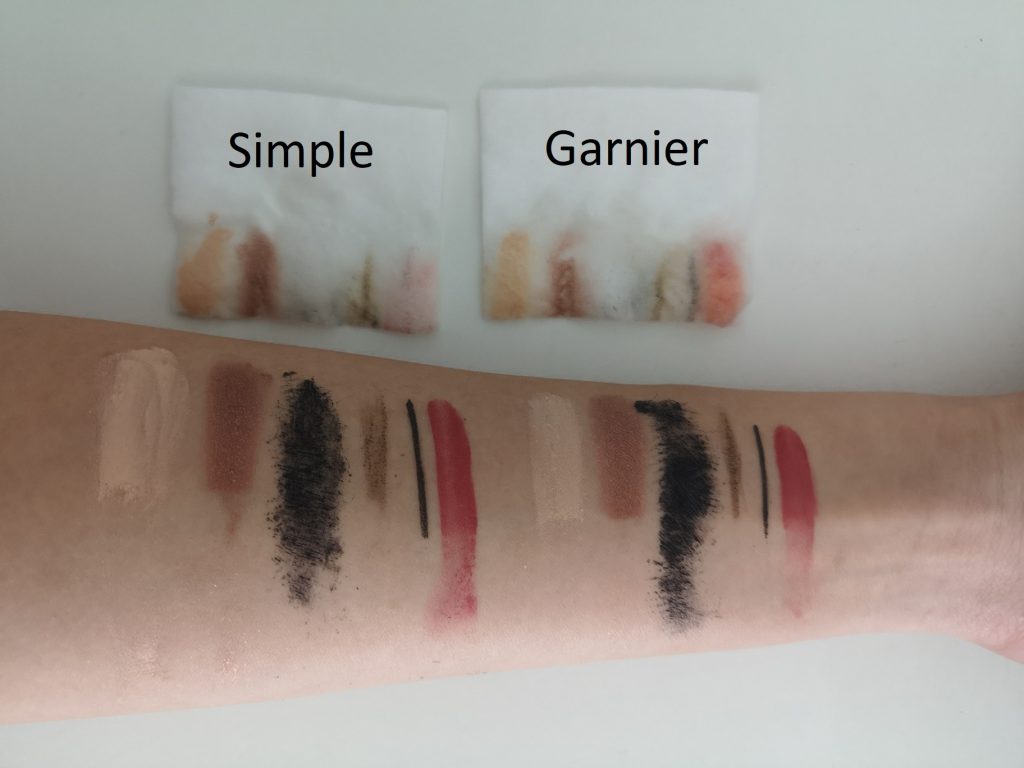 To be expected, both mascara swatches weren't removed at all. Foundation, eyeshadow, and eyebrow pencil were removed pretty well! And I did notice something interesting. Look at the eyeliner and liquid lipstick swatches.
Simple didn't do a very good job removing them, and there's still a lot of residue with the liquid lipstick. Do note that both swatches were soaked for the same duration.
Close up of liquid lipstick and eyeliner swatches removed using Simple
In comparison, Garnier removed both of the liquid lipstick and eyeliner swatches more cleanly! Although yes, there's still some residue of the liquid lipstick, but it's not as much compared to Simple.
Closeup of the liquid lipstick and eyeliner swatches removed using Garnier
Maybe the result is just a fluke, so I decided to try removing the rest of the swatches again. For the second test, I wanted to see how many cotton wools I'd need to make my hand clean. So I soaked the cotton wool with the cleansing water, swipe once at my hand, then use another cotton wool to compare the results.
However, I came across an issue. My Simple micellar cleansing water was finished after 3 cotton wools (nervous laughter). Nevertheless, I think the results are worth having a look at as well. So to be fair, I used 3 cotton wools for the Garnier side as well, and compare which one looks cleaner.
Although I soaked the cotton wool with Simple, my hand still wasn't clean from the liquid lipstick. And the black flakes are from the mascara, which is impossible to remove.
3 cotton wool using Simple
Garnier still couldn't remove mascara too, but I must say, the eyeliner swatch is gone AND the liquid lipstick is almost entirely removed! Furthermore, I noticed I didn't have to tug my skin to wipe off the makeup as much compared to Simple.
3 cotton wool using Garnier
Overall, I would say Garnier definitely wins over Simple in both price and effectiveness. It's an unexpected but very good result, because this shows that less is sometimes more 😉
SHOP HERE
Simple Micellar Cleansing Water
Garnier Skin Naturals Micellar Cleansing Water