My normal to oily skin loves hydrating skincare products and instead of solely relying on thick moisturisers to seal in my daily skincare routines, I prefer to layer lightweight yet hydrating toners and then apply facial mists at any point of the day. That way, I can take some time to relax and refresh myself whether I'm at home or the office even while I'm doing outdoor activities or simply binge-watching my favourite Netflix series.
As I do love to indulge by hoarding tens of facial mist in my skincare stash, I always have one bottle on my office table, my workspace at home, on my bedside table and not forgetting my Hermo clear bag that I carry almost everywhere. At this point, I already have several favourites but this Green Tea Mist from South Korean brand, Innisfree is actually among the first facial mists I ever bought over 5 years ago that I still repurchase till today.
What's Interesting about this facial mist?
Comes in 2 sizes; the above 150ml and 50ml canned bottles, this refreshing facial mist made from 100% fresh Green Tea Water to provide instant hydration and healthy glow.
Beauty Green Tea is 3.5 times more enriching that its predecessor with 16 kinds of amino acids to provide moisturising benefits to the skin.
Luxurious and cooling spray to deliver rich moisture when sprayed on skin; instant moisture supply and soothing relief!
Mild Ethanol-free facial mist that hydrates and calms the skin especially when exposed under extreme sun rays.
Using renewed Fresh Green Tea Water 2.0™ by double-squeeze method.
How to Use: Spray onto facial area with your eyes closed whenever your skin feels dry. 
Capacity: 150ml – Usually finished within 2 to 3 months; depending on how frequent I personally use.
Water, Propanediol, Butylene Glycol, Caprylic/Capric Triglyceride, 1,2-Hexanediol, PPG-13-Decyltetradeceth-24, Glyceryl Caprylate, Ethylhexylglycerin, Disodium EDTA, Fragrance, Menthoxypropanediol, Camellia Sinensis Leaf Extract, Panthenol
As you can see in the above photos, the product comes in that minimally designed white can spray bottles. There's English product description printed on the distributor's label stickers at the back and there is the product expiry date printed at the bottom of the bottle with the format being EXP YYYYMMDD (Year-Month-Day).
The caps were actually sealed before opening with the brand's clear sticker and both facial mist came with similar nozzle as shown above. While I have been using and repurchasing this facial mist for years, I have never experience any sort of problem with the spray caps from the first use to the last spritz. 
Just look at how fine the mist actually is! I remember the predecessor had a micro mist version but I feel like this regular nozzle is more than sufficient in my honest opinion. I usually hold the bottle about 10cm from my face, close my eyes, pressed down the cap for about 2 to 3 seconds while moving my hand in a zig-zag motion to cover my whole facial area with a little bit on my neck area.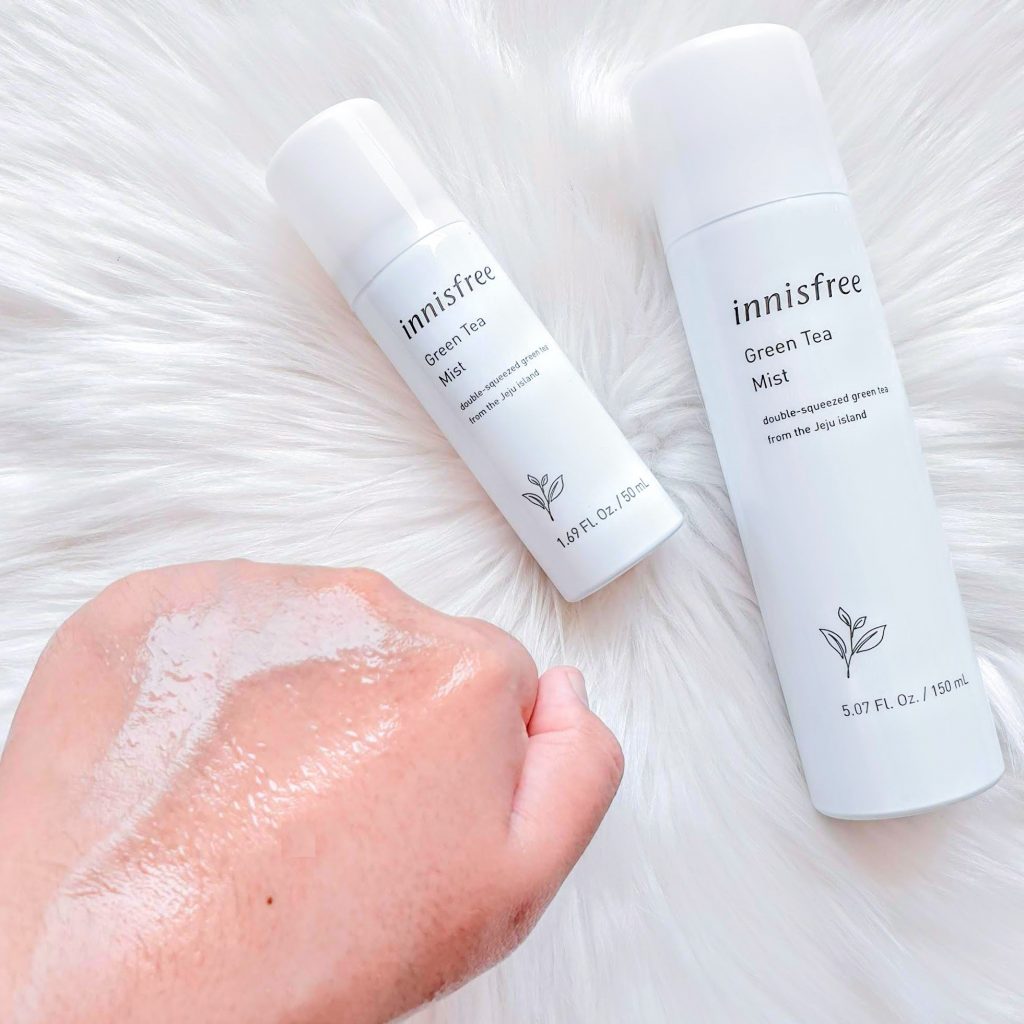 Of course, the mist has a watery texture to it and I'm so impressed at how well and even the coverage of the mist at every single application. It is quickly absorbed into the skin and I know the scent is quite strong for some but not for me plus I do love the fresh scent but it's still a good thing that it doesn't irritate my skin or anything.
The facial mist leaves a nicely well-hydrated finish to my skin which is simply perfect for my moisture-craving dehydrated skin with some redness-prone area. There's a little bit of soothing action too but I wouldn't expect for this facial mist to actually tone down my redness.
Overall, I'd still give this facial mist 5/5! From its impressive fine mist to how it's actually giving me that moisture boost at any time of the day, I just love how well it's working with my skin no matter how oily my T-zone is or how dry and flaky my upper cheeks are.
Looking at the ingredients, I'm glad to report that apart from the fragrance, all of the ingredients have EWG Grade 1 so that's just lovely as even people with sensitive skin can use this facial mist but I have to say that Your Miles May Vary.
It is truly convenient that the facial mist comes in that mini 50ml bottle as I actually hoarded several bottles of it while I was traveling frequently throughout last year and I even got myself those newly packaged version right before the implementation of our Restriction of Movement Order last March. I could simply throw one of these minis right into my bag and carry it everywhere I go.
It's  important to stay well-hydrated especially when I'm outdoor; exposed to the sun rays and heat so I'd always be using this facial mist to re-hydrate my skin and then reapply my sunscreens while I'm at it.
Review
No matter what type of skin you have, you should never skip moisturiser application at the end of your daily skincare routines because it is
Read More »