Great skin requires so much of maintenance, but you know what's the best way to fake it?
Concealers.
It's the best thing ever in concealing your flaws and making your skin look oh-so gorgeous, as if you lead a healthy lifestyle. So yes, concealer is a number one staple in my makeup routine. Just take a look at my skin and you'll understand why.
My holy grail concealer has always been the Maybelline Instant age Rewind. So when I saw the new Maybelline SuperStay Full Coverage Under Eye Concealer on Hermo, I decided to try it out.
Generally speaking, Maybelline's SuperStay face makeup range seems to be formulated and marketed for those with oily skin. They keep emphasizing on keeping your face matte and how your makeup will last throughout the day.
And I, however, have dry skin.
Nevertheless! I'll still try it out. Whenever I try out new products, I like to put in through a wear test. So not only will I check its coverage and formula, I will apply it and see the results after 6 hours.
1. Packaging
What I honestly like about this concealer is the packaging. It's in a tube, so it feels as if you can squeeze out all of the products to get your money's worth.
But I think the highlight of this concealer is the applicator.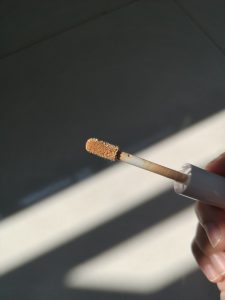 It's small enough for precise application on the face yet it picks up a lot of product so you don't have to keep dipping back in.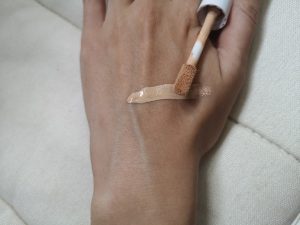 2. Coverage
Of course, the main function of a concealer is to cover up any flaws. I applied it to the under-eyes of one side of my face to compare. And fulamak! The coverage is really kao (heavy). The redness underneath my eye bags were totally gone, and my face looks fresher, but I think that's because I chose a colour lighter than my skin tone.
I also have this huge pimple that definitely can't be covered with just foundation, but this concealer made it non-existent.
In conclusion, if you'd like to hide (in the words of Jeffree Star) your sadness, your grief, your past, your flaws etc, the coverage on this concealer is 5/5.
3. Wear test
After applying it, I baked it with powder to make it last longer and then continued with my normal makeup routine. And here are the results after leaving it on for 6 hours.
I realized that my face looks the worst around my cheek area. Interestingly, that's where my skin is the driest. From the photos, you can see that there are faded patches and even creases.
Based on this result, I highly suspect that it's my dry skin that caused everything to look terrible. I decided to give it another shot, but the difference is I'll moisturize my skin heavily. And here's the results again after 6 hours.
Although there are still patches on the right side, the left side still looks good. In fact, I would say it holds up better compared to my first results. This confirms my hypothesis (wow such science) that this concealer is really formulated for oily skin.
Overall, despite the results not being as spectacular for my dry skin, I really think this would work great for those with oily skin. I would still highly recommend it as I really love the packaging and coverage. But of course, get it only if you have oily skin.
SHOP HERE