Long before Korean brands dominated my vanity table, Taiwanese brands were making their rounds in my everyday beauty routine. My first exposure to facial masks was during my high school times and My Beauty Diary was really popular due to its wide variation, cute girly packaging and most importantly, its good price point. I used to think Sister Diary was a knock off from My Beauty Diary but after making a trip to Taiwan years back, I found out that the diary word is really common in Taiwanese mask brands.
Sister Diary is a top selling mask brand in Taiwan which focuses on deep hydration and natural herbal extracts. Their masks are also free from alcohol and parabens! Sister Diary's Gold + Hyaluronic Acid mask is made from cotton imported from Okayama, Japan which cotton there is known for being thin while having high absorption qualities. Hyaluronic acid helps instantly hydrate the skin while strengthening the skin's moisture barrier and elasticity. Its Nanotechnology 24K active gold then helps these nutrients penetrate deeper into the skin.
Ingredients list: 
Water, 1,3 Butylene Glycol, Propylene Glycol, Urea, Glyceryl Polymethacrylate/Propylene Glycol/PVM/MA Copolymer, Glycosyl Trehalose, Hydrogenated Starch Hydrolysate, Xanthan Gum, Phenox Yethanol/Ethylhexylglycerin, Soluble Collagen, Glycerin/Hydrolyzed Cottonseed Extract Trehalose/Glucose/Fructose/Sucrose/Inositol, Aloe Barbadensis, Leontopodium Alpinum Extract Sodium Hyaluronate, PPG-26-Buteth-26/ PEG-40 Hydrogenated Castor Oil, Fragrance, Methylisothiazolinone, Iodopropyl Butylcarbamate, Alpinia Galanga Leaf Extract/ Xanthan Gum/Caprylic/Capric Triglyceride, Hyalo-Oligo™ Sodium Hyaluronate, Gold Foil
How To Use:
After cleansing your face, place the sheet mask evenly on the face with the plastic sheet facing outwards.

Once the sheet mask has covered the face, remove the plastic sheet and leave the mask on for 10-15 minutes.

Once time is up, remove the sheet mask and gently pat the remaining essence onto the skin.
My review:
It's actually not my first time trying something from Sister Diary. I've previously tried their Black Diamond Caviar mask but I did not enjoy it as the sheet mask was rather thick and the essence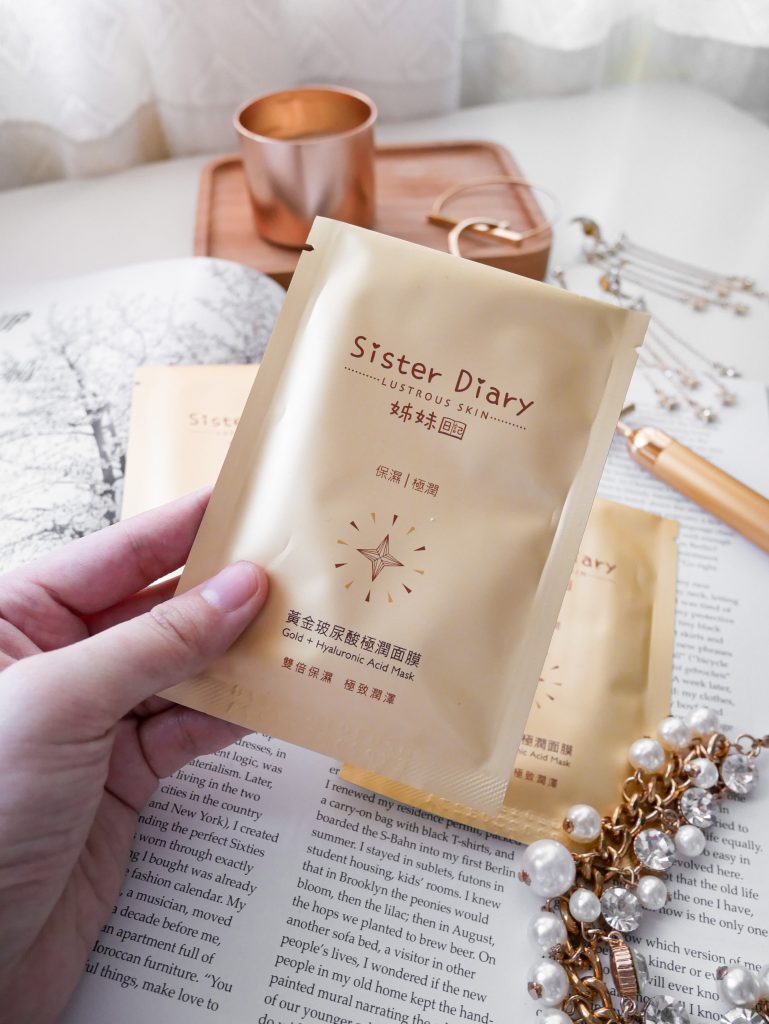 kept dripping all over and into my eye.
Decided to give Sister Diary masks another try since a friend recommended me their gold masks which apparently is really good. And as for me, the sound of gold in skincare is convincing enough.
While the mask comes in a smaller (fun sized) package compared to other brand masks, the essence definitely doesn't lose out as the sheet mask is soaked thoroughly with excess essence in the pack. The mask is quite thin (plus points for that!) and it's user friendly with a peel off plastic layer to help you easily place it on your face. The mask was actually a bit big for my face, but then again I've never actually encountered any mask that would fit me perfectly, yet. 
There were small gold foils in the essence, however the amount was really inconsiderable to call out gold as the key in their naming. There was barely any and it was just in the essence and not in the sheet mask itself. Though, there wasn't any strong, noticeable scent in the mask which did help reduce my slight disappointment. 
Before (left) VS after (right)
Very minimal difference, skin only appears more moist
After leaving it on my face for a good 20 minutes, my skin did feel somewhat moisturized without a greasy or sticky feeling. However, I felt like the essence wasn't able to live up to its full capacity because the mask absorbed most of it. I had some pimples starting to form due to stressful times when I did this mask, so the pimples actually reached its final maturity stage the following day.
Other than that, nothing really noteworthy about Sister Diary's Gold + Hyaluronic Acid mask other than its very affordable price point. It's a bit too hydrating for a pre-makeup mask, but I would recommend getting it as a daily evening mask for basic hydrating benefits.
Rating: 3.8 / 5 🌟