Wanting to give present to your loved ones but you do not have any idea on what to get them? Well, Nivea  is here to help. Nivea came out with a few gift sets with some of their bestselling products. These sets will be perfect for any gifting occasion as they are packed in a cute Nivea box.
I recently bought the Limited Edition Best Sellers Gift Set from the brand and I am more than happy with my purchase. This set comes with 4 items:
1 x Cherry Blossom Lotion 200ml
1 x Extra White Lotion 100ml
1 x Hokkaido Rose Deodorant Roll On 50ml
1 x Cherry Lip Balm 4.8g
Since my body leans to the drier skin, I love using lotions. Nivea is one of my favourite brands when it comes to body lotion, especially for their delicate scents and whitening effects on my skin. Now let me share my experiences with the products.
1. Cherry Blossom & Jojoba Oil Lotion 
Claims:
It provides 3X Indulgence for Nourishing, Moisturising and Natural Fragrant Skin
Packaging:
This lotion in the set comes with the 200 ml capacity, in a purple bottle and flip cap packaging.
Color & Texture:
Translucent White with a slightly runny consistency
Scent:
Mild scent of Cherry Blossom. It does contains Parfum as the last ingredient.
Experiences:
I love this lightweight lotion that absorbs quickly into my skin. It does not feel sticky or tacky at all. I feel comfortable using this lotion as it does not leave any film on my skin.
It makes my skin feeling smooth and relieves the dryness area on my thigh as it does contains Jojoba Oil. I love that although the lotion contains some essential oils, it does not feel greasy on my skin.
However, I feel that this lotion is a bit too light for my dry thigh. I have to put on generous amounts of the lotion until I'm satisfied with the hydrating effect it gives. The nourishing and moisturising effects only last for an hour or so. I prefer a heavier lotion for my body, so I'll give a pass to this Cherry Blossom lotion. If you have normal body skin, this might works well on you.
Rating:
3/5
Repurchase Intention:
No
2. Extra White Repair & Protect Lotion
Claims:
It provides 3X Whitening Action for Repair, Protect and Moisturise Skin.
Packaging:
The lotion in the set comes with a capacity of 100 ml, in a white, non-see through bottle with a flip cap packaging. There is also the brand's name on top of the cap.
Color & Texture:
Solid white lotion color with thick and viscous consistency
Scent:
The usual, signature scent of Nivea lotion. There isn't any other significant scent detected. It does contains Parfum as well.
Experiences:
As to compare with the Cherry Blossom lotion, this Extra White lotion is heavier in consistency. I am so in love with this variant,not only it does moisturises my skin, but it also makes my skin fairer.
It absorbs quite fast considering its heavy texture, without leaving any film on my skin. This lotion is perfect for my skin concerns of dry skin and reducing the dark spots on my thigh. The whitening results can be seen, in my case, after 1 month of continuous usage. I am very happy with the result.
Rating:
5/5
Repurchase Intention:
Yes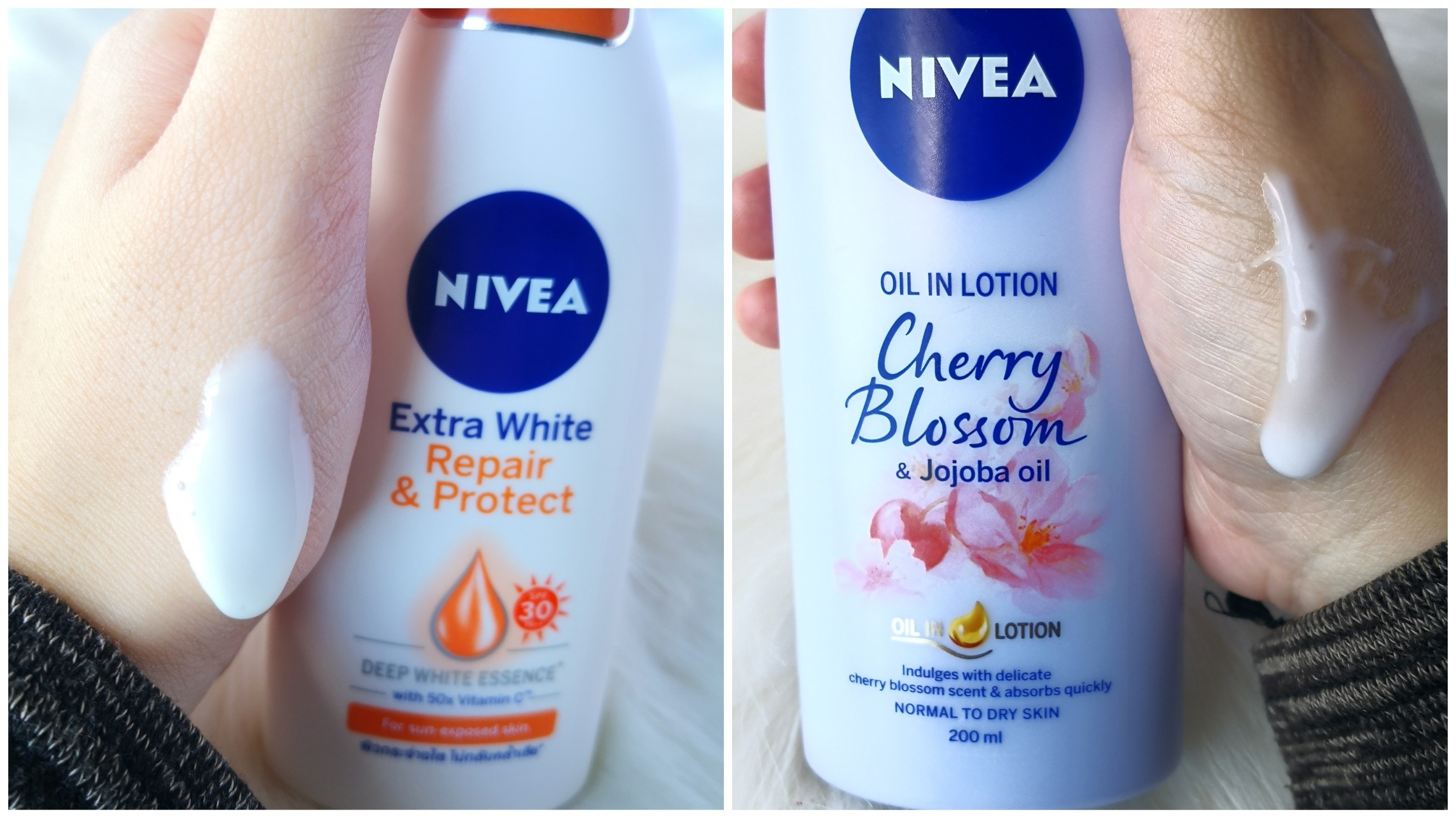 3. Hokkaido Rose Deodorant Roll On
Claims:
It provides 3X ActionDeep Nourishment, Repairs for visibly radiant underarm skin and Offers Lasting luxurious Hokkaido rose fragrance
Packaging:
Glass, see-through bottle with a twist cap. The label sticker is pink color, it matches the girly Rose theme.
Color & Texture:
It is milky color with slightly watery consistency.
Scent:
Quite strong rose scent.
Experiences:
First thing that I have to mention is the scent. I personally love anything that is Rose scented, but this deodorant has quite overpowering scent as I open the cap. The scent does lingers on my underarm area for a while. Luckily I am okay with the scent, but it may be a bit strong to some people.
The consistency is a bit runny as to compare to the other Nivea's roll on deodorant that I have tried before. It does dries fast and leaving no stickiness to my underarms.
I love that it does not stains my white shirts. Another point to love this deodorant is it does not stings freshly shaved armpit.
It keeps my underarms sweat free and smelling good. I am staying indoor most of the times. However, if you are the type of person who sweats a lot in your armpit, then you probably would give this a pass.
Rating:
4/5
Repurchase Intention:
Maybe
4. Cherry Lip Balm
Claims:
Long-lasting moisturisation and Delightful Cherry Aroma
Packaging:
The lipbalm comes in a simple tube with the brand's name on its body.
Capacity:
4.8 g
Experiences:
I love a simple lip balm because I do not see any needs for fancy packaging as long as the size is compact and it does what it is intended to do.
It glides smoothly on my lips without giving the waxy film like the usual lipbalm does. The lipbalm has a pleasant cherry scent. I love the color payoff of the lipbalm. It gives my lip the natural look with the hint of red hue. It does keeps my lips from drying out in the air conditioned room. It makes a good lip prep before putting on any liquid lipsticks.
Although this lip balm is one of Nivea's Shine care series, I do not notice any much shine effect it gives on my lips. I have use the other variant, Strawberry which does gives some decent glittery finish on my lips.
I am loving this lipbalm that it now becomes my go to lip product, even at home or when I am going out. The moisturising effect lasts for hours. I often choose this lipbalm over the other variant from the same brand because it is do good.
Rating:
5/5
Repurchase Intention:
Yes
Conclusion:
I am satisfied with the price I paid for the set. All the comments I have mentioned above are from my own experiences and based on my preferences. Nivea does makes good products and have a soft spot in my heart since I am a teenager. The experiences I share serve as guidelines if you intend to buy the products. Do note that you may experience them differently as our skin varies.
All of the products are also available for single, individual purchases.
SHOP HERE 
Nivea Cherry Blossom & Jojoba Oil Body Lotion
Nivea Extra White Repair & Protect SPF30