Are you having some thoughts before purchasing a physical sunscreen? Yes, physical sunscreen usually gives a white cast on the skin and to some extend it makes your skin look unnaturally grey. What if the sunscreen is formulated with tone effect for your skin?
Since I am a lactating mother, I opt for physical sunscreen and here is my choice that I'm sharing with you. It is the Oh My Sun Protection Tone Up Base SPF50+ PA++++
BRAND:
Yadah
MADE IN: 
South Korea
DESCRIPTION:
A broad spectrum sunscreen developed for sensitive and baby skin. It is formulated with EWG reviewed safe grade plant ingredients.
NOTABLE INGREDIENTS:
⭐ Zinc Oxide & Titanium Dioxide as filters – reflects UV rays without being absorbed into the skin.
⭐ Propanediol & Butylene Glycol – moisturising the skin
⭐ Centella Asiatica Extract – soothing property
⭐ Houttuynia Cordata Extract – anti-inflammatory, antioxidant, anti-viral, and anti-bacterial property
⭐ Adenosine – anti- aging property
⭐ Niacinamide – controls sebum production and brightening effect
☑️ Free of Paraben, Benzophenone, Talc, Mineral Oil, Sulfate Surfactant, Propylene Glycol, Tar Colorant, Triethanolamine
❎ It does contains Lavender oil & Sunflower Seed Oil so those who are sensitive to essential oil, please take note on this
CAPACITY:
50 ml
EXPIRATION DATE:
HOW TO USE:
Use the YADAH Oh My Sun Protection Tone Up Base SPF50+ PA++++ as the first step right before face makeup application. Squeeze a dime-sized amount into hand and massage into face and neck, avoiding eyes. Follow with makeup application when needed
PACKAGING:
The product comes in a white, plastic tube with twist cap. There is an illustration of cactus tree, which is Yadah's logo on the front of the tube. It's very minimal but yet eye catching.
TEXTURE & SCENT:
Creamy texture that has medium spreadability without being greasy.
The sunscreen has quite a strong scent of Lavender but it goes off within few minutes. Initially I couldn't stand its scent but as time goes by, I'm already used to it.
FINISHING:
Matte finish with a tone up effect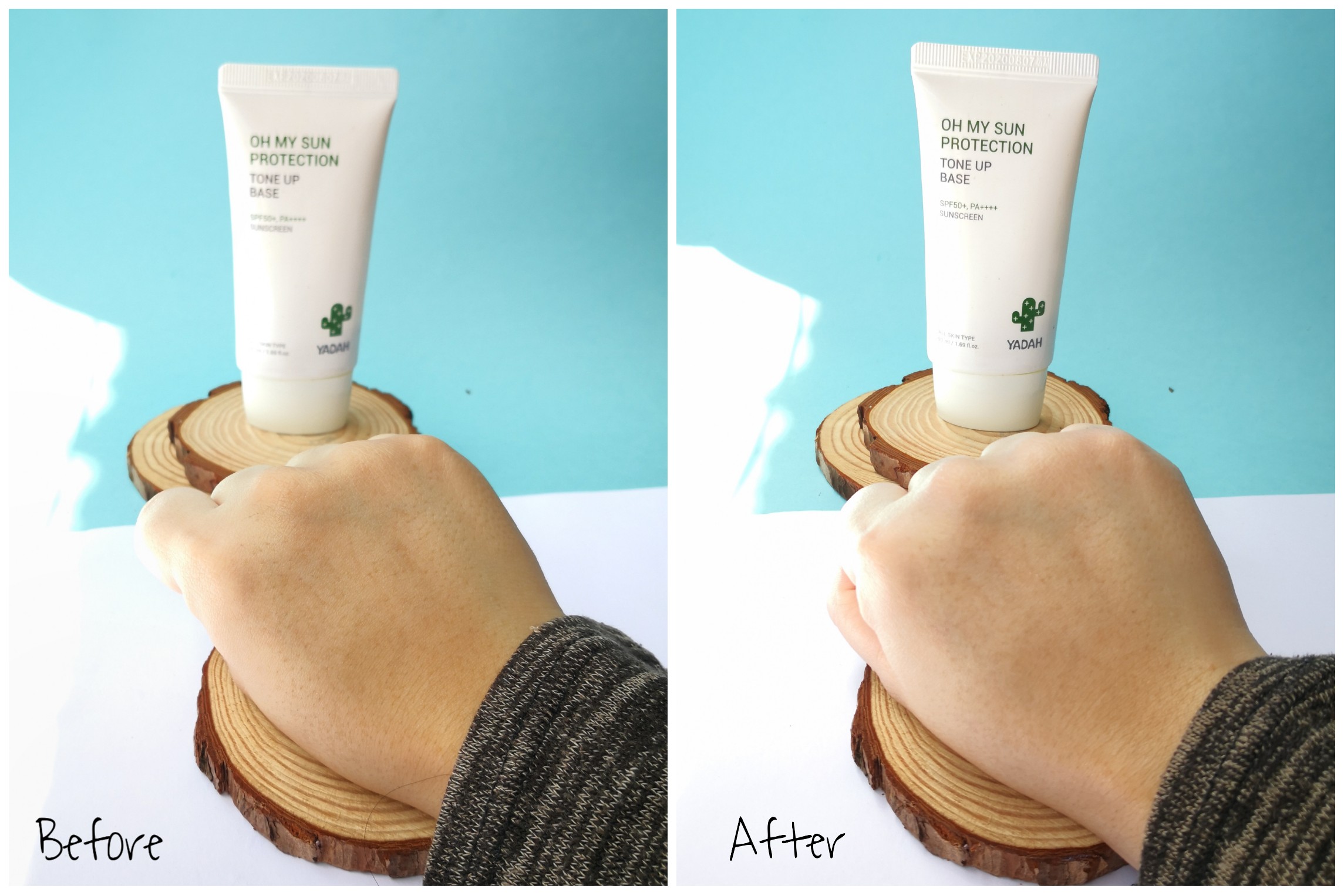 MY EXPERIENCES:
I like this sunscreen. It does leave a mild white cast, but a natural one. It absorbs quite fast into the skin considering the creamy texture. It sinks beautifully into my skin.
The fact that it is a tone up base makes me reach out for it everyday without amiss. It gives the natural skin look without turning my face greyish. I can skip my day cream with this sunscreen. Do note that I have fair to medium skintone.
It is quite easy to spread on my skin without leaving any sticky, tacky or greasy feeling. However, if you did not prep your skin well, as such putting on moisturiser prior to this sunscreen, it might gives some tight feeling to the skin. I once use this right after cleansing my face, my skin felt tacky. So I concluded that when used alone, it can be drying.
I've used this as base for makeup and all I can say is it sits under makeup really well. It blends well with the BB cream or foundation I have on my skin. I think it does control my skin's sebum production. Even after 4 hours, my skin is less oilier than any other sunscreen that I have tried.
RECOMMENDATION:
Oily to combination skin will love this sunscreen. However people with normal to dry skin should ensure your skin is well moisturised and hydrated since it can be drying
I had a good experience with this sunscreen. All the comments I mentioned above are  of my own experiences and only my own. Do note that it may give different result to your skin as our skin vary individually.
RATING:
4.5 / 5
REPURCHASE INTENTION:
Yes
TIPS: Use an oil-based cleanser to remove the sunscreen off your face thoroughly, and to prevent possible pore clogging issue.
SHOP HERE