As I'm slowly transitioning back to my normal to oily skin condition, I have been using a lot of soothing and hydrating skincare products for over a year now simply because I was focusing on repairing my damaged skin barrier. I have been incorporating several products with certain ingredients in my daily skincare routines that actually helped in improving the overall hydration level on my skin.
One of the ingredients that I have been obsessing with is Green Tea and as with anyone's skincare routine should begin with a cleanser, I have asked around among the beauty community about a green tea-based facial cleanser that is suitable for sensitised skin. This Real Fresh Foam from South Korean brand called NEOGEN Dermalogy came up a lot in the discussions so when this product became accessible via Hermo Global at the time, I grabbed my first bottle and instantly fell in love with it.
What's interesting about this cleanser?
This bubbly hydrating foam cleanser lathers up to remove impurities, dirt, and makeup residues while leaving the skin feeling refreshed and moisturized.
Formulated with natural ingredients and featuring 100% real green tea to freshly deliver soothing and refreshing benefits with every wash.
How to Use: Wet hands, dispense the product sufficiently and apply the foam onto your face, massage gently and then rinse off thoroughly.
Capacity: 160g. About 3 to 4 months of daily use.
Camellia Sinensis Leaf Water, Methylglucamine, Lauric Acid, Olive Oil PEG-7 Esters, Dipropylene Glycol, Myristic Acid, Glycerin, Butylene Glycol, C12-14 Pareth-12, Potassium Cocoyl Glycinate, PEG-60 Hydrogenated Castor Oil, Aristotelia Chilensis Fruit Extract, Ribes Nigrum (Black Currant) Fruit Extract, Chrysanthemum Sibiricum Extract, Psidium Guajava Fruit Extract, Laminaria Japonica Extract, Donkey milk, Caulerpa Lentillifera Extract, Argania Spinosa Kernel Extract, Hibiscus Esculentus Fruit Extract, Malva Sylvestris (Mallow) Extract, Malt Extract, Passiflora Edulis Fruit Extract, Averrhoa Carambola Fruit Extract, Chenopodium Quinoa Seed Extract, Dioscorea Japonica Root Extract, Forsythia Suspensa Fruit Extract, Laminaria Digitata Extract, Acorus Calamus Root Extract, Lithospermum Erythrorhizon Root Extract, Nelumbium Speciosum Flower Extract, Cucumis Sativus (Cucumber) Fruit Extract, Angelica Gigas Root Extract, Red Ginseng Extract, Cornus Officinalis Fruit Extract, Schizandra Chinensis Fruit Extract, Asparagus Cochinchinensis Root Extract, Cucurbita Pepo (Pumpkin) Fruit Extract, Pinus Densiflora Extract, Hydrolyzed Coral, Tremella Fuciformis (Mushroom) Extract, Sarcodon Aspratus Extract, Saposhnikovia Divaricata Root Extract, Lepidium Meyenii Root Extract, Paeonia Albiflora Root Extract, Citrus Junos Fruit Extract, Chaenomeles Sinensis Fruit Extract, Oryza Sativa (Rice) Bran Extract, Citrus Aurantium Dulcis (Orange) Flower Extract, Hippophae Rhamnoides Extract, Garcinia Mangostana Peel Extract, Magnolia Liliflora Flower Extract, Angelica Dahurica Root Extract, Hamamelis Virginiana (Witch Hazel) Extract, Angelica Archangelica Root Extract, Uncaria Tomentosa Extract, Lilium Tigrinum Extract, Laurus Nobilis Leaf Extract, Musa Sapientum (Banana) Fruit Extract, Cnidium Officinale Root Extract, Atractyloides Japonica Rhizome Extract, Salicornia Herbacea Extract, Mangifera Indica (Mango) Fruit Extract, Aloe Barbadensis Leaf Extract, Opuntia Ficus-Indica Extract, Swiftlet Nest Extract, Cocos Nucifera (Coconut) Fruit Extract, Honey Extract, Plumeria Rubra Flower Extract, Linum Usitatissimum (Linseed) Seed Extract, Agaricus Blazei Extract, Citrus Aurantium Dulcis (Orange) Fruit Extract, Citrus Limon (Lemon) Fruit Extract, Vaccinium Myrtillus Fruit/Leaf Extract Saccharum Officinarum (Sugar Cane) Extract, Acer Saccharum (Sugar Maple) Extract, Saponaria Officinalis Root Extract, Sapindus Trifoliatus Fruit Extract, Plankton Extract, Gypsophila Paniculata Root Extract, Portulaca Oleracea Extract, Hamamelis Virginiana (Witch Hazel) Extract, Achillea Millefolium Extract, Gentiana Lutea Root Extract, Anthemis Nobilis Flower Extract, Citrus Unshiu Peel Extract, Carica Papaya (Papaya) Fruit Extract, Cymbopogon Schoenanthus Extract, Melissa Officinalis Leaf Extract, Citrus Paradisi (Grapefruit) Fruit Extract, Tricholoma Matsutake Extract, Cordyceps Sinensis Extract, Pisum Sativum (Pea) Extract, Vitis Vinifera (Grape) Fruit Extract, Saururus Chinensis Leaf/Root Extract, Arnica Montana Flower Extract, Glycine Max (Soybean) Seed Extract, Artemisia Absinthium Extract, Broussonetia Kazinoki Bark Extract, Lactobacillus/ Aspergillus/Prunus Mume Fruit Ferment Filtrate, Lactobacillus/Punica Granatum Fruit Ferment Extract, Lactobacillus/Soybean Ferment Extract, Lactobacillus/ Nelumbo Nucifera Seed Ferment Filtrate, Allantoin, Trehalose, Niacinamide, Panthenol, Argania Spinosa Kernel Oil, Citric Acid, Cocamido- propyl Betaine, Sodium Chloride, Water (Aqua), Sodium Hyaluronate, Acetyl Glucosamine, Caprylyl Glycol, Ethylhexylglycerin, Phenoxyethanol, 1,2-Hexanediol, Tropolone, Gardenia Florida Fruit Extract, Carthamus Tinctorius (Safflower) Flower Extract, Disodium EDTA , Fragrance. 
The product comes in a minimally designed, transparent plastic bottle which is great as I can see how much product left in the bottle.
There is simple English product description printed at the back of the tube and Expiry Date printed at the bottom with the format being EXPYYYY.MM.DD (Year.Month.Day) for your reference. Note that the Period-After-Opening is only for 8 Months.
The most important part of the packaging would be the pump and it has been working greatly at dispensing the foam so far.
With the fruit juice and the cleansing ingredients contained at the top part, notice the real Green Tea leaves at the bottom part of the bottle with a separator in between. According to the brand, the leaves are natural and safe. I've been using the cleanser for months and didn't see any changes in the colour or anything. 
As shown above, the foam dispensed not only is looking very soft and fluffy; meringue-like but also feels very gentle on my skin. The above amount of product ; 1 to 2 pumps is usually how much I would dispense to wash my facial and neck area with.
There's a very fresh yet subtle scent to this cleanser which is very nice and not overpowering to my nose at all.
My skin feels so smooth and soft to touch after every single wash but most importantly, my dehydrated and overly sensitised skin feels so good as I don't experience dryness after cleansing my face which is something that I truly appreciate these days.
While I'm literally saving this cleansing foam for sensitive skin days, I would be using this water-based cleanser to remove the excess of oil-based first cleanser like soothing cleansing balm or lightweight cleansing oil. I would avoid using cleansing wipes or micellar water or anything that requires cotton pads to reduce abrasion which can further irritate my redness-prone area. 
Now, looking at the ingredient list, there are only ingredients with EWG grades ranging from 1 to 3 aside from Cocamidopropyl Betaine (foam booster, EWG Grade 4) and Fragrance which are known to be irritating to those with sensitive skin but this cleanser doesn't irritate my skin at all although definitely avoid this cleanser from getting it into your eyes as this stings so much. For those of you who have fungal acne, you might want to avoid using this cleanser as it contains several fungal acne triggers which I have highlighted on the ingredient list above.
Overall, I give this facial cleanser 5/5 as it works well with my current skin condition; more like my irritated skin saviours and while I'm sure it will work fine for normal to oily skin people like myself at the very least but yes, Your Miles May Vary.
I also noticed that even though the whole product is 160g, the usable amount is only 120g as stated on the bottle although in Korean. That has surely made the product became much pricier but I would say that this cleanser is definitely worth for you to at least give it a try.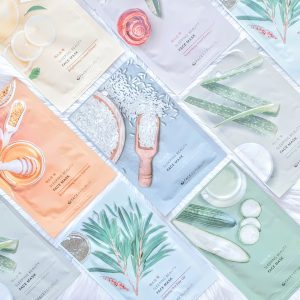 Review
If you're following me on social media like Instagram then you probably noticed that I am such a #sheetmaskjunkie and I do at least use
Read More »