Recently I've been in love with haircare and body-care brand Love, Beauty & Planet for its mother-nature loving ingredients, and of course affordable but quality products. Over the past year or so, I've been trying out several of their products, and today I want to share about the Radical Refresher Shampoo and my thoughts on it!
CLAIMS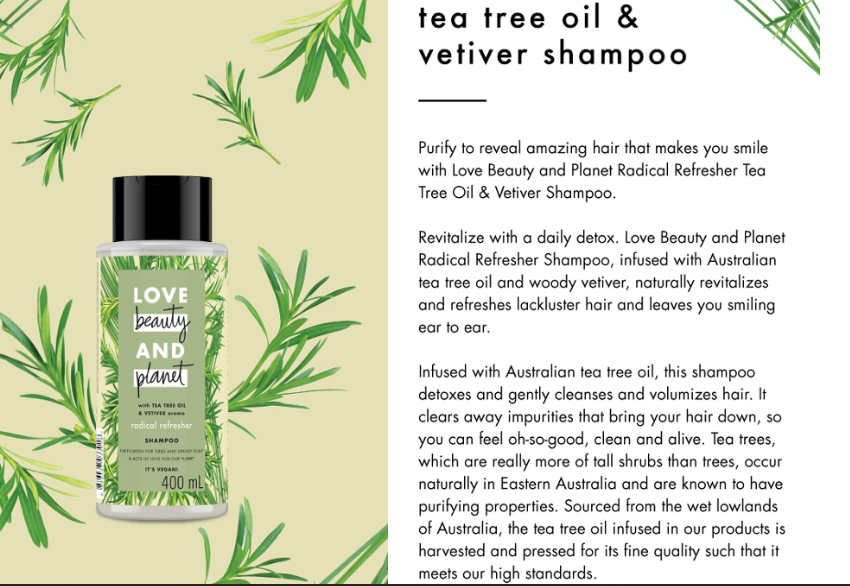 The Love, Beauty & Planet Radical Refresher Shampoo claims to:
Infused with Australian Tea Tree Oil
Detoxes and gently cleanses and volumizes hair
Clears away impurities that weigh hair down
Revitalizes and refreshes hair
INGREDIENTS
Water, Sodium Laureth Sulfate, Cocamidopropyl Betaine, Sodium Chloride, Perfume, Sodium Benzoate, Glycol Distearate, Citric Acid, Cocamide MEA, PPG-9, Disodium EDTA, Polyquaternium-10, Glycerin, Cocos Nucifera (Coconut) Oil, Melaleuca Alternifolia (Tea Tree) Leaf Oil, Vetiveria Zizanoides Root Oil, Sodium Hydroxide, Isopropyl Alcohol, Sodium Acetate
The ingredient list is minimal for a shampoo and doesn't contain harmful ingredients like dyes, parabens, and silicones.
What's interesting is that they donate RM1 for every purchase of their products to the Malaysian Nature Society for the conservation of the Tapir!
PACKAGING & PRODUCT
The Radical Refresher shampoo comes in a 400ml plastic, transparent bottle.
On the back of the bottle, the company's love towards the planet or vision/mission is clearly printed. The ingredient list is also shown clearly as well.
The cap of the bottle is the push down/push up type that is great for traveling as pump type packaging easily spills.
The product comes out a creamy colored liquid with a thick texture. The smell is refreshing and cooling as expected from the tea tree.
Once in contact with water, the product foams and lathers easily. It's definitely great for thin hair as people with thin hair should use lighter products that lathers easily so it doesn't weigh the hair down.
Alright, so my hair is generally the oily type as I have to wash my hair every single day if not it'll get greasy and flat and no volume at all. In the before pic, you can see the roots of my hair near the scalp looks quite greasy and flat. This is my everyday hair situation haha.
So how I normally shampoo my hair is to first rinse my hair thoroughly. Then pour about 2 50 cent coins amount onto my palm and gently scrub it over my scalp, then my roots, then my hair. I like how it smells refreshing and feels slightly cooling on my scalp. I can just feel it cleaning off the impurities in my hair after a really long day. Not only does it make my hair feel good but it just relaxes me as a whole. The shampoo lathers easily, don't need a lot of product! Once I'm satisfied I'll just rinse it off with water and proceed with conditioner.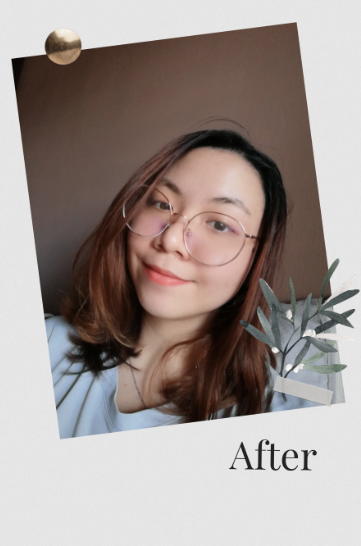 Immediately after shampooing, I could already feel my scalp feeling clean and refreshed, while my hair just feels amazing. Once I'm out of the shower I blow dry my hair and that's pretty much it! My hair is clean, volumized, and ready for the day (or sleep in this case). It's one of my favorite shampoos for days when my hair is really greasy because the tea tree helps get rid of all the impurities in my scalp and roots and smells amazing. It really just refreshes me after a long day!
Pros.
Affordable at 400ml, can last for a few months
Tea tree helps to soothe the scalp and get rid of impurities/oils
Smells amazing
Feels refreshing
Lathers easily
Doesn't weigh down the hair
Great for oily scalp with thin hair
Cons.
May be a little drying for those with dry hair
In a nutshell,
I genuinely enjoyed this shampoo and have definitely repurchased more than a few bottles. I love how it makes my hair feel refreshed and clean, ready to start the day. It's light and doesn't weigh my hair down either! Definitely, it's one of my favorite shampoos now.
Get it here!