WHAT YOU NEED TO KNOW?
Last year, PIXY came out with a UV Whitening 4 Beauty Benefits (4BB) range. This new Pixy UV Whitening Concealing Base 4BB range was formulated with 4 elements of beauty benefits that are; Whitening, Protecting, Moisturizing & Beautifying. At first I was a bit confused by this product despite of the name 'concealing Base'. Is it a concealer? Or makeup base? After getting the product, I realised it is a stick foundation.
2-in-1 as Foundation and Concealer with lightweight texture. Perfectly covers blemishes and gives flawless makeup up to 12 hours. Contains SPF 35 & PA++.
There are two shades which I own:
PACKAGING
The packaging is quite compact and cute. Comes in a sturdy opaque plastic packaging. You need to pull the cap to reveal the product. There is a roller down there to get the product out & up from the packaging.
This product contain 9g of stick foundation which is quite a lot.
TEXTURE
It has a creamy texture. Once you swipe the foundation, you will feel a bit of stickiness & heavy. But will be gone after the foundation is blended. The foundation can be easily blended using brush, sponge and fingers. It creates a smooth, semi mattes finish.
PERFORMANCE
As you can see from the swatches on my skin, shade 02 is a bit darker. Shade 01 is perfect for me. But I love to mix them both. I use shade 01 under my eyes, forehead, chin & cheekbones
COVERAGE?
I would say that the coverage is good and the build-able product can give up to a medium coverage.
Does it last long? I can tell you that end of the day, my skin tend to become oily. But if you like a foundation that can give you a glowy look after a few hours, this is for you. Sometimes it gets a bit patchy especially on pimples and on dry patches. Anyhow, it also depends on how you prep your skin.
FINAL VERDICT
This is my fav on-the-go foundation. So easy & handy especially when travelling. I only used my fingers to blend the foundation and it blends smoothly & evenly. Another good product from PIXY.
SHOP HERE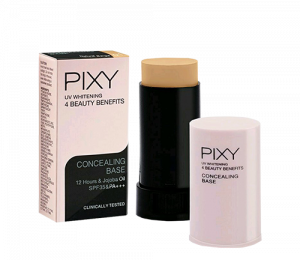 Pixy UV Whitening Concealing Base