While we are all getting constant reminders of the summer season everywhere around the world with ice cream commercials and #throwback photos of last year's travels, it has been raining for almost everyday of the week right here in Malaysia so I've been spending my weekends curling on bed with a good book and cups of coffee.
But the weather feels hotter than usual at times too so I've been constantly in air-conditioned rooms and workspaces therefore I cannot forego body lotion applications. While I do indulge in moisturising hand and foot creams, I would prefer to use lightweight yet hydrating body lotions.
Now this Luscious Hydration Body Lotion from Love Beauty & Planet is just perfect thanks to the Coconut Water and Mimosa aroma and I'm also enjoying the Body Wash sister too so definitely read on if you want to know more about this body product whose scent I'm hooked on!
What's interesting?
This

Body Lotion is infused with natural Coconut Water is a refreshing moisture splash and it does making my skin feels hydrated and refreshed.
It has a sweet, warm, powdery fragrance.
How to Use:
Massage liberally on your skin everyday.
Capacity: 400ml – about 80 applications. I only use this in the morning so that's about 3 to 4 months of daily use for me.
Water, Glycerin, Stearic Acid, Glycine Soja (Soybean) Oil, Glycol Stearate, Cocos Nucifera (Coconut) Water, Triethanolamine, Glyceryl Stearate, Fragrance, Acacia Decurrens Flower Extract, Cetyl Alcohol, Caprylyl Glycol, Phenoxyethanol, Hydroxyethylcellulose, Carbomer, Disodium EDTA, BHT, Stearamide AMP, Sodium Benzoate, Potassium Sorbate, Tapioca Starch, Citric Acid
Basically, the product comes in a sturdy clear plastic bottle so it's easy to monitor the amount of product left in the bottle. There are product description and ingredients list printed at the back of the bottle in English for your convenience.
At the bottom of the bottle, there is the product expiry date printed in the format of EXP DDMMYY (Date-Month-Year).
The body lotion comes with a great pump as it dispenses out appropriate amount of product every time and I can simply push it down and twist to securely lock in order to prevent spillage while travel. These days, I'm placing this body lotion in my living room as we are blasting off the air-conditioner all day long so my family and I can easily reach this for reapplications.
The body lotion is in that lovely white colour as with most body lotions do. I usually need 3 to 4 pumps of the product for my whole body.
I can tell that the lotion definitely leave some sort of film on skin as it retains the moisture but not to worry, as it only feels slightly sticky on skin. Although I don't think those who easily sweat during the day would appreciate this but as my skin is a little bit dehydrated with some flaky area along my calves, the considerably lightweight texture is sufficient enough.
Overall, I give this body lotion 5/5. I personally love the fragrance as it's sweet yet refreshing at the same time hence why I'd say it's perfect for our current weather.
Looking at the ingredients list, there are 4 ingredients (underlined above in the list) that are not suitable for those with fungal acne so definitely avoid using this product if you're one. I have been using this body lotion for months now I'm halfway through the bottle already and I haven't experience any irritation so far which is great.
Also, if you are into vegan body products then this brand is surely interesting enough to check out plus with each purchase, RM1 will be donated to the Malaysian Nature Society for the conservation of the Malayan Tapir. Isn't that great?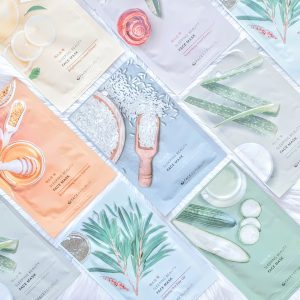 Review
If you're following me on social media like Instagram then you probably noticed that I am such a #sheetmaskjunkie and I do at least use
Read More »