Among all the 3 Senka masks that I have tested, I think this is the one I love the most. This is totally meant for my skin. It's written here for soothing and calming. Acne prone skin like me always so sensitive and redness all over my face is very common. Even exposed sunlight just for awhile and at the end of the day, my face can be burning with red patches all over my cheeks. So, sometimes I really hate to go out for lunch as I hate to be exposed to the sunlight. Having an umbrella doesn't even help though. However this is not sunburn, but my skin just gets sensitive so easily so no reason. Okay, maybe the reason is from my acne breakouts!
Usually when there's redness on my face or body, I will apply a pump of aloe vera all over my face and body as a soothing aid. Sometimes when I ran out of aloe vera gel, I'll just pluck the plant from my house. Thanks to my mum for planting it at home, it came so handy for me. LOL
No need to worry when using this mask because it does not contain any alcohol, fragrances and colourant!
I used to apply a very thick aloe vera gel all over my face overnight to soothe my skin. Or when I really kena sunburnt. This mask claims that it does help for brightening as well. But sorry I don't really see my face brightened to be honest. But I agree with how soothing and moisturizing it is. I'm going to buy whole lot when I'm going back to Taiwan!
Benefits of Aloe Vera:
Cuts
Sunburn
Dry Skin
Inflammatory acne
HOW TO USE :
After cleansing and toner, apply sheet mask onto face. Leave on for 5-10 minutes, then remove mask and gently tap in the remaining essence.
My Opinion:
So, as a conclusion, I'm glad I found this mask. Totally my skin savior! I don't need to pluck the raw aloe vera plant to apply on my face anymore. This mask totally is the replacement! Overall, I love this mask. But somehow for the smell is kind of not too pleasant for me. Not the very kid of strong scent, but it's just not my preference. It does not smell like any floral as well though. As you can see from my photo above, the generous essence is so so so much and I need to open the package of mask slowly to prevent it from leaking. Just pour and massage all the remaining essence on your face and neck area. This mask does helps to calm my acne skin, and I love it although I don't prefer the smell, but it's ok, as long as it works on my skin. The size of the mask also fit my face shape well. Not too big nor too small. I will repurchase this mask again for sure. Totally my cup of tea!
Rating :4/5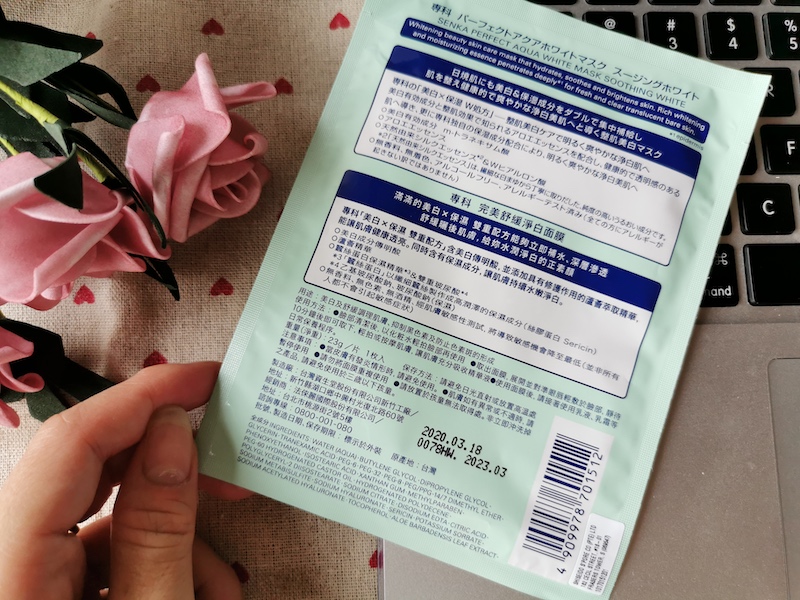 Full ingredients:
Water(Aqua), Butylene Glycol, Dipropylene Glycol, Glycerin, Tranexamic Acid, PEG-6, PEG-32, PEG-8, PEG/PPG-14/7 Dimethyl Ether, Phenoxyethanol, Isostearic Acid, Xanthan Gum, Methylparaben, PEG-60 Hydrogenated Castor Oil, Hydrogenated Polydecene, Polyglyceryl-2 Diisostearate, Sodium Citrate, Disodium EDTA, Citric Acid, Sodium Metabisulfite, Sodium Hyaluronate, Sericin, Potassium Sorbate, Sodium Acetylated Hyaluronate, Tocopherol, Aloe Barbadensis Leaf Extract
Disclaimer:
Changes to the product information, packaging, and/or ingredients may occur without notice. We cannot guarantee the content and information on this website to be accurate, complete, and/or current. While we do our best to keep our content updated, the actual product may vary. The product claims are for reference only. Individual results may vary. Third-party content including customer reviews are for general information purposes only. We cannot guarantee the reliability of third-party content available on our website. Prices are subject to change without notice. We cannot accomodate price adjustments on previous orders. Please note product photos are for reference only.