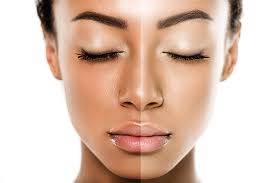 Do you know the difference between brightening and whitening? Brightening products enhance your skin by brightening and adding radiance to your skin. However, whitening may harm your skin by making your skin instantly whiter or in other words, skin bleaching. This means it will reduce your skin melanin and thin the layers of skin, making your skin look whiter. This is harmful as your are easily exposed to the UV rays which can cause skin cancer. People tend to get confused between brightening and whitening when both are actually different.
​
This is how I learned to  find non-harmful products that help brighten my complexion without thinning my skin. Melano CC is a brand from Japan that offers brightening products that contain 100% pure vitamin C. Thus, they introduced Melano CC Brightening Gel, a moisturiser with a thin texture and 100% pure vitamin C that will restore moisture in your skin.
PRODUCT INFORMATION
Surprisingly, this Melano CC Brightening Gel not only contains 100% pure vitamin which to helps to even out skin tone but it is also contains Alpinia Seed Extract. Alpinia Seed Extract is an extract from ginger that help to brighten your skin tone.
This Brightening Gel can be use twice a day after the usage of lotion or essence. It helps to prevent from sun exposure damage which is great in our country that is humid and sunny all year long. The gel infused with Vitamin C absorbs quickly into the skin without leaving any stains or greasy texture. Moreover, they use the technology of Deep penetration technology with high stability and high concentration that ensure it will absorbs deep into the skin.
PACKAGING
The product is housed in a round jar weighing 100g, the packaging is very sturdy and stable. The jar itself is not labeled with any information on it  but the ingredients and use instructions are available on the box it came with. However, it is very disappointing that it didn't come with a lid to cover the product.
Usually moisturizer that is packed in jars will come with a lid to protect it from exposure to the air. But Brightening Gel didn't come with it. I have always feared it to slip and cause it to spill. I was afraid because of the watery gel texture which makes it easily to spill. By having the lid, it will protect and seal it in securely. It is not a huge problem but might feel uneasy for someone like me who is careless.
INGREDIENTS
Water, Butylene Glycol, Pentylene Glycol, Glycerin, Ascorbyl Glucoside, PPG-17-BUTETH-17, Pentaerythrityl Tetraethylhexanoate, Potassium Hydroxide, Carbomer, Dimethicone, PPG-24-Glycereth-24, Diethoxyethyl Succinate, Polyacrylamide, Phenoxyethanol, Glyceryl Stearate, C13-14 Isoparaffin, Methylparaben, PEG-20 Sorbitan Isostearate, Behenyl Alcohol, Cetyl Alcohol, Tocopheryl Acetate, Laureth-7, Disodium ETA, Xanthan Gum, Dipotassium Glycyrrhizate, Polyquaternium-51, Fragrance, Biosaccharide GUM-1, Ascorbic Acid, Ammonium Acrylates Copolymer, Cornus Officinalis Fruity Extract, Citrus Limon (LEMON) Fruit Extract, Alpinia Katsumadai Seed Extract
RATE
I would rate this 7/10. It really moisturised my skin as how it claims. It doesn't leave any stickiness but it took a while to completely dry. When I gave a try on this Melano CC Brightening Gel, it improved my skin which in terms of less dullness and enhanced my healthy skin. If you are aiming to achieve glowing healthy skin, then you are one step away in order to achieve this process.
However, I would like to remind that this product contains fragrance and for those who are sensitive over citrus or fragrance, do not try this. It does have strong citrus scent which may leave you uncomfortable feeling. But other than that, it is a good product.
SHOP HERE