Which type of cleanser does your skin loves the most? Is it foam? Gel? Or perhaps cream?
Well my combination skin is mostly attracted to the gel type and my holy grail cleanser for almost three years is no other than the well-known Cosrx Low pH Good Morning Gel Cleanser. My skin seems to love gel type cleansers and low pH cleansers. However, upon reading that this Benton Honest Cleansing Foam having an alkaline pH level and Benton stating this on their website
"many people insist that slightly acidic cleanser is the best option. It is true that low acidic pH cleanser is less irritating for the skin. However, Alkaline pH cleanser would rinse thoroughly your skin compared to low acidic pH cleanser. It would be better to think that low acidic pH cleanser as an alternative for those who cannot use alkaline pH cleanser and have a super sensitive skin",
It intrigued me and when it was finally on sale on Hermo, I decided to finally snag it! To avoid heartbreak, I chose to purchase the mini one first before committing into spending for full size.
Ingredients
Aqua(Water), Myristic Acid, Glycerin, Lauric Acid, Palmitic Acid, Stearic Acid, Potassium Hydroxide, Butylene Glycol, Camellia Japonica Seed Oil, Sodium Lauroyl Glutamate, Sorbitan Olivate, Polyquaternium-10, Portulaca Oleracea Extract, Camellia Sinensis Leaf Extract, Centella Asiatica Extract, Glycyrrhiza Glabra (Licorice) Root Extract, Chamomilla Recutita (Matricaria) Flower Extract, Polygonum Cuspidatum Root Extract, Rosmarinus Officinalis (Rosemary) Leaf Extract, Scutellaria Baicalensis Root Extract, Althaea Rosea Root Extract, Aloe Barbadensis Leaf Extract, Propanediol, Hydrolyzed Pea Protein, Phytosterols, Lecithin, Olea Europaea (Olive) Fruit Oil, Squalane, Butyrospermum Parkii (Shea) Butter, Ceramide NP, Zanthoxylum Piperitum Fruit Extract, Pulsatilla Koreana Extract, Usnea Barbata (Lichen) Extract, 1,2-Hexanediol, Parfum
This is an alcohol-free cleanser, with palm oil-derived surfactants. It contains many soothing and moisturising ingredients such as Camellia Japonica Seed Oil, Ceramide NP, Madecassic Acid, Squalane, and Shea Butter. It also has the well-loved ingredients, Centella Asiatica Extract and Aloe Barbedensis Extract. This cleanser has a pH level of 8, according to Charlotte Cho on sokoglam.
Source: sokoglam.com
White creamy texture with a slip to it, turns really foamy with a splash of water.
Lathers up nicely into soft bubbles that feels fluffy. It deep cleanses the skin and rinses off completely, leaving no filmy residue.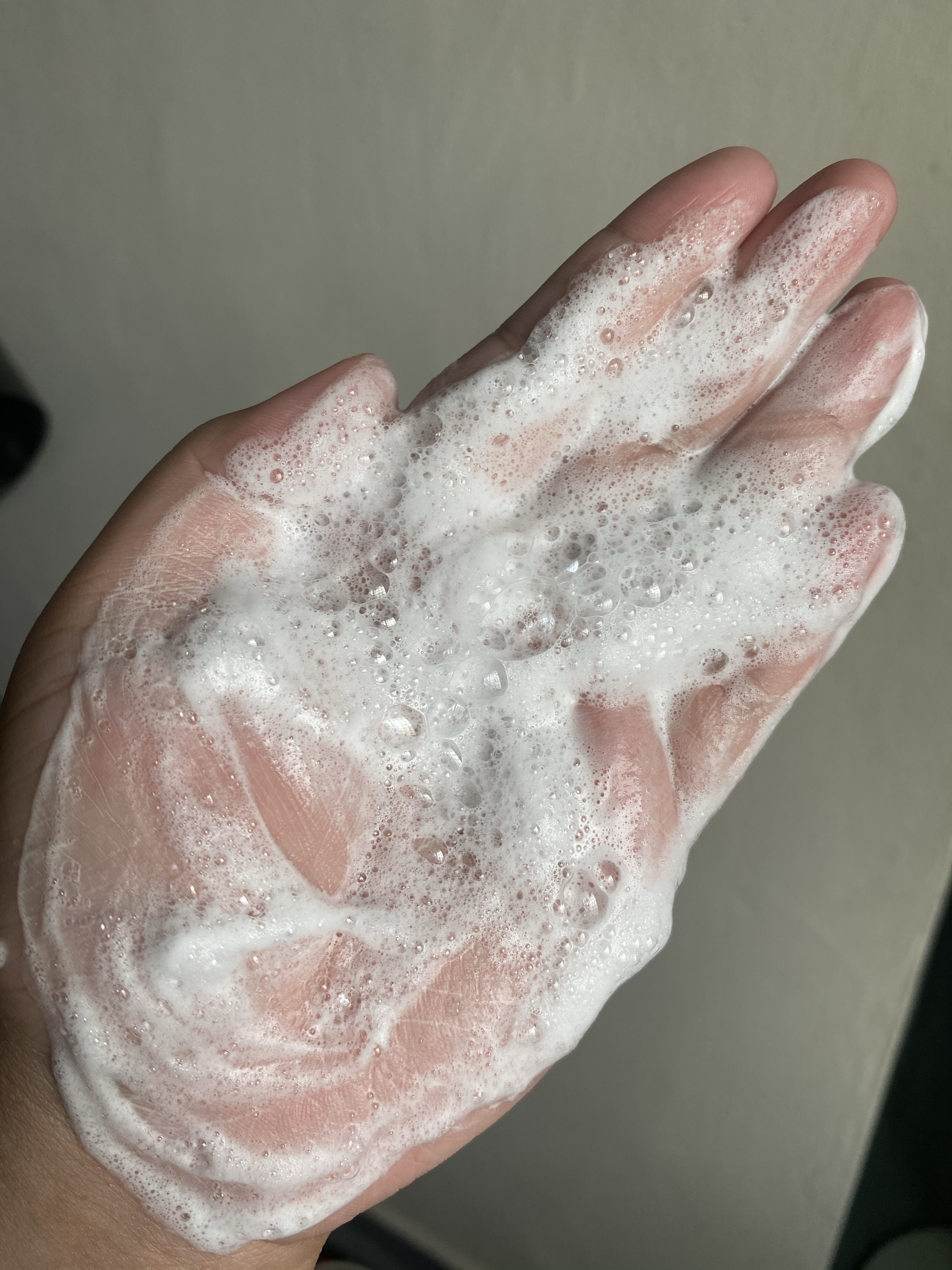 I was worried about the sound of palm-oil derived surfactants on my oily areas but I am glad that there was no oily or greasy feeling to it. It smells powdery and a bit like handwash?
Experience
Despite it being the pH8 level, this cleanser does not strip off my skin's natural oil and it doesn't leave my skin feeling tight or dry. It is not drying at all and is in fact, quite moisturising. However, I am not sure if it is the same deal for those with dry skin.
The first week of using this, it helped control oiliness and there was no pustule acne type, the one that always comes visit on the chin when I am on my period. I can't speak for bigger, cystic acne since I have not had it for long now that I am over thirty years old but I can say that this cleanser can help enhance your acne treatment?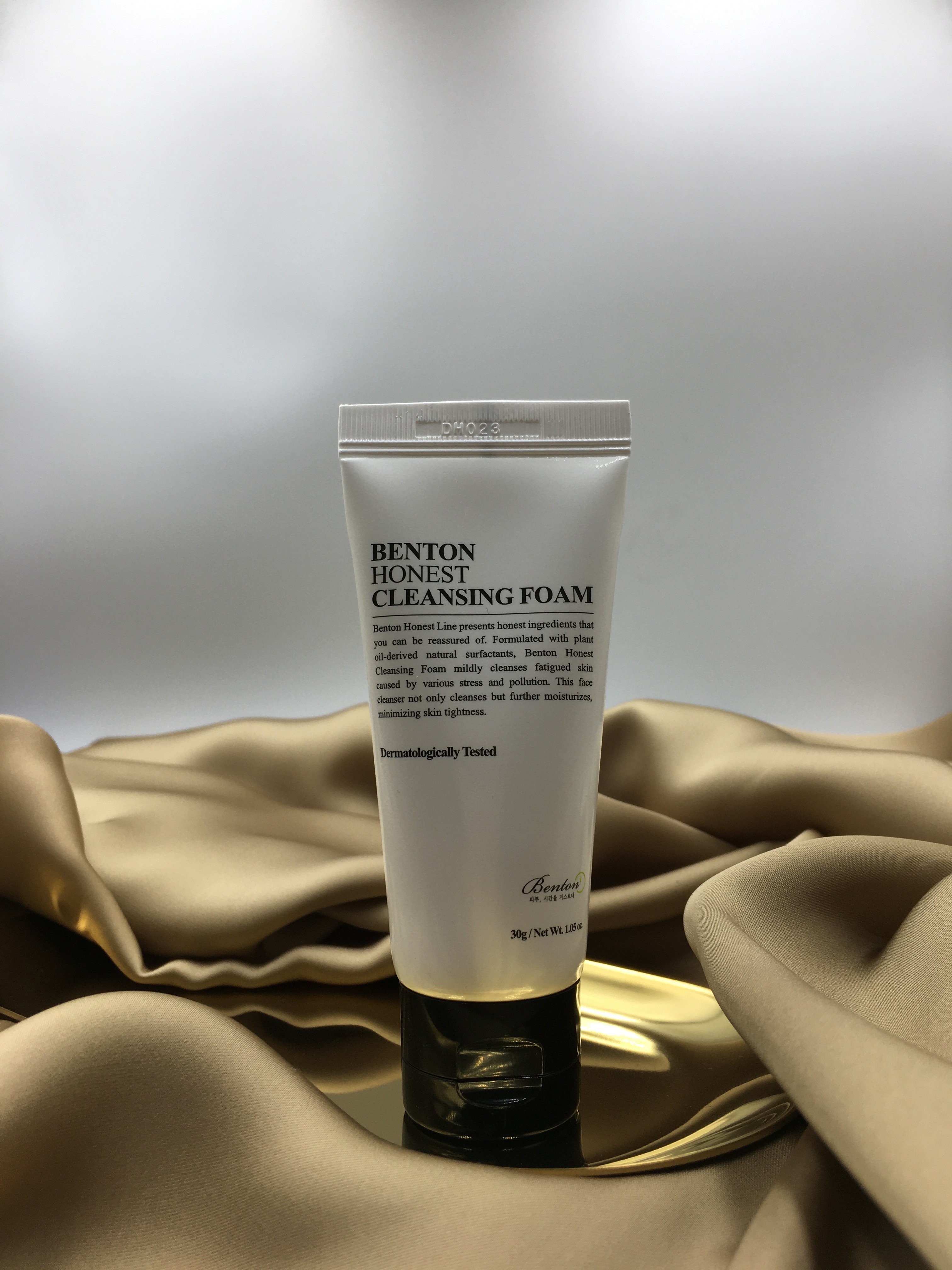 As I finished the tube (it took me 4 months, but I didn't use it exclusively so that's why it took longer) I can say that I love the purifying, clarifying effect that this cleanser gives. I love how soft the bubbles feel and how soft and smooth it leaves. I really love this as an evening (PM) cleanser as it really takes off the dirt, oil, and dead skin celss that accumulate on the skin surface during the day.
You don't need much of this, only a pea-sized amount each wash and you're good to go so I think that in terms of value for money, this wins big time. I wish my holy grail Cosrx cleanser was cheaper haha.
Anyway all in all, I am so satisfied with Benton Honest Cleansing Foam and I think that it would a darling to those with oily skin. It stayed true to its claims and does its job as a cleanser and even though I still preferred my Cosrx Low pH Good Morning Gel Cleanser, I would definitely repurchase this for my oilier days use and whenever I have pimples.
My rate: 4.8/5. Will absolutely repurchase
SHOP HERE