I started hearing about fermented skincare products about 5 years ago from the beauty community when several South Korean brands came out with their treatment essences featuring fermented ingredients like Bifida Ferment Lysate, Saccharomyces Ferment Filtrate, even the star ingredient of famous Japanese skincare brand, SK-II's Galactomyces Ferment Filtrate among few more ingredients.
Honestly, I was a total skeptic when I first heard about these attempts at creating similar products to SK-II's First Treatment Essence; knowing about the brand's 40 years of research and establishment with some of second-hand knowledge and experiences based on my friends' who have been using the products from the exclusive brand for years.
Basically, the process of fermentation breaks down complex ingredients into simpler forms with smaller molecular sizes thus potentially making the ingredient to be easily absorbed into the skin which means the product can be much more effective. Now, fermented skincare products are made by adding microorganisms like bacteria to natural ingredients where the microorganisms release enzymes that break down the molecules in the raw material, which then leads to the creation of new substances that benefit your skin.
What's good about the product?
This is a deeply hydrating and brightening essence that contains more than 93% of naturally fermented ingredients (Micro Bio Ferment Complex) to deliver instant skin benefits.
How to Use: Use this essence daily in your morning and evening skincare routine.
Capacity: 150ml – About 3 months of daily use.
Bifida Ferment Lysate, Saccharomyces Ferment Filtrate, Betula Alba Juice, Rice Ferment Filtrate (Sake), Aspergillus Ferment, Glycerin, Dipropylene Glycol, Methyl Gluceth-20, Water, Betaine, Camellia Sinensis Leaf Extract, Ethylhexylglycerin, Trehalose, Lactobacillus, PEG-60 Hydrogenated Castor Oil, Caprylyl Glycol, Trideceth-10, Acrylates / C10-30 Alkyl Acrylate Crosspolymer, Tromethamine, 1,2-Hexanediol, Tropolone, Allantoin, Butylene Glycol, Coptis Japonica Extract, Arginine, Hydroxypropyl Methylcellulose, Hydrogenated Lecithin, Calcium Carbonate, Sodium Hyaluronate, Adenosine, Niacinamide, Dextrin, Glycine, Serine, Glutamic Acid, Aspartic Acid, Leucine, Alanine, Lysine, Tyrosine, Phenylalanine, Proline, Threonine, Valine, Isoleucine, Phenoxyethanol, Histidine, Methionine, Cysteine.
As you can see, the product comes in a minimally designed sturdy box with all the information you need printed on the side of the box sufficiently in English.
Period After Opening is 12 Months however I usually finish an essence in 3 to 4 months depending on my daily usage.
There is full ingredients list printed for your reference and as you can see the star ingredients are sitting at the top of that very list. I would highly recommend for you to patch test on your neck area before you begin applying the essence right onto your facial area because you would never know how fermented skincare products react with your skin.
Now. the product comes in that pretty, transparent, quite heavy glass bottle and again, there's English simple product description printed at the back of the bottle so you can safely discard the box or simply recycle or upcycle it.
I love the fact that the bottle is not slippery in my hands although please very careful to wipe off your palms if you were to layer your toners and essences.
The product expiry date is printed at the bottom with the format being EXP YYYY.MM.DD (Year-Month-Day).
While this essence does not comes with a pump but not to worry as it's easy to just turn the bottle upside down and pour several drops of the essence through the unsealed plastic lid.
As you can see above, the essence has a watery consistency so it is recommended that it is to be used by pouring it onto cotton pads and swipe the pad along the facial area, from inner to outer area of the face. 
But I have to say that if you have a sensitised (damaged skin barrier therefore a little bit dehydrated) skin like myself, it's better to only use a cotton pad with the last step in cleansing which is the toner step; whether you are using exfoliating toner and then followed up with hydrating toner or first treatment essence in your skincare routine and then use this essence by applying it directly onto your facial area by gently tapping your fingers along the facial area. This is to avoid irritation caused by abrasive cotton pads which can lead to itchiness especially on the redness-prone facial area.
When it comes to brightening skincare products, I'm going to say out right that it is going to take a while before you can see apparent result but this is one of the products that can instantly give your dehydrated skin a moisture boost which makes the skin to appear slightly brighter and smoother at the very least.
While I have been merely focusing on soothing and hydrating skincare products for the past year as I'm still working on repairing my damaged skin barrier due to allergic reactions, it is nice to have at least one or two brightening skincare products in my daily skincare routine and an essence is the perfect form of the product as I can simply layer it on top of my toners prior my serum application.
If you are looking for a single brightening skincare product then I would recommend for you to go for concentrated serum or ampoule with generally brightening or dark spots reducing ingredients but definitely give this is a try if you are simply looking for a product that can help the skin to appear radiant and smooth after prolonged use.
After having the essence in my daily skincare routine for about 3 months now that I'm about to finish my first bottle, I would say that I personally love it and will gladly repurchase instead of adding a hyaluronic acid-based serum that sometimes can feel a little bit sticky on skin especially now that we are in hotter months.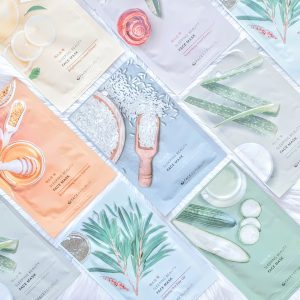 Review
If you're following me on social media like Instagram then you probably noticed that I am such a #sheetmaskjunkie and I do at least use
Read More »