Hello , avocado lover! Did you know the nutrition facts of an avocado? Avocados are a great source of vitamins C, E, K, and B-6, as well as riboflavin, niacin, folate, pantothenic acid, magnesium, and potassium. They also provide lutein, beta-carotene, and omega-3 fatty acids. Well, what about convert them into a mask and put it on our face? Sounds a good idea right? Ok, your wish are granted! Now JM Solution has their very own Water Luminous Avocado Oil Ampoule Mask and you dont have to make it from the scratch. The mask contains avocado oil that are effective to treatment acne, blackheads, and skin inflammation.
I often get inflamed skin due to my itchy hand that loves to pinch and squeeze my pimples all the time. It's a really bad habit and I shall stop doing it! And immediately afterwards, my skin will be red and sometimes even bleeding. So if this situation happens, I'll usually put on this mask to soothe my skin. The texture of the mask is the same as the Honey Propolis mask; both are soft and ultra thin fiber mask. In a way, a thinner sheet helps stick to skin more effectively and holds the essence longer. The high nutrition of pure avocado oil helps to replenish your skin and lock the moisture in and is also effective removing the dead skin cells .
How to use :
First of all before the mask application , cleanse your face with your favorite cleanser and apply on toner
Then peel off the film layer and apply the mask by adjusting the eyes and mouth area
Leave the mask for about 15 to 20 minutes will do
Remove the mask and gently pat all the remaining serum until it is fully absorbed
Capacity : 10 pieces in a box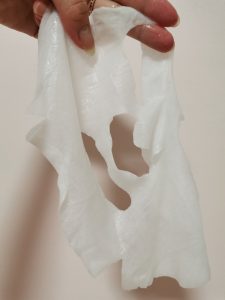 Overall, I personally think that it does help on my inflamed skin but not really in treating my acne. And it was slightly oily after the mask application, probably this is due to the nature of my oily skin type. It was sticky and left me with an unpleasant residue after masking. I ended up washing off the essence because I don't feel comfortable with the feeling on my skin. However, I simply love the fresh scent from this mask! So, I'll just give 3 stars for this mask. But if you're dry skin type, this could be your choice of mask or also great for if you're travelling to a winter country. This would help to replenish your skin's moisture.
Rating : 3/5
Full Ingredients :
Oil: Caprylic/Capric Triglyceride,Moringa Oleifera Seed Oil, Persea Gratissima (Avocado) Oil,Melia Azadirachta Leaf Extract, Melia Azadirachta Flower Extract, Coccinia Indica Fruit Extract, Amber Powder, Solanum Melongena (Eggplant) Fruit Extract, Ocimum Sanctum Leaf Extract, Curcuma Longa (Turmeric) Root Extract, Corallina Officinalis Extract, Tocopherol, Tocopheryl Acetate
*Results from the use of beauty product above may vary depending upon the individual and will depend on multiple factors, including your age, gender, skin type and condition, use of other products used, health history, lifestyle, diet and others