I was once a girl who only believed that my hands were the best tools for makeup. I'd apply stuff like eye shadows, lip gloss and even foundation using my fingers simply because it was convenient. Maybe because I never learnt how to use makeup brushes and never realised the difference it makes, until early this year. A friend of mine shared her secret to a flawless base foundation after seeing my cracked makeup, so my stubborn self finally decided to invest in better brushes. I used to have a set of brushes that I bought simply because they were rose gold but the hair wasn't soft & often stuck to my face.
As someone who's still a newbie into makeup, I decided to try Cerro Qreen's makeup brushes after reading reviews on Hermo with most of them noting it's a good makeup brush brand to try for beginners. I chose Cerro Qreen's leather barrel 7 piece makeup brush set as I really liked the travel friendly size and was really in need of a blush, foundation and eye shadow brush. Cerro Qreen's brushes are made with different types of hair according to the different functions of each brush to achieve a flawless finish while maintaining softness during application.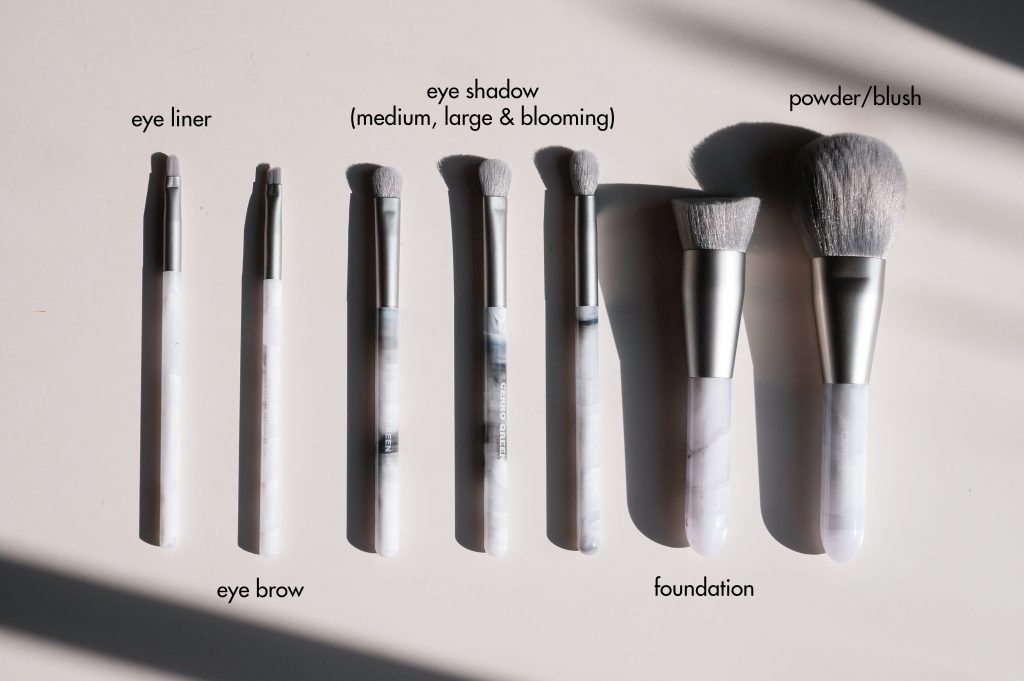 I have a Real Techniques foundation brush which is slightly fatter than this Cerro Qreen foundation brush but I can say that the softness is quite on par with one another despite its price difference. I really liked that Cerro Qreen's foundation brush was slightly angled and smaller in size so I could reach the small corners near my nose and eyes! Plus points for its travel friendly size which I can easily bring along on my next vacation.
Rating: 4.8 / 5 🌟
This brush was a little bigger than I anticipated for a blush brush, but it definitely was able to create a more natural flushed look with a wider spread blush area. I used to use those mini puffs for my blusher so my blush was always very saturated in one area. I hadn't used it the size of the brush since it was bigger than anticipated, but I grew to really like the natural flushed look at the end of my application. 
Rating: 4.5 / 5 🌟
Not sure if it was my amatuer skills but these brushes were a little big for my eyes. I always use the blooming brush for my shadows so I found it really easy to use that brush in particular. It was my first time using a large and medium shadow brush of such shape but I did manage to create the look I wanted in the end. Maybe I just need more practice 😂 I really liked the softness of the brushes though, they were soft enough to feel comfortable on my eyes while being dense enough to maintain its form during use.
Rating: 3.8 / 5 🌟
Eyebrow Brush
Brush hair type: Fibre
Brush length: 13.3cm
Hair length: 0.6cm
Hair width: 0.6cm
I don't have a cream type brow product so I wasn't able to test this brush. Its fibres were indeed soft and I would definitely use it for drawing my inner lid eye shadow as my eyes are quite hooded and its precision would definitely be able to fill my inner lid needs! :)
Rating: 5 / 5 🌟
Eyeliner Brush
Brush hair type: Fibre
Brush length: 13.5cm
Hair length: 0.7cm
Hair width: 0.5cm
I'm really used to liquid liner brushes and haven't had any experience with cream eyeliners as I didn't have the right brush till now. My eyeliner game isn't strong but I did manage to get a pretty liner out of it! I do like that despite the fibres being thin, it was still firm and able to create a defined liner. I still like using liquid liners better for now but maybe with more practice, I think I'd love eyeliner brushes in the future 
Rating: 4.2 / 5 
Overall, I'm really satisfied with these Cerro Qreen brushes as they are able to deliver a flawless finish to my makeup look without leaving any prickly feeling or loose hairs on my face. To me, that's already enough for a win in my eyes. Cerro Qreen is definitely a highly recommended brush brand for those of you who are just starting off your makeup journey and do want to practice with brushes but are looking for something more affordable. In case you were wondering, I ditched my pretty but prickly old brushes and will not go back to cheap brushes ever again.