Do you know what is centella asiatica? I am gonna amaze you with their benefits. Basically, centella asiatica is a herbaceous plant which is really good in medicinal herb. Centella Asiatica is effectively curing small wound, burns, psoriasis and skin problems. Centella Asiatica is widely known in skincare line nowadays because of their benefits to skin. It's like a vitamin to the skin which helps in curing the wound.
As I am exploring Centella Asiatica, I was introduced to Skin1004 Madagascar Centella Asiatica Ampoule. A huge bottle with a clear-like-water ampoule. When I first saw this, I thought it is just a plain ampoule with not much of benefits. Until, I gave a try and I immediately surprised by their effectiveness on my skin. If you are keen to know about this Centella Asiatica Ampoule, keep on reading.
PRODUCT INFORMATION
It is made of 100% extract of centella asiatica. If you are wondering what is centella asiatica in Malay, it is pegaga. But this is not a common pegaga because it is imported from Madagascar, fresh from the untouched nature of Madagascar. It consisted with only 3 types of ingredients which it protecting their major ingredients from ruining.
Skin1004 Madagascar Centella Asiatica Ampoule comes in 100 ml per bottle which I find it is cheap for a huge bottle. It took about 6 to 7 months to completely finished it. Another reason to love this ampoule, it does not containing any fragrance which means purely the scent of the 100% extract of centella asiatica. If you are a sensitive skin which have fragrance intolerance, this would be a good one for your skin.
Don't worry because this ampoule has been tested for their clinical trial and approved by dermatologists. It is safe to use without containing any harmful ingredients that may irritating for your skin. Also, if you are wondering, it is Ph 6 representing.
TEXTURE
It has a very watery texture. I have learnt that if the ampoule is a watery texture, it means that it will easily absorb into the skin and restore the moist. When I first applied it on my skin, I feel like splashing some water on my skin. It makes me feel refreshed and it is easily absorbed into the skin. I don't need time to dry it up because one it absorbed into the skin, it will not leave any stickiness texture.
It is amazing because I could feel my skin is so soft and moist even though the ampoule has dried up on my skin. Certain ampoule will leave uncomfortable feeling as such sticky or drying. But, this would be an exception because my inner skin feels hydrated with a moist surface.
PACKAGING

I really love how minimal this packaging is. With a yellowish transparent colour of the bottle and printed with their information on it, makes me really in love with it. It has a white pipette as their cap and all of it is made from glass. So you need to be extra careful because you may find it has a thick glass, but somehow it can break easily.
Except for their pipette holder, it is made from rubber. So if you want to bring out the product, you need to pinch it and release it once it is ready on your palm. Then the product will come out.
It does not have any scent so if you have some scent intolerant, you may love this. It is an amazing product that you will love instantly.
HOW TO USE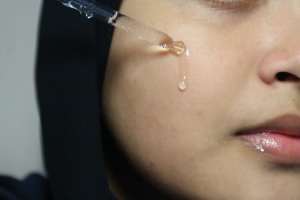 As shown, I applied it on my face and started to spread it. Also, I am giving extra attention to the area that need to be focus as acne and post acne area. It is very lightweight that actually it is a liquid texture. It absorbs quickly because it has small particles that can easily get through our pores.
INGREDIENTS
Centella asiatica extract 100% contain (30% asiaticoside, 30% Asiatic acid, and 40% madecassic acid)
RATE
I will rate this product 4.8/5. The slack part is it took a while to show effectiveness. But once your skin comfortable with the ampoule, the effectiveness will react faster than before. Other than that, everything is perfect if you tend to fade your scars, reduce redness and lower chances to get pimples.
SHOP HERE
Skin1004 Madagascar Centella Asiatica 100 Ampoule 55ml

Skin1004 Madagascar Centella Toning Toner 210ml