Are you very particular about your eye cream? Or do you feel it's enough with just using the moisturiser or face cream for your eye areas? While both of these approaches have their own justifications and reasoning, as for me I am both! In my 20s I felt that my moisturiser or cream works for the eye areas too but now that I am in my 30s, I kinda feel like using an extra, specified product that is targeted for eye issues such as preventing wrinkles, tackling puffiness, and dark circles.
I have tried and am still using the Etude House Moistfull Collagen Eye Cream as I love its depuffing effect. However, being the skincare enthusiast that I am, I cannot stop exploring other skincare star items such as this Benton Fermentation Eye Cream.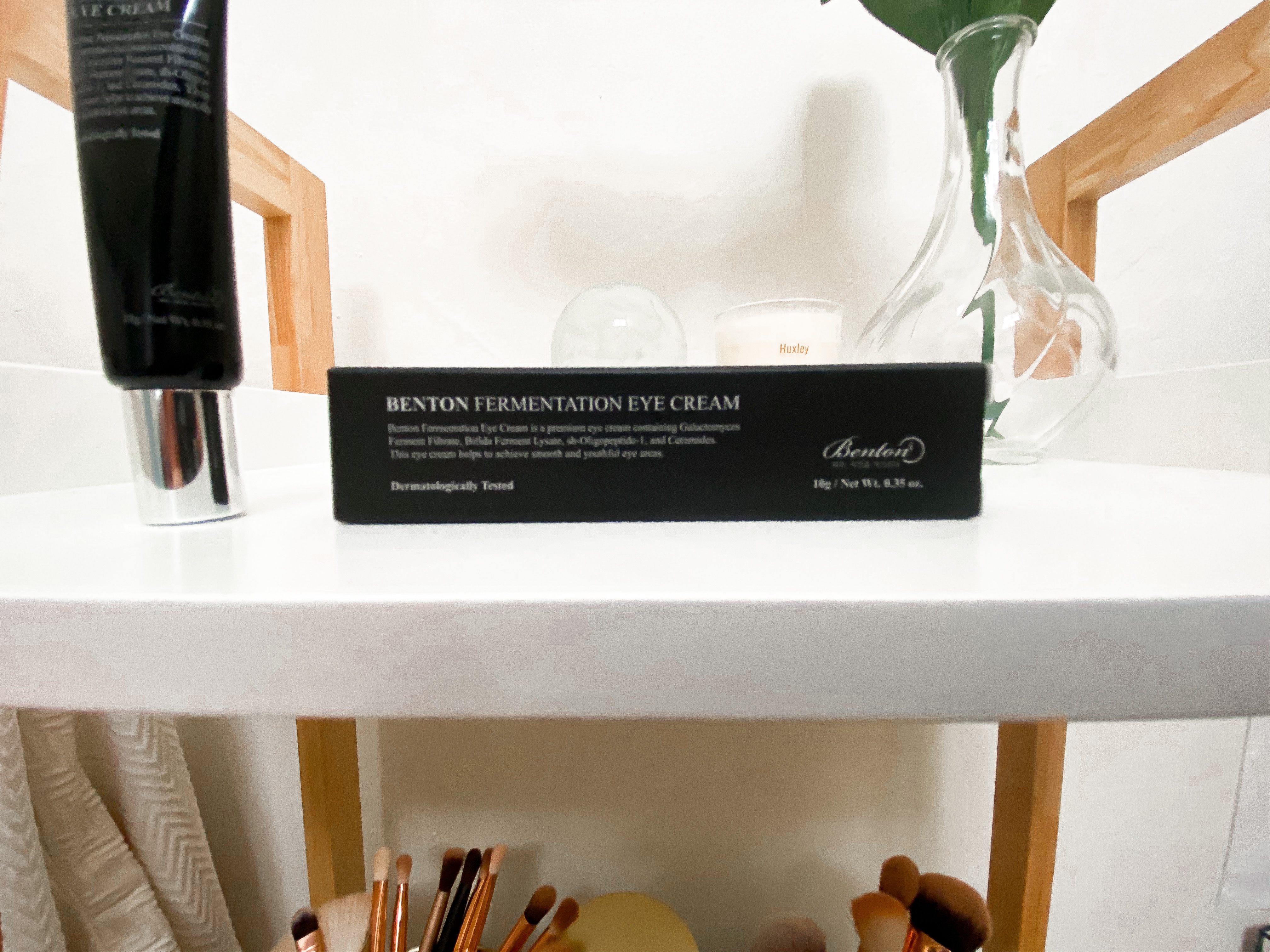 This product needs no introduction as it is widely used and mostly loved by K-beauty enthusiasts. I have read many positive reviews about this one so I decided to try out the smaller version before committing into spending for the full size.
It comes in a black tube type packaging that I like.
Ingredients
As usual, the first thing I would research about before trying a product are the ingredients:
Galactomyces Ferment Filtrate, Aqua (Water), Butylene Glycol, Caprylic/Capric Triglyceride, Glycerin, Cetearyl Alcohol, Cetyl Ethylhexanoate, Pentylene Glycol, Macadamia Integrifolia Seed Oil, Cetearyl Olivate, Bifida Ferment Lysate, Ceramide NP, Althaea Rosea Root Extract, Aloe Barbadensis Leaf Extract, Sorbitan Olivate, Sorbitan Stearate, Sodium Hyaluronate, Allantoin, Betaine, Beta-Glucan, Panthenol, sh-Oligopeptide-1, Acrylates/C10-30 Alkyl Acrylate Crosspolymer, Arginine,1,2-Hexanediol, Pulsatilla Koreana Extract, Zanthoxylum Piperitum Fruit Extract, Usnea Barbata (Lichen) Extract, Hydrogenated Lecithin, Adenosine, Polysorbate 20, Lecithin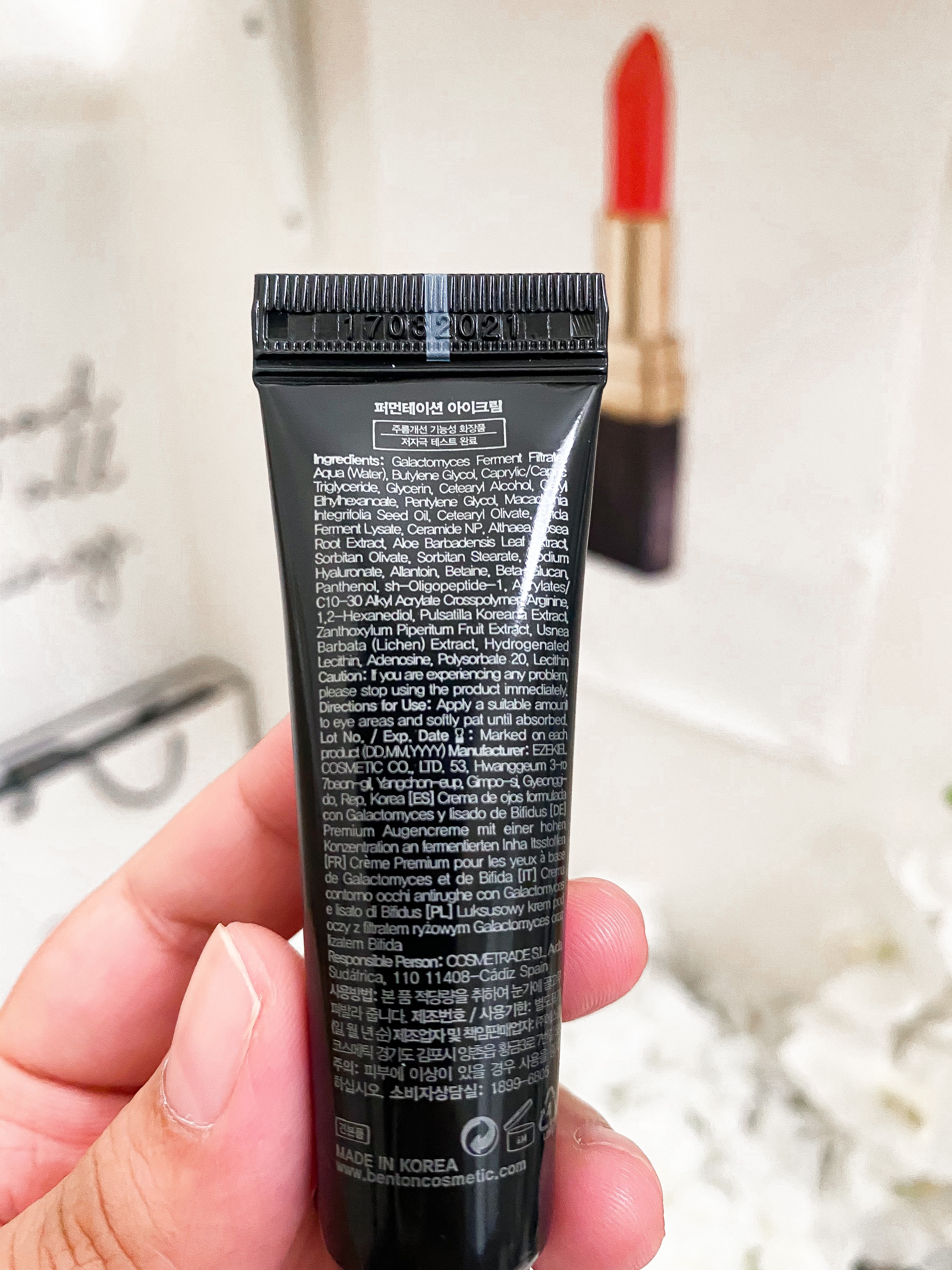 This eye cream is free from alcohol, fragrance, and essential oils; in case any of these is a matter of concern for you. According to Benton, this is a premium eye cream and I think I agree, looking at all those ingredients. Key ingredients are: galactomyces ferment filtrate, bifida ferment lysate, sh-oligopeptide-1, and ceramides. All these goodies help achieve a smooth and youthful eye area.
I love that galactomyces ferment filtrate is the first ingredient in the list so I know the concentration is high, hence the name. What's so special about galactomyces ferment filtrate, you ask? Here's the explanation according to www.incidecoder.com:
A famous water-like, yeast-derived ingredient that the whole SKII brand is built on. As legend has it, SKII scientists in the 1970's discovered by chance that aged Japanese sake brewers have amazingly soft and youthful hands in contrast to their aged and wrinkled faces. They concluded that the secret must lie in the yeast that the brewers' hands were in constant contact with during the sake fermentation process.

So Pitera – obtained by a fermentation process of a certain yeast belonging to the genus Galactomyces –  was discovered as an anti-aging, skin-nourishing magic liquid. The company claims that the clear, water-like liquid is loaded with good-for-the-skin stuff and is rich in vitamins, amino acids, minerals and organic acids.

https://incidecoder.com/ingredients/galactomyces-ferment-filtrate
This also has a unique ingredients which is the zanthoxylum piperitum fruit extract or sanshō / chopi or Japanese or Korean Pepper. Other notable ingredients include hyaluronic acid, aloe barbadensis leaf extract, allantoin, beta-glucan, panthenol, and adenosine. The ingredients are all EWG green level, mildly acidic pH, and cruelty-free.
Texture and Smell
This eye cream has a medium viscosity as it neither very lightweight nor it is thick.
The cream texture sinks into the skin nicely upon rubbing it and does not leave a sticky or tacky residue.
It feels moisturising and has a matte finish. It settles into the skin  comfortably without leaving a feeling like there is something gluey or adhesive under my eyes.
How To Use
Squeeze an appropriate amount of the product from the tube and apply to the area around your eyes, softly tapping it in. As for the question of when to apply it in the routine, there are two ways of doing it which are:
at the second last step before your moisturiser or cream (third last step if applied during the AM in which you'd need sunscreen) after all serum or essence or ampoule.
as the last step after moisturiser or cream (second last if applied during the AM in which you'd need sunscreen)
as for me, I am comfortable with both, depending on the thickness of my moisturiser or cream at the moment. However, according to the Benton website, it is suggested for you to follow the i) way which is after serum/essence/ampoule; before your moisturiser.
P.S.: if you are using sleeping mask, use this before your sleeping mask because sleeping mask is supposed to be the last step of the routine.
Experience
I have been using this for more than a month so while I can confidently rate it according to the result. Please bear in mind that things like wrinkle or fine lines inevitably take time to disappear using skincare. That is why people go to aesthetic treatments or laser treatments to treat them. Skincare can only go so far only as to 'minimize the appearance of the wrinkles and/or lines' and yes, anti-aging products and eye creams are usually quite expensive considering the ingredients and formulation to combat the issue. Still, with skincare, it is going to take time and you should not expect the same results as aesthetical surgery or treatments.
Besides, sunscreen is also an essential step to prevent formation of new wrinkles and fine lines caused by UV lights. In this case, eye creams provide moisture to the skin to help keep skin elasticity from losing its power.
I love the finish of this eye cream as it is so comfortable. I don't experience itchiness or sting or irritation. It is easy to spread around the eyes and rub it in. Upon applying skin feels so moisturised. It does not make my under eye areas sticky like a glue or sweaty. Eye areas feel so plump and well moisturised.I have a bit of dark circle, it's not noticeable but there is a bit of discolouration and I have yet to observe the effect on that. I will keep you updated on this matter as perhaps it takes more than just a month for it to take effect.
It keeps the under eye areas well moisturised up until the morning and I am happy to wake up with my eyes feel less puffy. My under eye area also feels firm and fresh.
I am happy to report that I am a satisfied user and will definitely repurchase the full size soon. Besides, the smaller size is great for travelling too! I believe that a consistent use of this cream is good for a 31 year-old me to prevent fine lines and wrinkles. I think that this is an eye cream suitable for all skin types be it sensitive, dry, oily or normal. However, do not forget to patch test okay?
My rate: 5/5
Repurchase? Yasssss
SHOP HERE