Deodorant is one of the essentials, I believe, in everyone's daily routine. Having to live in a tropical country like Malaysia, I have been using deodorant since the early years of high school for sweat-free and odourless underarms.
I have tried several types of deodorants; roll-on, aerosol spray, crystal and cream. Today I am sharing with you, my experience with a cream type deodorant from the brand Rexona.
At first, I am confused as to how could you put a cream on the underarms? Wouldn't it makes the armpit sweaty due creamy texture?
So out of curiosity, I purchased the Rexona Sexy Bouquet Dry Serum.
"…instantly dries and gives you all-day fresh confidence. With scents of strawberry and apricot.
It's lightweight, non-sticky formula is instantly absorbed to give you 48-hour protection against sweat and odor.
Anti-perspirant Serum
48 hours protection
instant dry
with MotionsenseTM technology responds directly to movement
Scents of strawberry and apricot "
~ Hermo
Ingredients:
Water, Aluminum Chlorohydrate, Glyceryl Stearate, Stearyl Alcohol, Perfume, Steareth-20, Steareth-2, Cetearyl Alcohol, Titanium Dioxide, Caprylic/Capric Triglyceride, Hydrated Silica, Gelatin Crosspolymer(fish source), Cellulose Gum, Sodium Benzoate
Capacity:
50 ml
How to Use:
1. Squeeze the tube until a pea-sized amount comes out of the dome
2. Apply dome directly to underarms
3. Spread the product evenly on the underarms everyday
The Packaging:
The product comes in a squeezy tube with twist cap.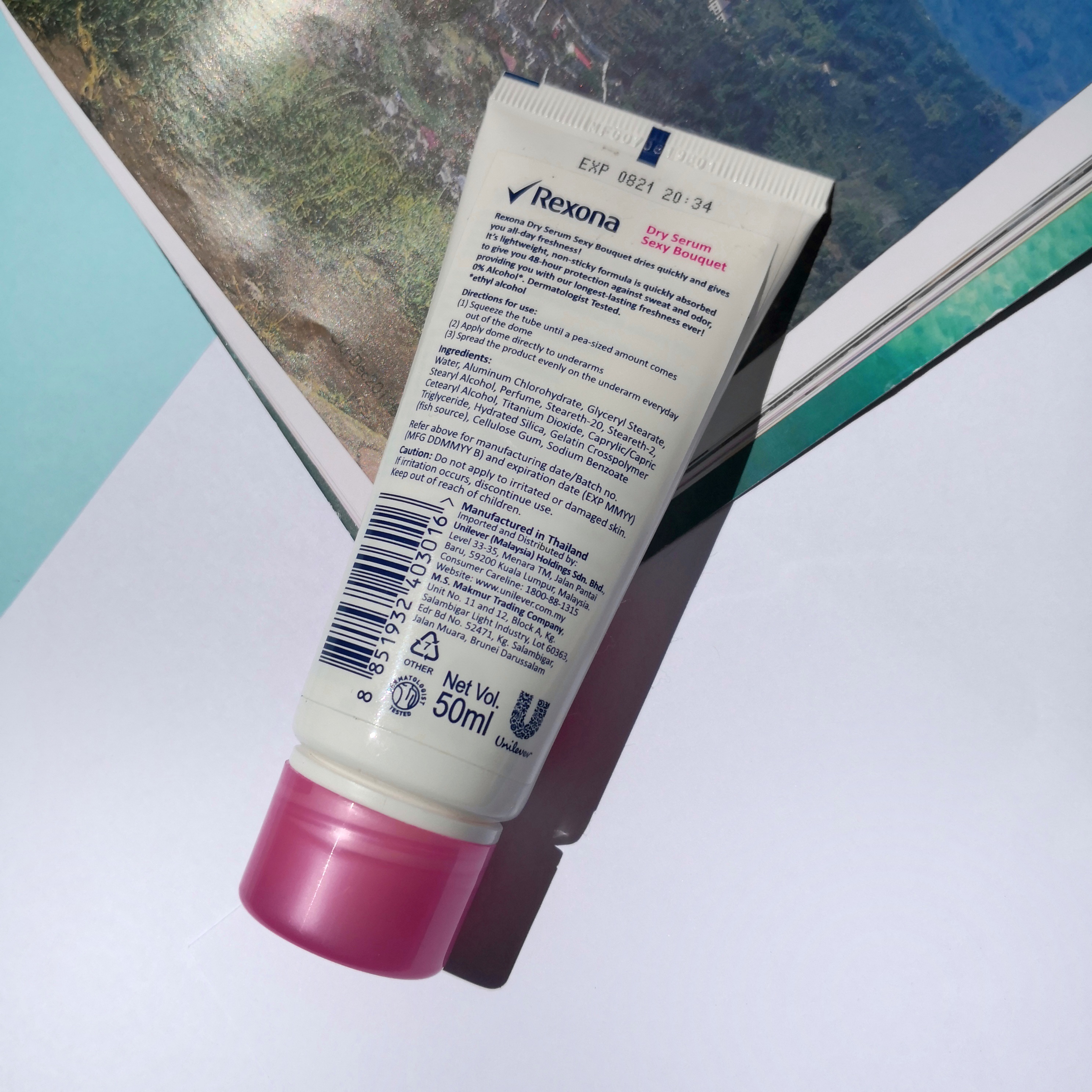 Once you open the cap, you'll see a wide dome with a medium size pinhole distributor.
The Scent:
Although the product is described to have strawberry and apricot scents, I think it is more to fresh scent.
My Experiences:
When I first received this Dry Serum deodorant, I quickly tried it on using it as per instructions on the tube. However, I find that putting the dome directly on my underarms and spreading the cream by the dome is just not satisfying enough for me; I don't feel the cream is evenly spread. So for the next application and up until these days, I would squeeze a pea-sized of the cream to my finger and spread it on using my fingers instead of using the dome of the tube.
The cream itself is a little bit thick but luckily it is quite easy to spread and takes only a few minutes to dry to a powdery finish. I am surprised that it is able to make my underarms sweat-free for hours.
It smells good and the scent lingers for quite some time. I do personally think that it does a great job at covering any possible odours since the scent is quite strong (perfume is listed as the 5th ingredient in the ingredients list). I do not mind that because it literally substitutes my perfume.
Another point that I want to highlight is this deodorant does not stain my white clothes. White colored deodorant may leave a yellowish stain over the long usage, around the underarms area of white t-shirts, if you could relate. I have experienced it with the roll-on type of deodorants that has a white liquidy deodorant. Surprisingly this dry serum which is white color, thick cream does not do that, so another reason for repurchase along with the good scent point.
One of the turn off points to me about the packaging is, it can a bit troublesome if you accidently exerted too much pressure while squeezing the tube. By this I meant, you cannot put the excessive cream back into the tube,so there will be a bit of product wastage.
Rating:
4. 5/5
Repurchase Intention:
Yes
SHOP NOW