The brand Cosrx definitely needs no introduction in our Malaysian K-Beauty world. It's one of the brands that first introduced the wonders of K-Beauty to us Malaysians. I started to know about this brand in 2016 through Hermo after reading about its hype from many people about their acne patch, and their blackhead/whitehead products. I have tried so many of Cosrx products ever since, like their cleanser, which has been my holy grail cleanser up until now.
However it's not always rainbows and butterflies, there is no perfect brand that produces ALL five-star products in the eyes of EVERYONE. There always has to be hits and misses and that is the deal with skincare; there is no one size fits all. That brings us to the title of this article: Cosrx AHA/BHA Clarifying Treatment Toner: A Hit or A Miss?
"All-natural ingredients with mineral water for more than just a simple toner. Exfoliate, cleanse, and prevent with organic AHA/BHA molecules ! The AHA/BHA Clarifying Treatment Toner is made to hydrate and rejuvinate the skin while preventing whiteheads, blackheads, and blemishes for the perfect flawless skin you deserve"
Ingredients
Mineral Water, Salix Alba (Willow) Bark Water, Pyrus Malus (Apple) Fruit Water, Butylene Glycol, 1,2-Hexanediol, Sodium Lactate, Glycolic Acid, Water, Betaine Salicylate, Allantoin, Panthenol, Ethyl Hexanediol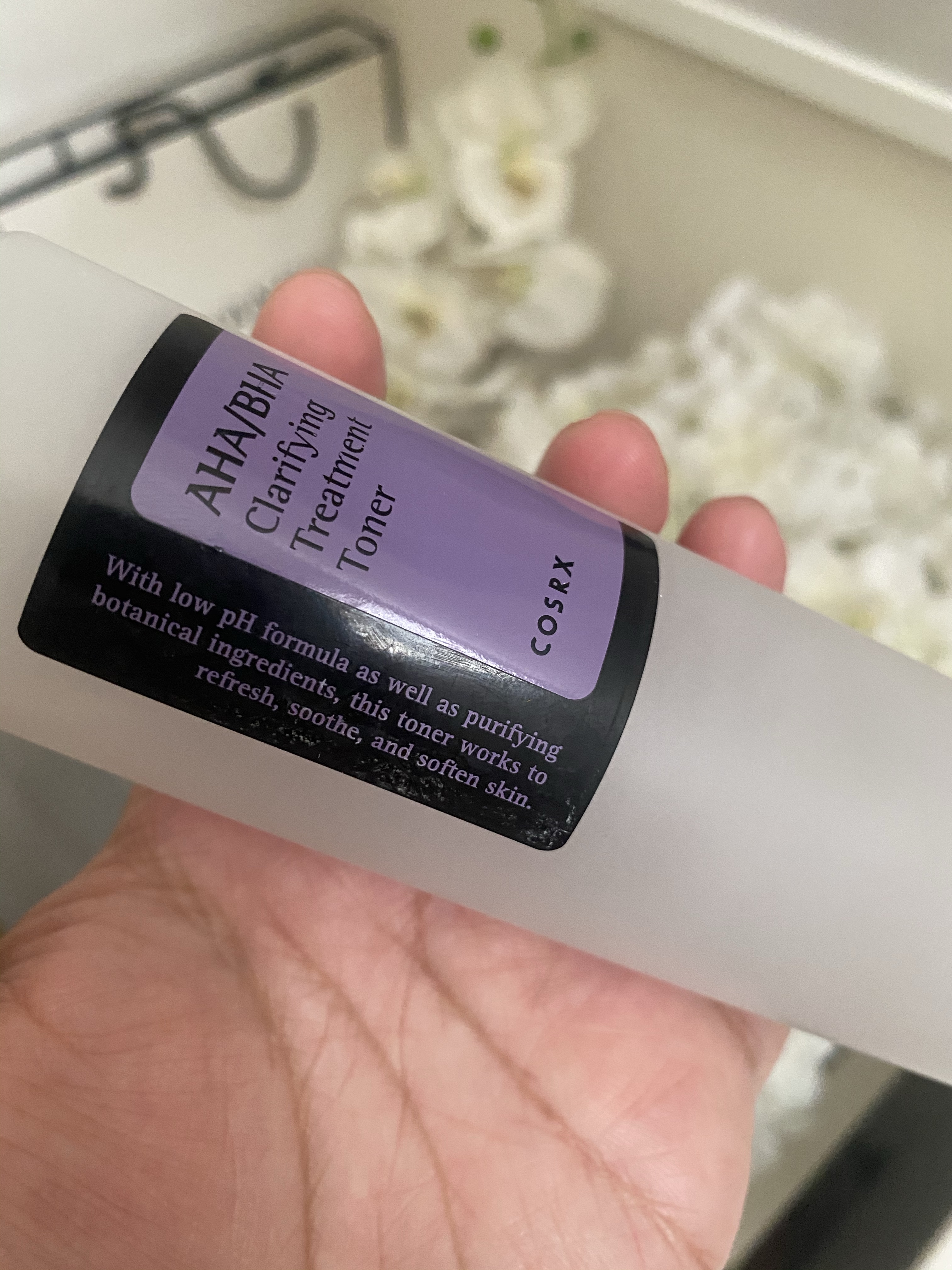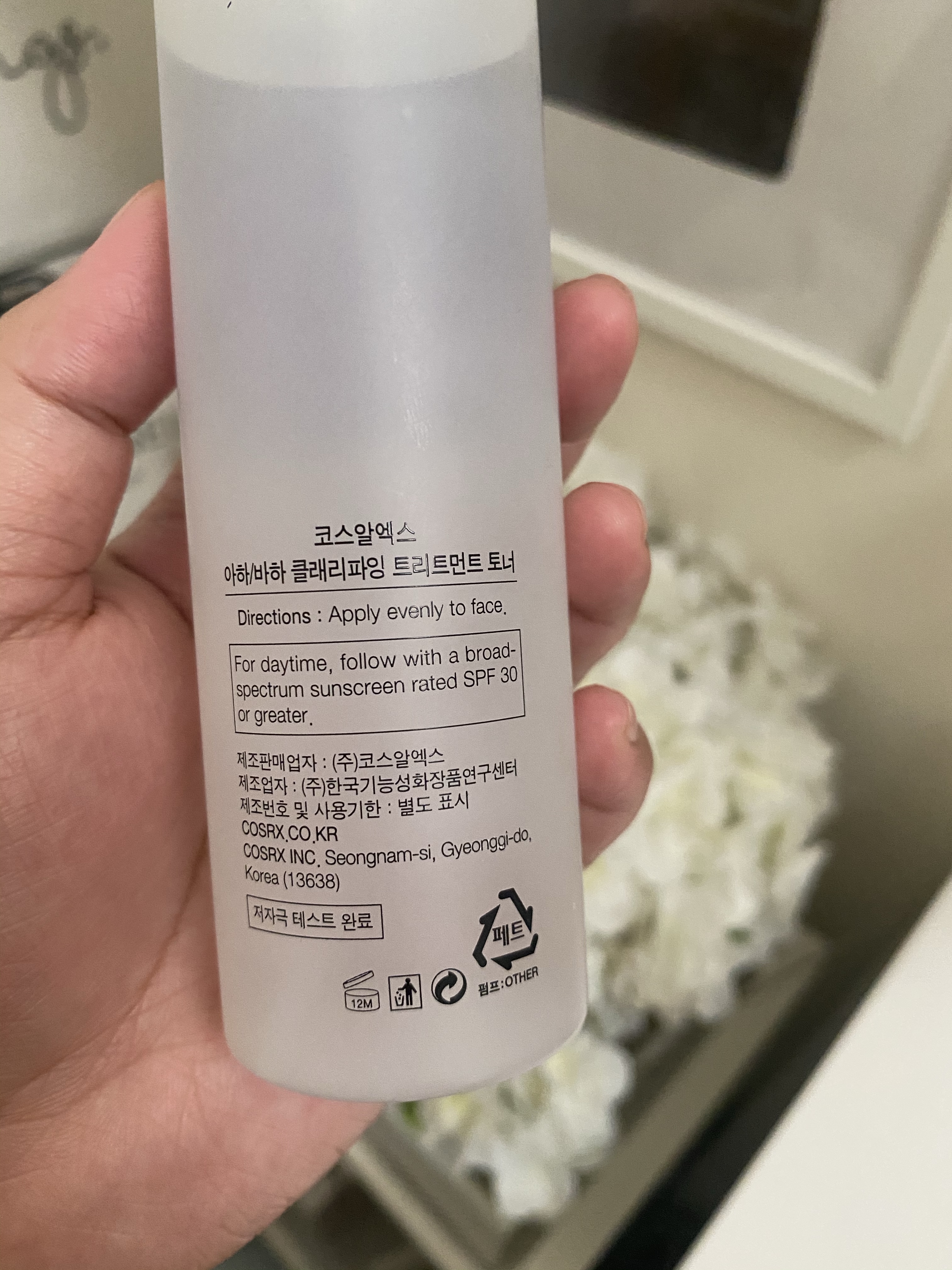 This product is free from alcohol, parabens, artificial colorants, artificial fragrance, triethanolamine, and phthalates (I am stating this fact here in case these are a concern to you). The ingredients list is very short, there are only 12 ingredients in this clarifying treatment toner. Glycolic acid (AHA) and Betaine Salicylate (BHA) are the key exfoliants in this toner while allantoin and panthenol act as soothing and moisturising ingredients. It also has astringent property that comes from the willow bark water and apple water also acts as natural AHA.
How To Use
This comes in 150ml spray bottle with a nozzle so it is like a toner mist kind of product BUT if you are not comfortable with that, you can try spraying this product onto a cotton pad or just take off the nozzle and saturate the cotton pad with the toner and use it to swipe across your face. Whichever way you are comfortable with, okay? The description says to use this after cleansing morning and evening. It is packaged as a daily exfoliating toner so if your skin can tolerate this product twice a day, then be my guest but if you can't, just listen to your skin and reduce the frequency. It is meant to be used as a toner so based on its watery texture, I would suggest you to use this after cleanser at the usual toner step and if you are using multiple toners, I think this should be the first of the layer. However, if you are using any first treatment essence (FTE), you can use that first and this product after. Oh by the way, don't forget to apply and reapply sunscreen if you're using this in the AM okay?
Texture and Smell
Clear watery, runny mist texture. Feels lightweight, no tingling or stinging sensation whatsoever. Does not feel sticky or tacky.
The nozzle distribution has a bit of squirt.
Absorbs instantly, skin feels matte after.
No smell detected (for my nose ya).
Experience
I first used this product in early 2017 and thought that this is not enough for me. I revisited this in 2019 and decided that nope, it's really a no for me. Not even as a supportive exfoliating product, nope. Well in 2017 I had a lot of blackheads and tiny bumps and cystic acne that appear at least once in two months so this AHA/BHA Clarifying Treatment Toner is not enough as a treatment for me. Not even if I used it daily, both AM and PM. After giving it much thoughts, I decided to ditch it and try another stronger AHA and experimented with different brands of glycolic acid. It's very very mild for my super oily and acne prone skin at that time. It does not irritate my skin but it made it kinda itchy especially in the AM so yeah, at that time I thought "bye bye you, so long and goodbye".
In 2019, when my skin has gotten better and my skin has built its own resiliency towards actives, I decided to try this again but only as a supporting exfoliant, as a daily exfoliating mist toner alongside other exfoliants that I use in different (or sometimes the same) routines. It is still not irritating to me and surprisingly, the itchiness is no longer there! Have they changed the formulation? Well I don't think so. Maybe my skin is now the combination type and perhaps not having a grease-ball face helps.
However, in 2019, this toner seems to not do much for my skin, even as a supporting or enhancing product. It doesn't really help in making my face feel smoother or looks brighter or helping it achieving a glowing look etc. I did not notice any positive differences by incorporating this AHA/BHA Clarifying Treatment Toner into my routine and I guess we are just not meant together. You are just not for me, Cosrx AHA/BHA Clarifying Treatment Toner. I did not manage to even finish the bottle – only used it halfway and gave it to my sister with a dry skin who seems to love it. And that's it, to answer my own question of whether this Cosrx AHA/BHA Clarifying Treatment Toner is a hit or a miss, well you know it, it's a miss for me. I have tried to love you baby, but love is not on our side.
My rate: 3/5.
Not going to repurchase but yes, my sister did repurchase. Good for her.
SHOP HERE